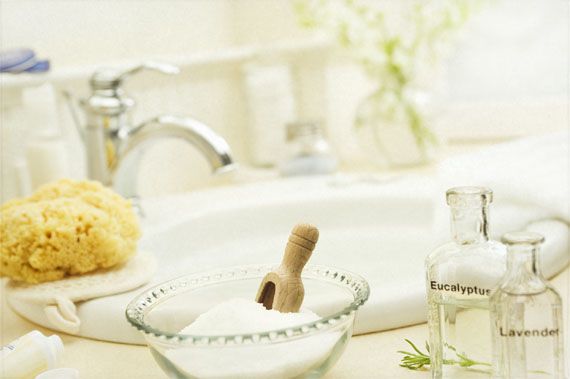 As long as there have been humans, natural ingredients have been harvested to fulfill humans' desire of improved overall health and beauty. Ancient Romans used swans' fat to alleviate wrinkles. Cleopatra bathed in milk and honey to soothe weather from the strong Egyptian sun...Gwynyth Paltrow consults Epsom salt baths to "detox, revive muscles and de-puff skin."

Today, we are going to jump on the heels of the advice from the lovely Mrs. Paltrow, and examine the benefits of Epsom salts — they are just around the corner at your neighborhood market, cost less than five dollars, and are an indisputable skin-energizing powerhouse!


Now that we have the radiance-lending, glow-inducing ingredient, we reached out to the Epsom Salt Council to obtain some inside wisdom on how to best use these beloved salts. Sure enough, the experts have developed a collection of at-home treatments, which they have now shared with us:

Glowing Skin Exfoliating Treatment
Mix 2 cups of Epsom Salt with 1/4 cup of petroleum jelly and a few drops of lavender essential oil. Use the mixture to gently scrub away dry skin patches.

Microdermabrasian Facial
Mix 1/2 TSP of Epsom Salt into cleansing cream for a deep-pore cleansing. Massage on skin. Rinse with cool water. Pat dry.

"Bathtime Bliss"
Add two cups of Epsom Salt to the water in a standard-sized bathtub; soak for at least 12 minutes, three times weekly. For an extra treat, add a few drops of eucalyptus oil for a refreshing scent.


"Pedicure Perfection"
Dissolve a half cup of Epsom Salt into two quarts of warm water. Pour the water into a container and soak your bare feet for fifteen to twenty minutes. For an extra treat, add a few drops of eucalyptus oil for a refreshing scent. Massage the entire foot with Epsom Salt concentrating on the heels and ankles to remove any dry, rough spots. Then, rinse your feet off with clean tap water and dry them thoroughly.

To Create Homemade Bath Crystals
Mix two cups of Epsom Salt with a few drops of fragrance to create a custom bath crystal. Add a few drops of food coloring or 1/2 TSP of glycerin if you like. Store in an air-tight container.