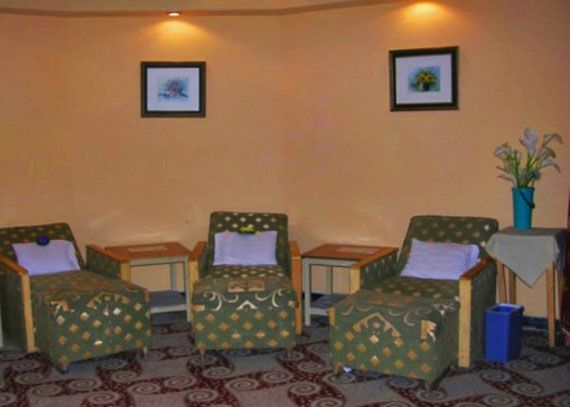 There are times in your life when you feel very far from home. The constant mutter of indiscernible languages, the scent of the air incomparable to any you have ever inhaled...it is not uncommon to find yourself stumbling over your own feet when traveling abroad. And that is how my adventure began: stumbling towards one of the most amazing spa services I have ever endured.

The woman to my left was relaxed, the woman to my right, asleep. The man across the Oriental rug had a look of terror, surprise, and agony on his face. In Ulaanbaatar, Mongolia — in the darkness of the main room that is the heart of the Joy Foot Reflexology Center — I succumbed to my first real experience with ancient reflexology techniques.


As we entered, our flip-flops were swiped from our feet and swapped for a pair of oversized rubber sandals. I was then led to a large communal space where the darkness of the room was cut by small billows of soft light, coming from who-knows-where. The subtle scent of incense sweetened the air surrounding the twenty chair perimeter that held the weight of reflexes bounding from peoples bodies.

Behind the curtain, I put on a robe with one working button and a pair of loose fitting shorts. I tossed my clothes into a basket on the floor, back on went the sandals and I followed a young woman who led me to an oversized fabric chair with a matching ottoman. I sat on the ottoman, off went the rubber sandals, and placed my feet into a soaking tub lined with plastic. I waited for the magic to happen.


Like the rest of the spa-goers at Joy's, I was not greeted with a hello but with vigorous hands immediately working themselves deeply into my overstressed muscles. I considered asking my technician to lighten up at times, but she didn't speak English so rather than playing charades I endured the pain. I wondered if her aggressive kneading was matched by a private dialogue, "How much can this foreigner handle? Hee, hee, hee." She worked her way from the tip of my head to my clenching feet, pulling the skin from my back so far that I feared it would still hang loose days later. She punched my rib cage and spun me twice the rotation of an advanced twisted yoga pose, washing away all of my body's toxins with one animated swoop motion downwards.

As she walked away, I melted...I think animated birds actually flew from my body singing in unison a rejoicing song. My thirst for learning about worldwide beauty rituals — along with the multitude of spa experiences I had undergone in the last decade — had not prepared me for the wonders my body would feel after this, eh, interesting therapeutic experience. I don't know what products she used, I don't know the therapist's name — I just know that she is a magician who sent me on my way with a body as strong and agile as a high school letterman and thoughts as clear as the morning Mongolian sky.

Unlike reflexology treatments added to a pedicure in the States for $60 additional hard-earned dollars, this full body variety went for just 4,000 Tugrik, (about $30 USD). A small price to pay for a full-hour of out of your comfort zone, how am I ever going to get through this [?] agonizing pleasure.

Address:
City cafe 2floor,
Sukhbaatar duureg,
Ulaanbaataar, Mongolia
Tel:+976-11-328077