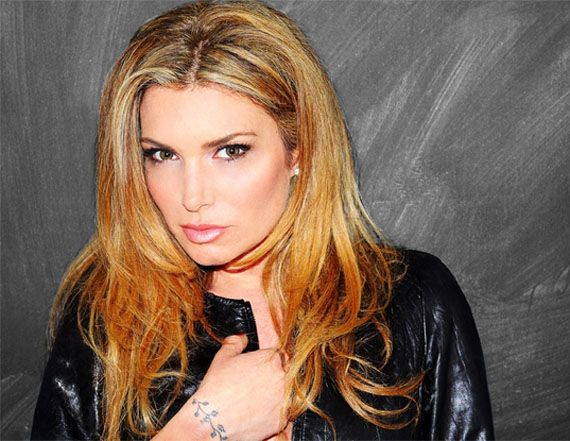 Photo Courtesy of Pilates Plus
The dynasty shall continue, as daughter of the iconic
Vidal Sassoon
, Eden Sassoon, is eager to "take the torch from my parents," she boldly states. Already a successful business owner herself, in the process of starting yet another venture, and a single mother of two, Eden clearly acquired the "success" gene from her accomplished father.
"With a dad like Vidal Sassoon, there was never a dull moment, that's for sure," proudly says Eden in my recent interview with her. Eden and I talked about her life growing up in Beverly Hills, her meaningful career, and her upcoming charity event this weekend,
Holiday Shop for a Cause
. Gorgeous Eden gave me personal insight into her life now and what is soon to come for the Sassoon Empire. 
Growing up as one of L.A.'s "it" girls must not have been easy as a teenager. Add to that being the daughter of the handsome couple, Vidal and Beverly Sassoon, whose business motto has been "if you don't look good, we don't look good," and I would presume the pressure for any girl would be tough to say the very least. However, for Eden she described her parents as supportive stating, "they never made me feel like I had to fit into a certain vision of what they wanted me to be." Truly an impression all parents should leave their children with. Although Eden admits to battling weight issues and having attended a fitness camp for kids during that time, she explains, "it was more for myself than [for] them. I put that pressure on myself. Kids just want to make their parents proud."
Eden describes her father Vidal as "amazing" and "a great man" who often led by example. "Although a beauty expert, he was really involved in health," evidently part of what has brought her to where she is today as owner of Pilates Plus by Eden Sassoon in
Beverly Hills, California
since 2007. "We were always taught about healthy living and exercise," Eden says of her and her siblings. "I know that when people walk in the Pilates Plus by Eden Sassoon studio, they will get why I am so passionate about it. I believe so much in this." 
As Eden participates in the classes three to five times a week herself, it not only keeps her looking and feeling great, but sets an example for her own children, just as her parents have done for her. "Like my father, I teach my kids through example. They see me going to Pilates Plus classes and devoting time to exercise." Current national statistics claim obesity has become what is being called an epidemic in our society. Although her children are young and active, Eden instills the importance of healthy eating habits.
The fundraiser, Holiday Shop For A Cause Event will be hosted by Eden, Nicole Fogel, and Johnnie Raines at her Pilates Plus studio to benefit Lupus L.A., UCLA Jonsson Cancer Center and Saving Spot Dog Rescue, all charities close to her heart. "My friend and co-host of the event, Nicole, suffers from Lupus so that is dear to me. My father is battling Leukemia so cancer research is extremely important to me. And the three of us hosts are dog lovers so I want to help dogs as well. I guess they are all important to me because they all affect me in some way."
The event is open to the public and will include celebrity appearances by Jesse McCartney, Brooke Burke and David Charvet, all personal friends of Eden with one exception. "Jesse is my boyfriend. He is my rock. He is such a motivating force in my life."
The event will offer food, drinks, and gift shopping for the holidays with the focus to "raise as much money as possible for the charities." Vendors include Julie K. handbags, Kashwere robes and throws, and Voluspa candles, just to name a few of the dozen-or-so at this event. "There is truly something for everyone," Eden says with excitement.
The latest business venture Eden has been working on is more genuinely influenced by Vidal Sassoon. Eden is scheduled to open a finishing studio called "shamblô by Eden Sassoon" in February 2012. When asked what will set her salon apart from all the others, Eden answers, "the distinguishing characteristic of shamblô is the experience. Growing up in my father's salon, I really loved the stylists and the close-knit family feeling that they provided amongst themselves and with the clients but I hated the idea of the salon. The harsh smells and hair everywhere, I just didn't like it. I wanted to create a place that people can go and be relaxed and pampered and where they can feel comfortable. I want them to be treated like a friend, not just a paying customer."
Another Sassoon innovator, her grandiose plans do not stop there. Eden plans to open several shamblô salons nation-wide. "Eventually I would like to combine shamblô and Pilates Plus by Eden Sassoon so that they will exist as separate entities but in one location.  It will be a sort of Sassoon lifestyle complex. A one-stop shop for health and beauty where people can work out and then go get their hair blown out afterwards."
In true Sassoon fashion, when Eden says she "shares her father's vision for creating a global brand that is accessible to all," she is referring to quality care from here to New York, Miami, London, and beyond. Eden's plan of attack is, "catapulting their (Vidal Sassoon) lifestyle lessons into the 21st century through my various businesses." On a personal note, sign me up Eden; I need a membership at a place like this!
I asked Eden the obvious question of if she plans on developing her own line of products at shamblô where she answers, "My brother has that covered." Her brother Elan recently launched Sojourn, a high quality hair care product line. This is where the saying "the apple does not fall far from the tree" comes from. "My brother Elan has done a fantastic job developing quality hair care with the experience and expertise he's received from growing up as a Sassoon. I personally love his line and the Sojourn conditioner in his Moisture line is my beauty must-have," boasts Eden.
Beautiful Eden is a professional young woman, successful and down to earth. Someone I can relate to, and someone with ambition for herself and for her children, all without losing site of helping others in need. Thank you Eden. 
"Being an open person and exuding positive energy will bring positive people to you." Eden Sassoon, on what she learned from her father, Vidal. To learn more on Pilates Plus By Eden Sassoon, visit
PP90210.com
where you can find details on the Holiday Shop for a Cause event in Beverly Hills Saturday, December 10, 2011 from 4 p.m.-7 p.m.