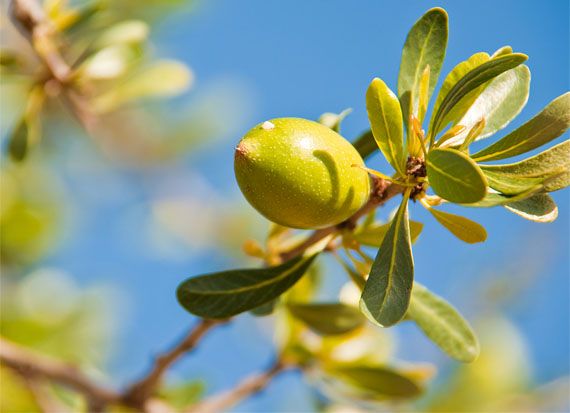 Argan Fruit
You have to give props to Mother Nature for creating a wealth of
natural remedies
that heal, beautify and protect our skin. An overview of the best natural healing agents found around the world.
Algae:
This marine plant is used for its antibiotic qualities that deeply cleanse and restore the skin of natural moisture. Algae is rich with chelated minerals that detoxify, repair, and rejuvenate dermal radiance internally, while relieving stiff muscles of irritation.
Aloe Vera:
"The first aid plant," aloe vera is commonly used for medical and cosmetic needs. The pulpy extract contains natural healing properties that soothe irritated skin.
Argan Oil:
Gaining popularity in Europe in 2001, this endangered tree from southwestern Morocco is traditionally used as a treatment for skin diseases. The long and careful process of extracting the oil — along with tremendous healing powers of argan — has made it one of the 21st century's most coveted beauty ingredients.
Aspilia Africana:
Known in Africa as the "hemorrhage plant," the leaves and flowers from this herb is traditionally used to stop bleeding, block infection and progress wound healing.
Banana:
This edible fruit is used for soothing burn wounds and healing scars.
Buchu Plant:
Native to South Africa, the leaves from this tree are rich in essential oils and used as an herbal remedy for skin lesions and ailments of the digestive track.
Black Pearls:
Known as the "pearl of queens and queen of pearls," the black pearl is indigenous to remote lagoons of French Polynesia in the South Pacific. Ground finely, this soft shell is used as a light exfoliant… Black Pearls are also used in the Russian Crown Jewels.
Coconut:
This island fruit has multiple uses for beautifying hair, skin and nails. Coconut milk contains natural purifying and healing agents.
Kigelia Tree:
This fruit has been used in Africa for centuries as a cure for a wide range of ailments including skin lacerations, rheumatism, snakebites, and syphilis.
Lychee:
This prized fruit of French Polynesia is subtly fragrant and full of skin softening emollients and antioxidants.
Lavender:
A native of the Sahara region, this widely used plant is coveted for its antiseptic and anti-inflammatory qualities. Used in aromatherapy, the essential oils from the lavender plant are known to calm headaches, and are used to induce sleep and relaxation.
Marula Tree:
Oil from this tree is naturally high in antioxidants and is widely used in the cosmetics industry as an all-natural oxidization stabilizer.
Monoi:
Used in French Polynesia to soften hair and skin. Monoi is the product of the extraction process of soaking Tiare flowers (Tahitian gardenia,) in refined coconut oil. This practice has been used by island natives for 2,000 years.
Noni:
This treasured, tropical shrub is used as a treatment for cancer and other diseases in various Polynesian cultures. It is packed with minerals, antioxidants, enzymes, phytonutrients, and bioflavonoids – contributing to greater overall health.
Olive Oil:
High in oleic acid which rebuilds natural skin properties such as collagen, elastin, proteoglycans and glycoproteins. This ultra-moisturizing ingredient soothes inflamed skin and repairs damage.
Pomegranate:
High in Vitamins B & C, pantothenic acid, potassium and antioxidant polyphenols, this fruit offers tremendous protection from skin damaging free-radicals. Pomegranates of the highest quality come from the eastern Sahara.
Rooibos Tea:
This tea, known as South African Red Tea, is popular among the health conscious because of its high levels of antioxidants. Rooibos can be added to body scrubs to energize lifeless skin.
Sandalwood:
This highly priced commodity is native to Hawaii, French Polynesia, and southern Asia. Essential oils from the sandalwood tree are used as antiseptics, and in aromatherapy for easing anxiety.
Sea Algae:
This sea plant is used for its antibiotic qualities to deeply cleanse and restore skin of natural moisture. Algae is rich with chelated minerals that detoxify, repair, and rejuvenate dermal radiance internally, while relieving stiff muscles of irritation.
Sea Salt:
Noted for its benefits since the time of Cleopatra, sea salt alleviates ailments caused by arthritis, eczema, inflammation, rheumatism, and psoriasis. This natural exfoliant also removes dead skin cells and relieves muscular tension. Click here to read a great article
"How and Why to Add Epsom Salt to Your At-Home Beauty Routine."
Seaweed:
Skin revitalizer and firming agent, seaweed adds years to the skin while boosting circulation.
Shea Nut Butter:
First collected in 1797, this rich emollient is found in cosmetics, skin care and hair care products worldwide. Extracted from the pit of the fruit grown on African magnolia trees, shea butter is scarce in supply, and is regarded as one of the most complete natural healing agents on the planet. Shea butter is effective for the following skin conditions:
Eczema, burns, rashes, acne, severely dry and chapped skin, blemishes, dark spots, dermatitis, athletes foot, skin discolorations, chapped lips, stretch marks, UV protection, wrinkles, dandruff prevention, mending hair breakage, strengthening nails and cuticles, and lessening the irritation of psoriasis.
Tangerine:
Extracts from the interior peel tones and firms your skin, while leaving it perfectly balanced. Mandarin extract is used in aromatherapy for calming anxiety.
Tiare Flower:
Tahitian gardenia is the symbol of, and indigenous to, Tahiti, Moorea and Bora Bora. Exotic and fragrant, this flower is known to relieve headaches and earaches, while offering aromatic properties that calm anxiety. Used topically, the sweet Tiare flower is believed to heal various dermal wounds such as eczema, and psoriasis.
Tropical Almond:
The "Indian almond" is found from Madagascar to French Polynesia and has been used for centuries for its medicinal and antiseptic qualities.
Vanilla:
This sweetly scented bean is a restorative agent for maintaining healthy and balanced skin. Aromatherapy benefits offer reduction of stress and depression.