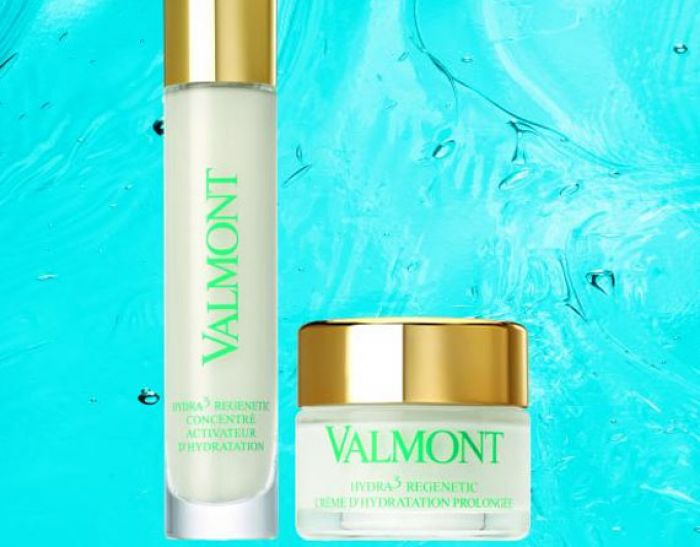 Photo Courtesy of Valmont
Exclusive Swiss
skincare brand
Valmont has opened an online U.S. store, as well as introduced new products into its vast range of anti-aging products. Since 1905 Valmont has been a leader in bringing the famed Swiss skincare tradition to the elite.
Started as the country's first health and wellness clinic, Valmont now has 39 select spas nationwide in more than 30 countries, in addition to exclusive luxury hotel spas and stand alone Valmont spas. Plus, they have just opened an online boutique in the U.S., so there's no need to leave your home to enjoy the technologically advanced skincare product line, a super-luxe line that now includes Hydra3Regenetic, a duo of new generation anti-age hydration.
Hydra3Regenetic is specifically formulated for skin that is severely dehydrated, as is common during the winter months. Even skin that isn't excessively dry can benefit from the gold-capped bottles of magic, as I found out when I was gifted with a sample of the action packed team. Despite living in Southern California and having an oily complexion, dry patches continually plague me. Every time I look in the mirror, my fine lines seem to have become more noticeable. Luckily, the Hydra3Regenetic duo has proved an effective solution.
Hydra3Regenetic is a duo of products including a serum and a cream to fight signs of aging and offer a smoothing effect using DNA, the leading active ingredient at the heart of Valmont's formula for 25 years. The water-based serum is lightweight and goes on easily, helping to fill in fine lines while the DNA formula penetrates deeper into the skin to help cells retain water. The second step of the duo is the cream, which helps the serum work and offers visible results.
Having smooth skin comes with a steep price. The Hydra3Regenetic Hydration Activating Concentrate Sérum in a 30ML bottle retails for $275, while the accompanying cream, Hydra3Regenetic Prolonged Hydration Cream retails at $315.
In addition to the new store and products, Valmont has opened up two new stand-alone signature spas in Asia, one in Taipei and the other in Hong Kong. For more about Valmont, including where to find spas and boutiques around the world, visit
EValmont.com
.