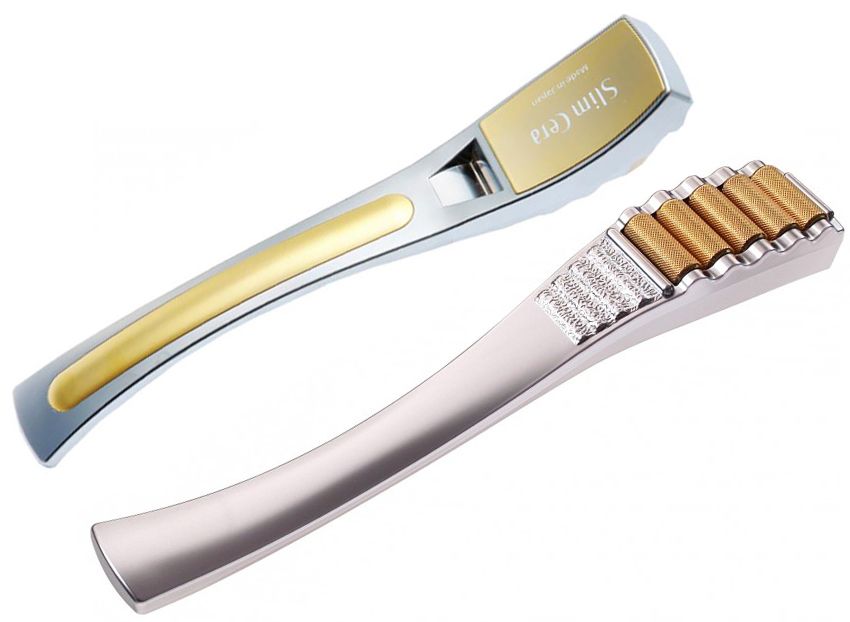 Photo Courtesy of Slim Cera
As any good beauty devotée knows, the Japanese know their skincare from the inside out. The country that gave us Shiseido and SK-II is sending another life-changing (or at least skin-changing) export outside their borders in the form of the Slim Cera facial roller. Wildly popular in Japan for years, it has sold over 350,000 units, and recently released a luxurious 24 karat gold upgrade. The device works by mimicking a facialist's hands to deliver results similar to that of a professional treatment—rolling out impurities from pores, smoothing and stimulating skin. Five connected rollers move behind the gold to push out whatever's lurking just underneath the surface of your skin.
Unlike the Clarisonic and its many whirring imitators, Slim Cera's facial roller is all manual. Its contours are designed to hit an exacting array of muscles that help boost cell production, up hydration levels, increase elasticity and stop wrinkles from forming before they start. Rather than relying on the mechanical motions that characterize its competitors, its power comes from a special blend of tourmaline, quartz and moonstone on the roller's surface which helps promote cell renewal. Sleek and waterproof, it's fairly easy to use; no lotion, cream or electrical outlet necessary. Simply roll over your face (or anywhere you like on your body, really) for three minutes, three times per day after you cleanse and before putting on your makeup and you'll be well on your way to rosier skin. It comes with a lifetime guarantee, but given that it's made from gold, pure minerals and has such a strong stamp of approval by Japanese women, that should come as no surprise. Slim Cera available at Harrod's in London and online at Urban Retreat; priced at £245 (approx. $411).