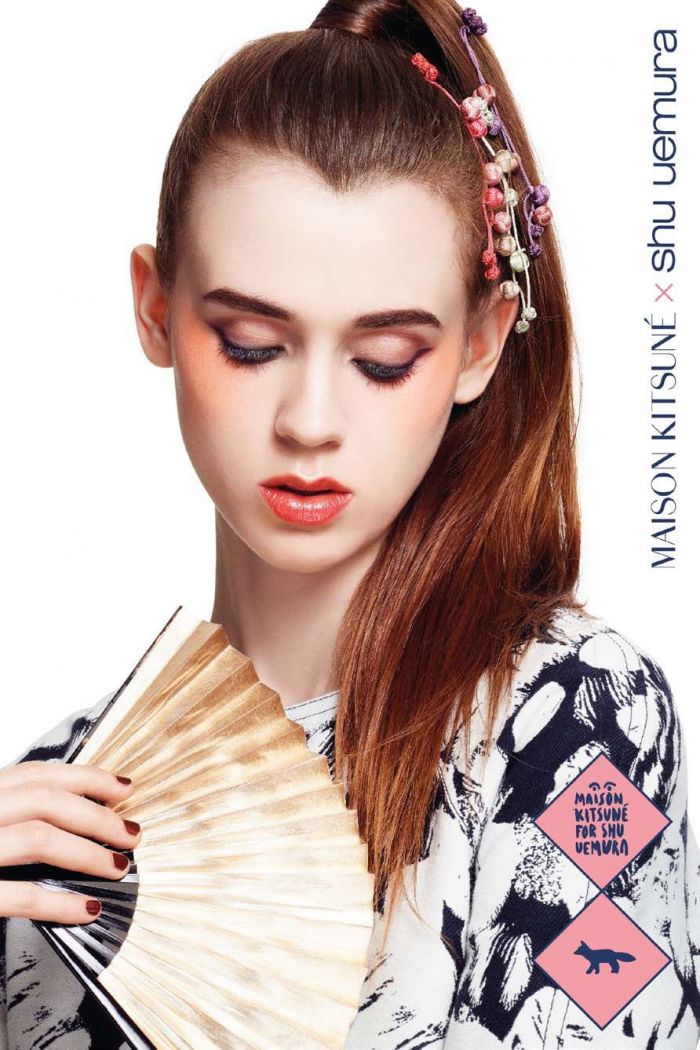 Photos Credit: Shu Uemura x Maison Kitsune
Beauty collaborations are the best, especially when it comes to collectable holiday pieces. This season, Japanese beauty brand Shu Uemura and Paris-based fashion house Maison Kitsune have teamed up to create a beautiful, East meets West collection. The line has been labeled a "beauty remix" and features iconic motifs from both France and Japan including a dress and a kimono, a fleur-de-lis and a sakura blossom, a café and green tea, and a few more playful, juxtaposing images.
The limited-edition collection includes products from the color cosmetics, skincare, haircare and professional tool lines in a fun pink and gold palette. The makeup line features two smoky eye and cheek palettes in indigo and plum colorways, while several eyeliners are available exclusively in punchy metallic colors. Lipsticks come in a variety of pearlescent shades, and even the nail polishes are coated in glitter. For the boldest beauty connoisseurs, the collection also includes false lashes in a French tri-color or feather and jewel finish.
Shu Uemura's cleansing oil, a cult favorite, is available in the limited-edition print as well as their iconic radiance hair cleansers and nourishing oils. Their premium eyelash curler (another beauty blogger fave) comes in a 24-karat gold finish and their brush set is adorned in cute little images set in bright gold. Pack it all up in the navy-lined train case and you have a holiday gift that's perfect for yourself any beauty lover.
The collection is available online for a limited time and is priced from $18-$400.