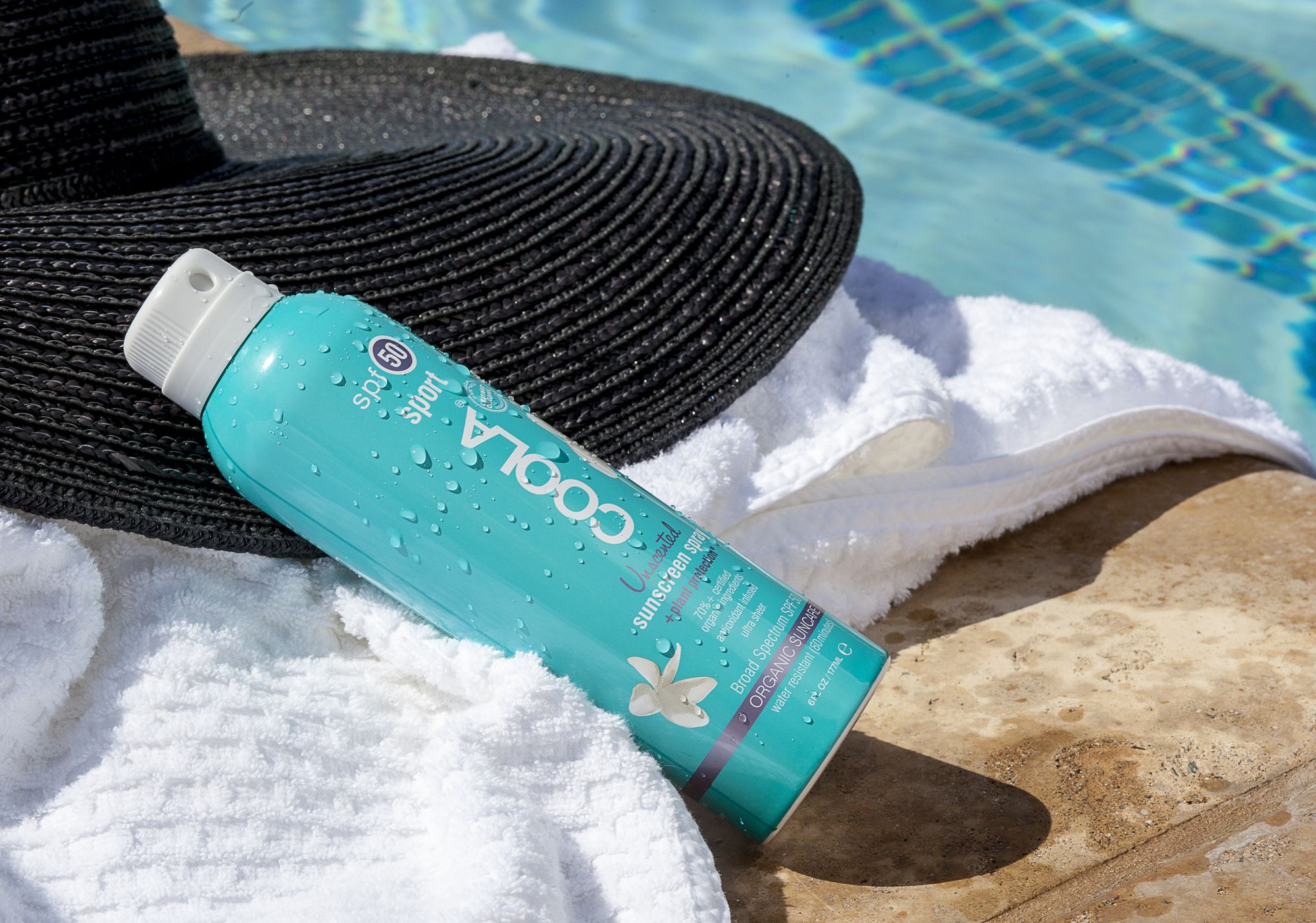 Photos Credit: Coola
It's that time of year again, we're nearing winter and revamping our skincare arsenals—except our sunscreen. That's a mainstay in our beauty-bag year 'round. But that doesn't mean we're unwilling to upgrade if we've found something better, and we're pretty sure we have. Coola, a new California-based skincare brand, is pretty much everything we've ever wanted in a SPF line—it's organic, locally-sourced, sustainable and most importantly, it smells amazing.
The brand was founded in 2007 by Chris Birchby after both of his parents were diagnosed with melanoma. Though they made a full recovery, it caused Birchby, who was living in sunny Venice Beach at the time, to reevaluate his own lifestyle choices. After searching for a natural and protective SPF, and coming up short, he decided to create his own. After a rocky start (early on in the business his warehouse burned down with his entire inventory), he was able to grab a foothold on the market and has had surprising success. Originally the brand was available exclusively at international Four Season resorts, but now the brand is available at luxury spas, hotels and boutiques worldwide.
There's more to this skincare brand than protecting your skin from UV rays. Coola prides itself on being 70 to 98 percent organic through the use of sustainable and locally-sourced, eco-friendly ingredients. Due to the organic nature of the line it is also extremely nourishing, with vitamins and antioxidants found in ingredients like raspberries, cucumber and acai. Coola is also free of parabens, paba, petroleum and phthalates, and is vegan-friendly, cruelty-free and 100 percent recyclable. Some lotions and sprays are even gluten-free. Using a "farm-to-face" mentality, the brand uses the freshest elements whenever possible.
Of course, even the healthiest skincare brands can't be 100 percent organic. Coola still needs to meet FDA standards for sunscreen which can't be done without active ingredients, or chemicals. But in an effort to be as transparent as possible about what's actually in each bottle, all of their ingredients are listed on their site for each product (in layman's terms), so customers can decide what's right for them. Lotions are also formulated using Plant Protection, which allows them to achieve the same amount of sun protection as traditional SPF, but with fewer chemical additives and active ingredients. Their goal is to put the minimum amount of active ingredients allowed by the FDA into each bottle and fill the rest with organic, healthy ones.
Coola understands that one lotion does not fit all skin types. For this reason, the brand includes a number of specialized collections including lotions and sprays for the face, body, dry skin, oily skin, damaged skin and even delicate baby skin. There's also a line of mineral skincare for the face with a matte finish (for those who are not fans of the dewy look) and a makeup setting spray that not only protects your skin, but also your Kim K. contouring look.
But all these great ingredients and specialized products aren't worth much if they don't deliver, and to us that means it needs to wearable, comfortable and work well. I put Coola to the test at Kaaboo, a three-day, outdoor music festival in sunny San Diego. The first thing I immediately noticed was that this smells nothing like traditional SPF. It's light, delicate and smells absolutely delicious. It glides on smoothly without any sticky or oily residue, and absorbs quickly, with no white sheen left behind. And while standing in the heat and the sweat with a thick layer of sunscreen on sounds pretty miserable, it was anything but. It felt like I wasn't wearing any sunscreen at all, and after three day in the sweltering sun, had no sunburns or crazy tan lines to speak of. Except for the flip flop lines on my feet where I clearly forgot to apply sunscreen. Funny-looking feet aside, I'm fairly certain a return to traditional SPF would be impossible—not when there's a sustainable, eco-friendly, organic line out there that makes me smell like mangos.