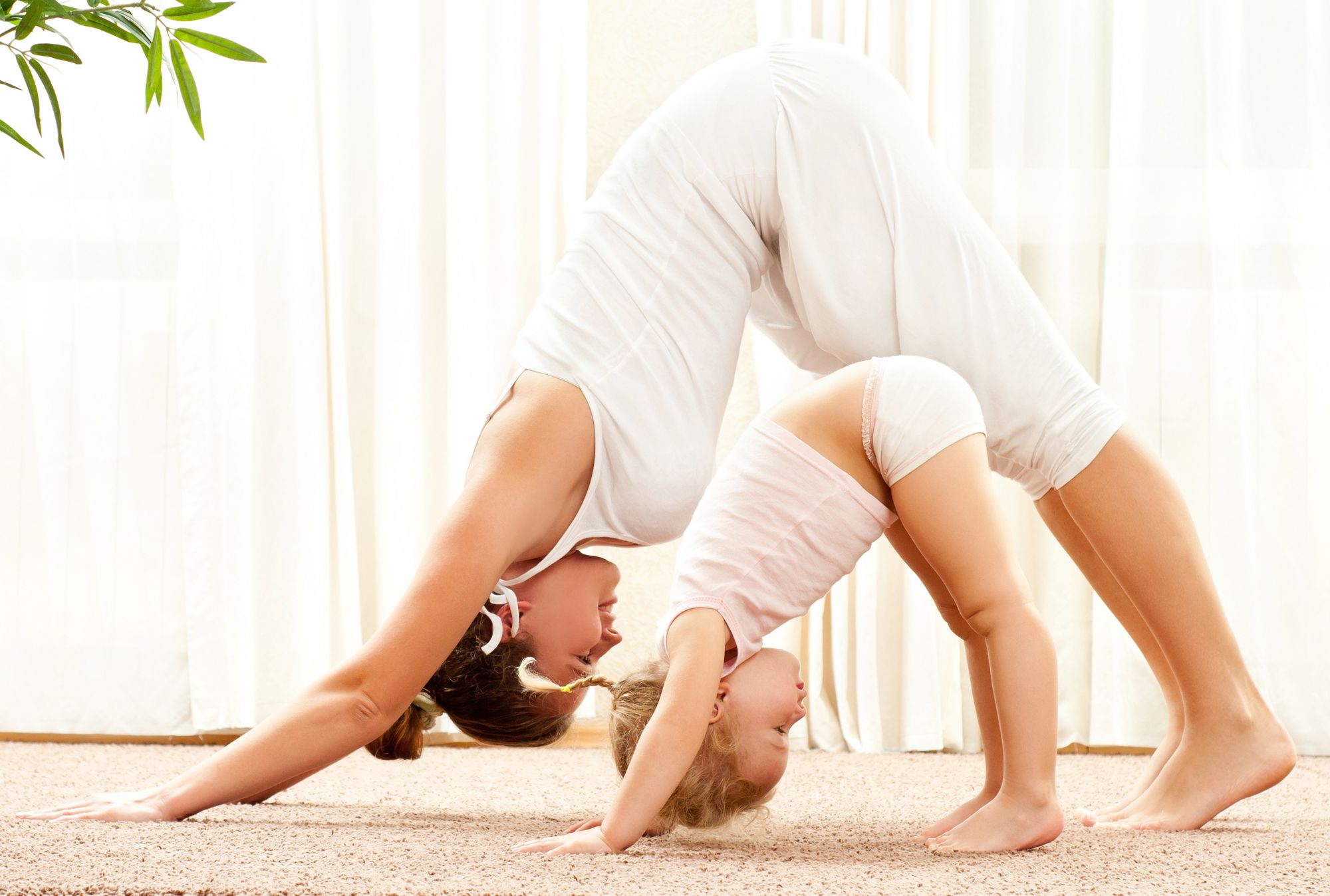 Photo Credit: SvetlanaFedoseyeva/Shutterstock.com
The holidays are some of the most stressful times of the year. Your family is visiting for a week or two, your to-do list keeps getting longer and longer, and the idea of trying to fit into your New Year's Eve dress with all the sugary temptations around can make life seem impossible. This is the perfect time to stop, breathe, and take a moment to reflect on yourself. Yoga, well known for it's mental, emotional and physical impact on the mind and body, can be a life saver this time of year, and starting now is a great way to kick-start any 2016 weight-loss resolutions. To better understand how the millennia-old practice can help improve our moods, weight and health during the season, we spoke to Rachel Baker, owner of Be Well, Rachel and the yoga instructor at California's prestigious Glen Ivy Hot Springs.
Photo Credit: Glen Ivy
Rachel Baker has been teaching yoga for almost 10 years—she's studied under Cloud Nine Yoga's founder Erika Faith, has her own private practice, and has worked with people from all walks of life to improve their health and well-being through yoga. And she attributes all of it to a bad break up in college. "My relationship with yoga is hilarious. My senior year of college my boyfriend and I went through this horrendous breakup and he goes 'Oh my God, you just need to chill out and take some yoga,'" she laughed. To prove a point, she began taking classes under Faith who was teaching at Cal State Fullerton at the time, and was such a quick study she was soon asked to substitute for classes. After graduation she landed an editorial job and did yoga purely for enjoyment before she decided to get her teaching license just for fun. A few weeks later, at the height of the recession, she was laid off and Faith was hiring.
Photo Credit: Syda Productions/Shutterstock.com
Now she works with everyone from stay-at-home moms to cancer patients, and sees yoga as a way to not only stay fit, but improve mental and emotional health. "Let's not kid ourselves, heck yes I want toned arms and abs, I've had two kids," she laughed. "But at the same time when I get to really focus on my own personal practice there's that quieting and that meditation. I can kind of restore order in my mind, that's also the benefit of yoga and why I love it so much and why I've always returned to it no matter what life throws my way." Some of her clients have had major physical and emotional changes that have improved their lives, and some of her students have been so moved by the power of yoga they've actually started teaching as well. "It is exercise absolutely, but it is very much a form of self-nourishment," she adds.
Photo Credit: Glen Ivy
For those looking to start incorporating yoga into their routine for weight loss, stress relief, mental clarity or any of the above, Baker recommends finding a local studio and starting with a beginners class to remove yourself from things that could be distracting—like holiday guests. "There's just something to be said about leaving your home," she explained. "When we're at home and we try to throw a DVD in, or watch yoga on the internet or stream it, you're still distracted by that load of laundry or the dog that won't get off your mat or for me, I have a four year old and a seven month old." Trying a class will help you focus, teach you the proper techniques and allow you to surround yourself with others who have the same wellness goals.
Photo Credit: Wavebreakmedia/Shutterstock.com
If your schedule doesn't allow for weekly yoga classes or you're short on time, especially considering the time of year, set aside a few minutes every day to devote to yourself. "If you can't leave the house, but you have 15 min before bed or 15 min in the morning, throw in a couple yoga moves just to wind down. You can even do these in your bed," she told us. She recommends low-impact positions like child's pose or mountain pose to stretch out the body and allow you to relax. "Do some standing forward folds, mountain to forward fold, do it a couple times, just in deep repetition will full breath and what that does is lift the chest, opens the heart, gets you grounded, but it's also going to lengthen out your lower back, your hamstrings and your system," she explained. "These are all the muscles that get really tight because we live in such a sedentary society."
Photo Credit: Glen Ivy
With the majority of the population sitting in front of their computer for eight hours or more per day, Baker believes that's it more important than ever for people to get up and move. "Sitting is the new smoking! It's very true, the longer you sit, it's literally killing you," she said. "This is a digital age and so many people are on their computer all day. It's a lot of carpal tunnel, it's a lot of hip replacement surgery because we're sitting for so long that muscles on the hips are tightening and building up and then you can't do any hip openers." She explained that trying a little in-office yoga is a great way to keep muscles from tightening up and can relieve stress and tension. "People might look at you a little funny, but if you do five minutes of neck rolls and shoulder rolls in your cubicle it's going to help you long term," she explained. "It releases a lot of the buildup in the neck and shoulders. Wrist rolls, things like that, to release carpal tunnel and protect your muscles and joints." Once at home she suggests lying down with legs straight up against the wall, putting the body into an L-shaped position. Do this daily to help release the lower back, glutes and hamstrings.
Photo Credit: Glen Ivy
Yoga is a great low-impact way to improve health and build wellness, but Baker doesn't let us forget that it's also a great way to burn calories and shed pounds. "There are some seriously strenuous classes out there," she laughed. "You go take a core power class your heartrate is going to get up, and it's going to get up really fast. You are going to be dripping in sweat and you're going to be sore the next day, just absolutely sore." No matter your starting fitness level, she cautions taking it slow and easy. Being mindful of the moves and body placement can prevent injuries. She admitted that even after years of study she has injured herself before. "Students can be competitive, listen to your body," she suggested. Instead of trying to match every move perfectly, do the best you can, slowly but surely your body will learn and improve.
Photo Credit: Anna Furman/Shutterstock.com
Working out at a steady pace isn't just a way to prevent injuries, it can also allow aspiring yogis to maintain a healthier lifestyle. "You have to have a marathon mentality, it is not a do it once you're going to get results type thing, that's just not how our bodies work. Yeah, there are certain forms of exercise, certain diets where you're going to see a great result overnight, and then you're going to yo-yo. That type of mentality is terrible for the body, terrible for the digestive system," she explained. "When we see people yo-yo dieting, they slim down they blow up they slim down they blow up—horrible for the heart, terrible for the organs, so what I always say is start small." She recommends setting goals for yourself and slowly adding to them over time. Try a class once or twice a week, then start adding in small 15 minutes poses at home, then add more as you become comfortable with yoga. "You'll get there in your own practice no matter what, but if you start by being gentler to yourself you're going to fall in love with your practice and then build up to those intense poses," she explained. "If you don't fall in love you're going to ditch it in a week or two."
Photo Credit: Glen Ivy
But what we love best about yoga is that almost anyone at any fitness level can start incorporating it into their daily routine. There are so many different levels, positions and types of yoga that anyone can find a routine that's right for them. We attended a lesson with Baker at Glen Ivy and the class was filled with every body type and age: from athletic teen girls to overweight, middle-aged gentlemen. While the class was a short beginners course it allowed everyone (even some of us less-flexible types) to replicate all the moves and get in a great workout. Although it might be hard to get out of the house for a class while the entire family is home for the holidays, or even get 15 minutes to yourself before bed, finding some alone time to focus on your mind and body this season can help you have a healthier and less stressful holiday.