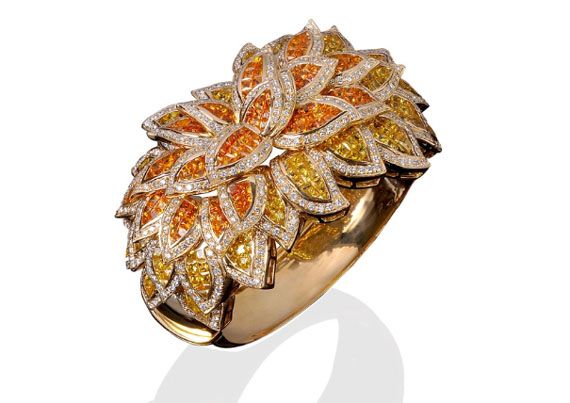 Photo: Sapphire and diamond bracelet by Farah Khan
Los Angeles
has been bustling this week because the most important day of the year has been drawing near: The Academy Awards! Sure, we love the show itself-the winners, the losers, the utter drama of it all. But what we really tune in for is the fashion.
We love watching all those starlets and their escorts traipse down the red carpet in to-die-for fashions. It'll have us talking haute couture for months. However, it's always the jewelry that draws our eye and can make or break an entire Oscars ensemble.

That's why we decided to talk to celebrity stylist and jewelry expert Michael O'Connor this week about what sparkly things we can expect to see on this year's red carpet. We caught up with O'Connor at the StyleLab Academy Awards preview as we got a sneak peek at some of the trendiest pieces stars will be carting down the red carpet. While there, we peeped designs by participating brands like Dena Kemp, AGTA Collection, IDH Titanium and Farah Khan.

Academy Award nominees and presenters (we're talking about you, Hathaway!) were treated to a special window-shopping session courtesy of StyleLab at a secret location to select their one-of-a-kind jewelry pieces for the big show. This year, there are million-dollar platinum necklaces, diamond drop earrings and sapphire bracelets.

We can't tell you where we went to look at them (and maybe tried one or two on) for security reasons, or we'd have to kill you, but we can show you photos of some of the signature pieces that you might spy on the pre-show or up at the podium this year.

StyleLab was hosted by celebrity stylist and jewelry expert Michael O'Connor, who has been working in the fashion business for over 30 years. His background includes designing pieces for Gucci and Cartier, as well as DeBeers's stunning "three-diamond initiative." The key to O'Connor's outlook is, as he puts it, "how the evolution of fashion creates frameworks into which jewelry and accessories need to play."

These days, O'Connor puts that eye to work styling his clients. Though he can't divulge his current list of clients, he tells us that in the past he's worked with the likes of Amy Adams, Eva Longoria, Nicolette Sheridan, Minnie Driver and Gabourey Sidibe on the ladies' side, and men like Randy Jackson, Seth Green and Brandon Routh.

Now for the inside scoop on what we can expect to see at this year's Oscars. "Because of what's happening in fashion right now, there are several trends that we will see on the red carpet," begins O'Connor. "The ornamentation of gowns has been very focused on specific areas of the gown, and much of it has been exaggerated in size. Therefore, jewelry pieces will definitely need to be larger in order to keep up with the proportion of the ornamentation. Bigger earrings, larger necklaces and bracelets, and of course, oversized rings." Sounds like the recession's out and bling is back.

It's not all about size, though. "Fashion designers are using a tremendous amount of color," says O'Connor. Though the formality of the Oscars means we'll see more neutral colors than at other awards shows, "I think we will continue to see the growth in popularity of colored gemstones and colored diamonds in order to create contrast or monochromatic looks with the dresses." He adds, "Of course the classic of platinum and diamonds will remain popular."

O'Connor also predicts that vintage and antique pieces with a distinctively retro appeal will remain popular among stars. "Most importantly, they are looking for pieces that will make a statement."

So what kind of statement is O'Connor making with StyleLab this year? "One of the things we pride ourselves on is providing pieces that are totally unique and different." That is why StyleLab partners with many companies that are based overseas, he explains; such as IDH Titanium and Farah Khan so that the pieces he selects for the jewelry suite have never been seen in the U.S. before. However, he also notes that many of the U.S. designers he works with always give him their newest one-of-a-kind pieces.

"Each piece that will be presented is hand-selected for its uniqueness and beauty. So although there are pieces that I think stand out, every one of them is special." And really, all anybody wants on Oscars night is to feel special.

Take a look at the accompanying photos we were given for an exclusive look at the one-of-a-kind jewelry pieces that StyleLab plied celebrities with this year, and then keep an eye out for them come Sunday and see if you spot any on the red carpet.