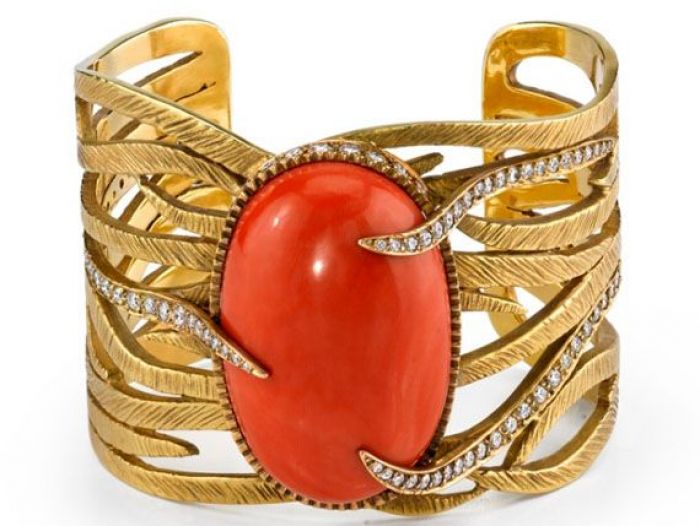 Photo Courtesy of Opal Stone
If you're seeking
exquisite jewelry
that's anything but ordinary, take a peek at the breathtaking designs by Opal Stone Fine Jewelry. Born in Jamaica with design training in New York, Stone has unearthed a rare place for herself as a luxury connoisseur with sharp designs crafted of only the highest quality materials including fine gold with stunning precious stones — all made in the United States.
We sat down with the creative genius to ogle her precious pieces and get to know a bit more about her background and unique take on design.
JustLuxe: Share your journey with us. How did you become a jewelry designer?
Opal Stone:
Everything I design is what I want and what is missing. I'm absolutely in love with jewelry. I'm in love with diamonds — it's my favorite thing of all. Before I got into design, I was studying psychology in college, but I would cut classes to go spend time at Saks Fifth Avenue and Bergdorf's instead. I was always fascinated with fashion.
JL: Where do you get your inspiration from?
OS:
My work is almost schizophrenic in its origin, and my inspiration comes from just about everything. Architecture is number one. Sculpture is number two. I like painting, and of course it's a part of the arts, but designing and seeing unusual things like buildings and sculptures is my favorite thing.
I'm truly inspired by anything organic. My inspiration comes from just about everything. For example, I was eating dinner at a restaurant in Sao Paulo and there's this famous tree there that ultimately inspired the Geometric Collection. In the end, all of my different collections complement each other.
JL: Elaborate on a few standout pieces from your line with us.
OS:
Every single collection starts with a cuff. It's very interesting the shape and curve of one's hand — you can't be in any place and not use your hands. Also, there are certain philosophies I have that carry into my designs. I think water is essential and gives life. The Splatt Collection consists of geometric lines much like cracks in the earth, and the splatts represent drops of water affecting the earth. The splatt is also like a good luck charm because it brings life to whatever you're doing. It's something you can grow with and it becomes something that has meaning for you.
Also, I wanted to do something about Africa, but not in the way that it's been done before. The Zebra Cuff is an African sunset. African sunsets are of a different color and zebras are everywhere in the landscape. The cuff represents both. I tweaked the color of the gold to be what I think would be the color of the sunset, and the stone represents the sun.
Lastly, pearls are one of my favorite stones. Their imperfections fascinate me, which is why I love baroque pearls because they have interesting shapes and originate from the ocean. I have a piece called the Charles de Gaulle cuff which was inspired from a plane ride en route to Paris, where I imagined what it would be like to drop a pearl from the sky. Essentially, I take aspects of what I see and create it into something interesting to wear.
JL: What is your greatest luxury?
OS:
I think my design aesthetic is one of my biggest luxuries. With my imagination and what I do, I look for the best in everything. To me, luxury is a lot of different things. Whenever I start something I will go to the ends of the world to find the best "something" in whatever I'm doing. I surround all of my stones in gold. It's a luxury that you get from an artistic knowledge of how one could make something beautiful from different aspects of the world.
JL: Who are your celebrity fans?
OS:
Teri Hatcher (bangles), Jennifer Hudson (Geometric Earrings and Zebra Cuff), Selma Blair (Giraffe Ring), Kelly Osbourne (Ivory Cuff & Ivory Ring).
JL: Every woman should have which three pieces in her jewelry box?
OS:
Every woman should own Opal Stone hoop earrings, an Opal Stone cuff, and a huge Opal Stone ring. Earrings are the finishing touch — they're like the frame of a photograph because they frame your face. I do everything with my hands — I talk with my hands, feed myself with my hands — my hands take good care of me, so they should have the best. I don't think there's any reason to put a little bracelet on your arm. Every hand needs a dynamite ring and a fabulous cuff.
JL: Tell us about your new luxury handbag line.
OS:
The handbag collection was actually inspired by the jewelry. I wanted a handbag that met my needs and I wanted the very best. The next step in the progression of the brand is incorporating the jewelry into the handbags in the form of hardware.
I am totally driven by yellow gold and I believe the hardware is the jewelry of the bag. I use brass and bronze dipped in either 22-karat or 24-karat gold. I match the color of the gold to the skins, because I want the stone and the metal to be in harmony with the jewelry. I carry that concept over into the leather and the hardware in the same way.
As for the designs, I personally love things that have a twist, things that have a duality going on. My bags have a little whimsy, but also a classic shape with some special touches like extra pockets or an alligator skin where you would normally find leather or suede.
For more information, visit
OpalStoneFineJewelry.com
or call 310.275.3406. Available at Gray Gallery in West Hollywood and at FD Gallery in NY.