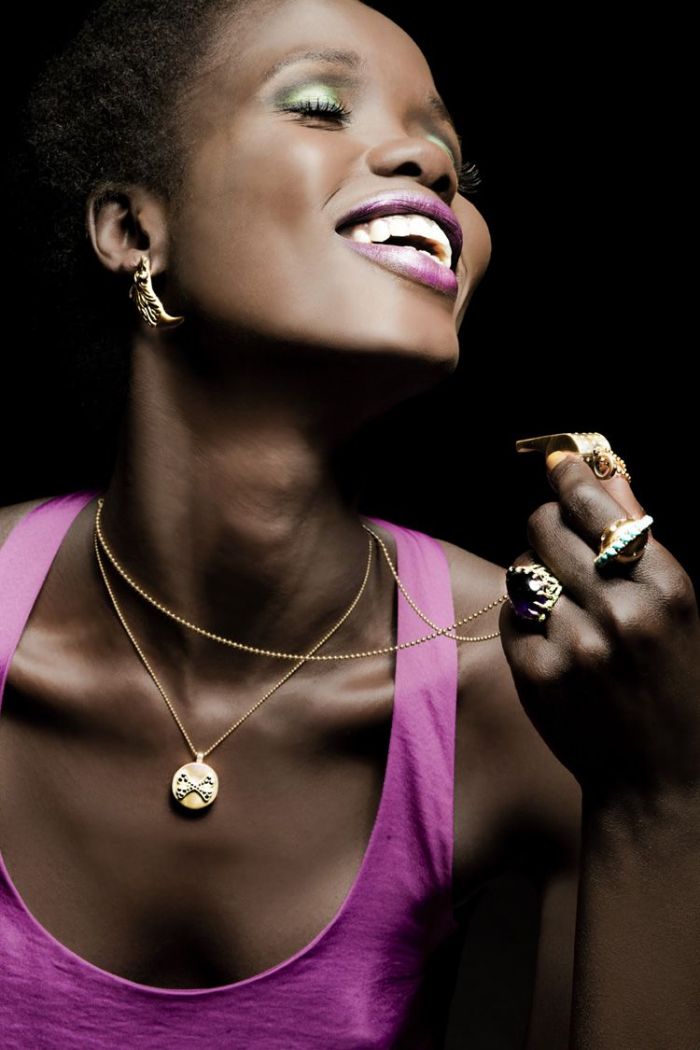 Photo Courtesy of Wendy Brandes
The allegedly insane 15th century Spanish queen, Joanna of Castilla, may not be a story that gets your creative juices flowing, but for jewelry designer
Wendy Brandes
, she's the perfect muse. The media and marketing pro turned jewelry guru has shown that inspiration can come from the most unlikely places. Her collections, based largely off powerful historical women, have won her fashion awards (including the coveted FGI Rising Star award in 2012) and the recognition of celebrities and stylists alike.
In 2001 Brandes designed her own engagement and wedding rings which was the spark that set off her creative streak. She returned to that jeweler many times over the next few years with different designs that she wanted constructed into gold and jewels. She eventually suggested that the two team up and in a way she began her own line; the jeweler lending her knowledge and expertise to Brandes' creative visions. After her business partner passed away in 2006 (Brandes respectfully declined to give her name) Brandes had to reinvent the business she had created, not without some difficulty of course, "I never really got her manufacturing sources from her I didn't even know where to go to buy a chain." Brandes laughs, "the hard part was getting just the sources, knowing where to go, and the logistics of how to do it. "
After a career heavy in journalism, social media, and online marketing, jewelry designing hardly seemed the next step. Brandes had worked for CNN, People Magazine, and the Wall Street Journal, but she had no desire to return to her previous career "it seemed so boring to go backwards" she says "and I was always interested in fashion related things and I'd gotten more and more interested in jewelry specifically." Luckily, her background helped her when the recession hit, "I definitely think my ability to do [online marketing] helped keep me in business after the crash of 2008."
With ornamental jewelry containing skulls, wolves, dragons, and serpents you may be wondering how luxurious her pieces could possibly be in a world of big gems and overtly obvious solitaire diamonds. "Luxury to me definitely means it's fine workmanship" she began, (she later regaled me with the story of how she and her craftsman decided the mythological dragon's snout on her Empress Wu ring was not "realistic" enough and she had to redesign it). "The ultimate luxury [is] a luxury that doesn't necessarily have to scream its name or be explicit" she adds. She's looking at you Monogram Speedy.
Looking to history and literature for inspiration has given every piece in her collection a unique story, "I have always—almost entirely been inspired by historical women. Women who were related to power or in power" and each piece in some way is representative of these women. Her distinctive Juana skulls are symbolic of a story that the mad Spanish queen carried around the coffin of her dead husband everywhere she went. Fact or fiction, these mysterious and dark stories fuel Brandes designs.
Her new and appropriately named Maneater collection conveys this idea in more ways than one. The name, while playing off her themes of strong women, can also be taken quite literally. "I just started toying with this idea…a lot of these women; people would have described those historical figures…as maneaters." Her new line has three rings so far, Whale and Jonah, Frog and Prince, and Lion and Hunter, all representative of the maneaters literal term, with "the little defeated man hiding inside the ring" the surprise twist that she encapsulates in all her pieces. Her new collection fits well with the macabre girl-powered theme and as most of these women's lives were filled with bloodshed, the name Maneater is more than appropriate "if you told it to Empress Wu, the Chinese Empress from the 7th century she would be like 'yeah, I am!' then she would kill you," Brandes laughs, "I think they would relish the power." Her Maneater line will have a total of eight rings, only three of which have been debuted so far. When asked for a little hint to the identity of the next one, she giggles "Oh, I can't tell you 'till it happens!"
After winning the
Fashion Group International Rising Star Award
in 2012, Brandes is nothing but thankful, "I practically get choked up just talking about it" she said before proudly speaking on each piece that was nominated. "To get that recognition from peers and people who appreciate design […]I feel very fortunate." And it's all very well deserved. Her pieces are an art form that she meticulously watches over from conception through production; the pieces are "made locally, I check on them frequently while they're in process and I do make changes along the way." The need to scrap a concept and reinvent it seemed to only happen early on in her career, but the Maneater rings she may have a higher expectation for "I went and I looked at them and I thought 'not enough color' and I added a lot of gems […] I think I ended up with quadruple the original number[…] I'd like to have a Cartier type budget, then that shank would have been solid sapphire."
Coming back from a recent trip to Europe, Brandes already has new inspiration for more pieces, "I saw some great Tudor and Stuart exhibits […] which is inspiring to me as far as my queen oriented, royalty oriented designs, but mostly right now I'm focused on doing my next Maneater ring." Anxious for tidbits on any of her new pieces, she finally spills about a few ideas she has on the back burner, "I have a lot of queens who I haven't dealt with, I mean, I have four wives of Henry VIII that have not been attended to! I've definitely had ideas for them this whole time and it's just a matter of having the right moment to execute it—no pun intended about executing!" she adds quickly. Her ideas are nothing short of gothic romance as she explains to me an elaborate bracelet she wants to construct for Henry's fifth wife, Catherine Howard (or as he "called her his rose without a thorn" she adds) that will be a "really big, beautiful, mechanical piece." As she takes the time to explain to me the history and recount their legend, she displays her love for storytelling and it becomes apparent that is what her jewelry is all about. Her collection may be dark and mysterious or fun and whimsical, but every piece has a tale and a story to tell.
Wendy Brandes designs are available online and range from $440-$26,500.