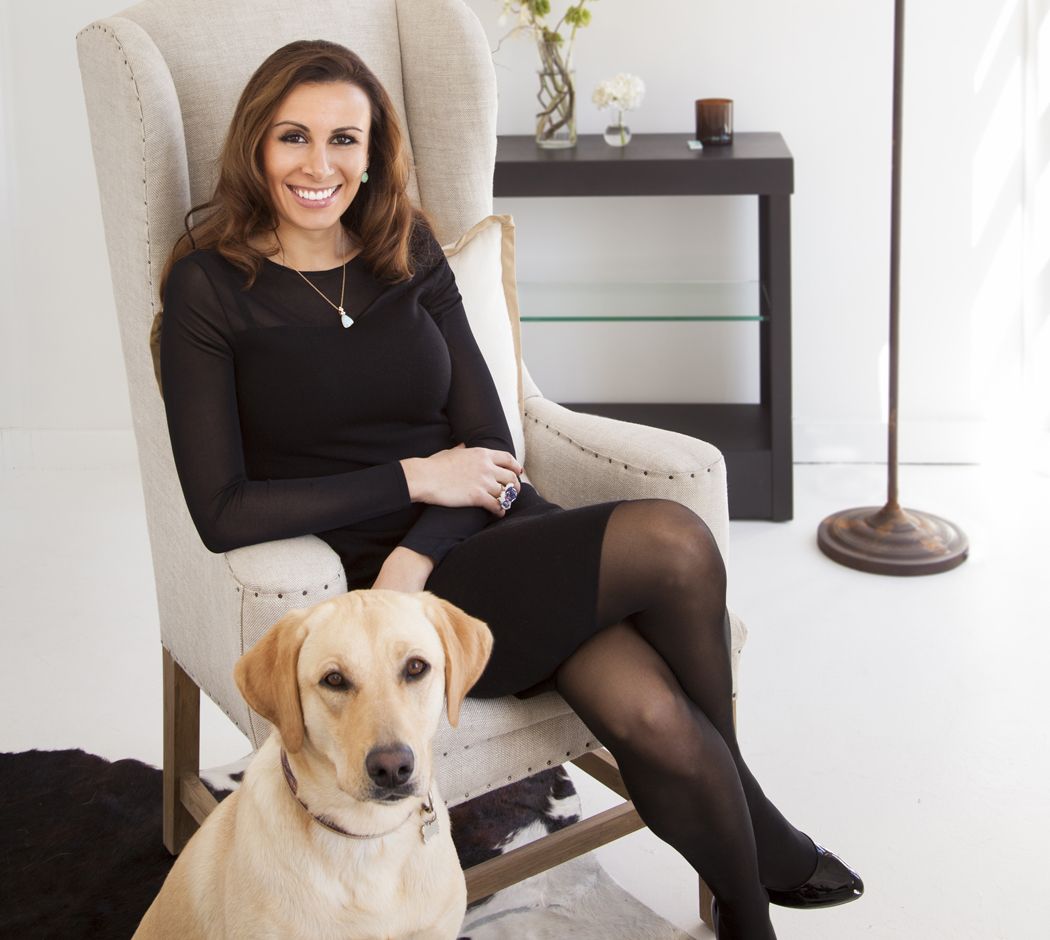 Photos Courtesy of Katherine Jetter
When you think of Australia, beaches, barbeques and possibly kangaroos come to mind—but you may not consider high-end jewelry as being one of the country's attributes. But Down Under they have a national gemstone unlike any other: the Australian Opal. The opal is the unsung hero in the fashion industry (and is often considered unlucky), but we can thank this once-unpopular stone for igniting Katherine Jetter's passion for jewelry. When gifted a blue Australian opal from her parents, the jewelry designer was instantly enamored by its beauty. "That's where the idea started," she tells JustLuxe. "I wanted to pay tribute to my country, Australia's national gemstone and bring opals into the 21st century." From then on, she made it her personal mission to bring the Australian opal into the limelight.
Jetter creates pieces inspired by her home country—a favorite is her golden rings with hand-carved, white opal flower petals and garnet centers, surrounded by dew-drop diamonds. "I love my flower rings. It took so much product development to realize these unique opal cuts that I created," she explains. "They are truly unique and carry my signature." Just looking at Jetter's designs, you can see how dearly she holds Australia close to her heart. "My first collection was inspired by the Daintree Rainforest in Northern Queensland, the second by the Great Barrier Reef," she adds. "I think the natural beauty of these landscapes is so incredible, I wanted to incorporate it into my jewels."
Her venture into jewelry also is quite unorthodox. She graduated with a Bachelor's Degree in Clinical Psychology and went into finance originally, landing a job at JP Morgan, before she left to start her own company. Despite not having an art background, her business sense helped her create jewelry that was not just attractive, but also sensible. "For me, making jewelry is not just about realizing a creative idea. There is a lot of thought behind each piece in terms of how it will be worn in a practical environment and lifestyle, the perceived value and cost of making it," she explains.
"I was passionate about art my entire childhood, and over the years I focused in on my talent to direct my energy in a productive and meaningful way," she says. "I found my focus with jewelry as I loved the gemology behind the stones, and I connected with the fact that jewelry is almost always an emotive gift with lasting value."
The world of luxury jewelry is filled with discerning customers and thousands of designers to choose from. But Jetter targets a specific woman when creating her pieces. "I design for the elegant, sophisticated woman with a modern lifestyle," she explains. "Most of my clientele are strong businesswomen themselves or independently wealthy women who want to wear jewelry to express who they are." Independent women indeed—flick through the glossy pages of any luxury magazine and Katherine Jetter's pieces are often seen on socialites and celebrities.
But succeeding in the jewelry world isn't enough. Jetter and her husband (who have since relocated to New Mexico), are active philanthropists with a focus on furthering education. They have even formed a local non-profit organization to support these efforts. "We have our own foundation called New Mexico Leadership Institute, which sends 30 students each year to college in New Mexico with scholarships, leadership training and mentorship in their career of choice," she says. "I am also on the Board of the New Mexico Dance Institute, teaching children excellence in the Arts, and we contribute to many other charities in our local Santa Fe community." On top of all this, the couple shares a strong belief in protecting wildlife and preserving the earth.
Thankfully, she has found that most of her well-heeled clientele seem to agree with her environmental beliefs and values, "I may be creating a product that is exclusive, but it is motivated by the desire to be an artist and a small business owner. I strive to be a role model for young women who want to follow their career ambitions in an ethical and moral way—be a mother, a wife, and give back to their communities," she explains. "The product I am creating is, in my opinion, secondary." When asked if she thinks her jewelry can help the environment she is so passionate about she answers honestly, "I don't know that it helps it, but it also doesn't harm it."