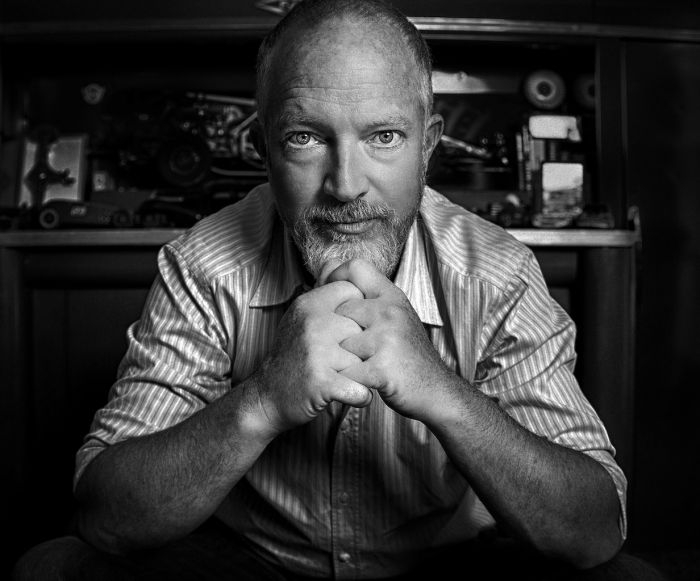 Icon 4x4
It is not certain that many remember the grille design of a 1952 DeSoto, or that of the chrome-infused 1959 Chevrolet Parkwood station wagon. But for those who do, Jonathan Ward's vintage design aesthetic and his company, Icon 4×4, has the same reflective sense of memory, depth, and worth. Though still a young man, not even fifty years old, he sees great design in these and many other vintage vehicles and creates a reincarnation to the vehicles that have, up to now, been visualized only in memory.
His signature vision aligns vintage with contemporary, and such vision consistently infuses his vehicles. As he says, " I wanted to re-purpose vintage cars with modern internal parts – sort of vintage on the outside, modern on the inside. I wanted to be true to the original exterior design aesthetic also. I didn't want the dashboard of a vintage car to scream MODERN everything, I want the interior to be subtly contemporary, but with an overriding feel for the period.
With this vision, and with the success of his company, he has created a new product with a similar attention to detail, one that again combines vintage with contemporary: the Icon Duesey Watch.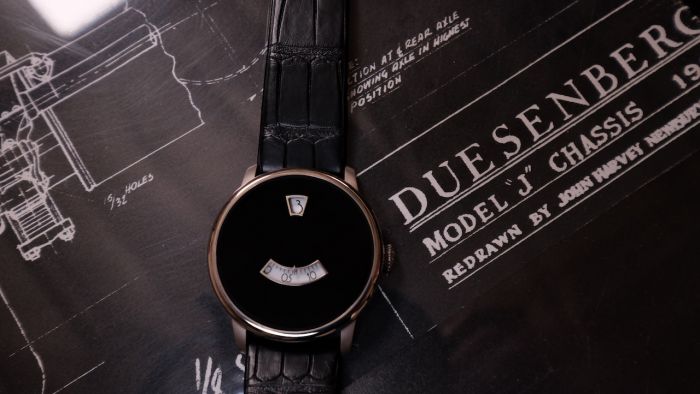 Icon 4x4/Watches
We spoke with him recently about how the Duesey was created in a dual manner – first, from design ideas compiled from watches in his watch collection, started in his youth. Ward collected over 100 watches of varying provenance, and that vast majority is vintage. Second, relates to his love of the vintage automobile. His watch designs, based on his collections, were in his mind for years, but when he sat in a classic American Duesenberg, a vintage luxury automobile built in the 1920's and 30's and saw the circular tachometers and speedometers on the dashboards of the Duesenberg, and his time design thoughts came together.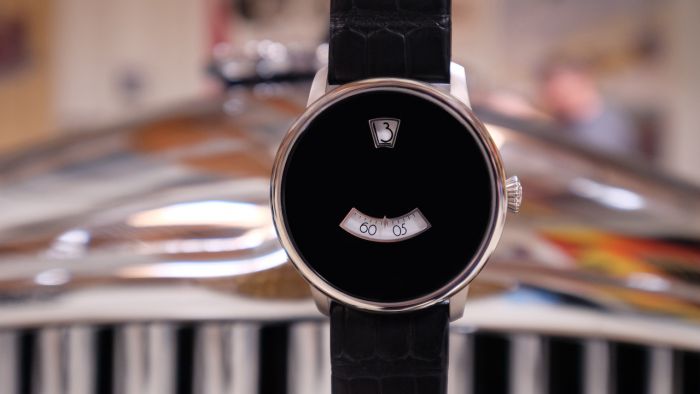 Icon 4x4 Watches
He designed the Duesey (taken from the Duesenberg name) from the ingrained ideas of his watch collection, and the dashboard dials of the Duesenberg. The result was a disruptive combination that commenced in a three-year journey that moved Ward's design thoughts to a timed-based reality. But now, though the watch is live, only fifty were created. Each has an onyx stone dial, intersected with a vintage Jump Hour box. Below the box, is a wandering minutes display. The Jump Hour watch face was popular in the 1930's. The Swiss-made timepiece has a 42mm titanium body and polished bezel, and is finished with an alligator leather strap. As of this writing, according to Ward, there are only 13 left to purchase.
"I was not surprised by this watch's popularity, as I wanted again, very like our Icon automobiles, to fuse vintage design language into a contemporary milieu. As many know, the Duesenberg automobile defined a type of luxury that today, is extremely difficult to re-engage. Rather, we now live in a quantity-over-quality world, so the detail of vintage, of legacy, of timelessness, of worth, often disappear in the desire for quick and cheap. I know there are still those who understand this cultural battle, and appreciate the products that have quality, and especially vintage quality, at their core."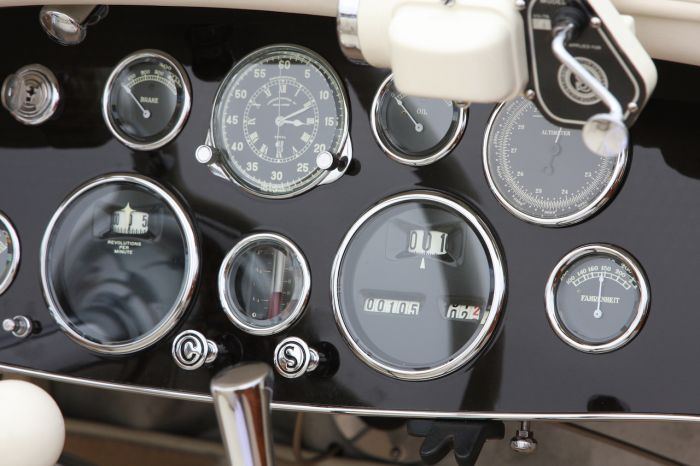 Icon 4x4
What happens after fifty Duesies have been sold? He said he has four or five new designs in his mind, many having relationships with his Icon vehicle designations and designs – especially The Reformer and the Derelict. He also has other ideas that combine the artistic with vintage and contemporary: in furniture design and in architecture. He always sees better designs for everything and wants to re-create many in a contemporary, yet vintage, language. Stay tuned.
https://www.icon4x4.com/watches
Quick Facts: Icon Duesey Watch
Case: 42 mm, titanium, sapphire crystal case back
Dial: onyx, brass titanium-colored window frames
Movement: ETA Caliber 2892-A2 with Dubois Dépraz module 14400, deluxe finishing, custom-made rhodium-plated tungsten alloy rotor
Functions: jump hours, minutes (disk)
Limitation: 50 timepieces.
Price: $11,500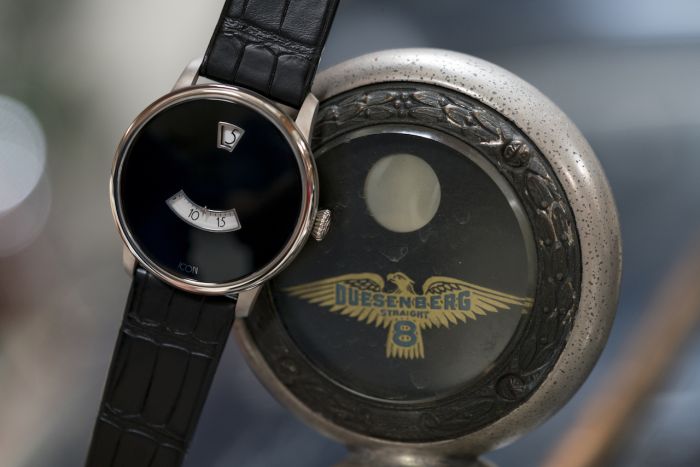 Icon 4x4
Duesenberg Radiator Cap and an Icon Duesey Watch.
Icon 4x4
Jonathan Ward Read a Book On The Duesenberg Automobile.