Shutterstock
Best Women's Luxury Watches for About $5,000 or Less
Forget the earrings, the necklaces, and the bracelets. The only piece of jewelry that a woman truly needs is a classic chronometer. A personal piece of wearable art, a luxe watch conveys passion, style, and refinement. No matter the wearer's wardrobe, elegance and sophistication are effortlessly announced with a simple wave of the wrist when donning a selection from one of the following brands.
Baume & Mercier
This classic watch company, founded in 1830 by the brothers Baume, combines cutting-edge methods with traditional, flawlessly engineered Swiss-made chronographs and automatics that represent centuries of ancestral horological know-how. With an average price of between $2000 and $5000, these watches are as affordable as they are luxurious. We love the refined Hampton ($1750), a striking watch with diamond-set indexes, a mother-of-pearl face, and an iced blue calfskin strap.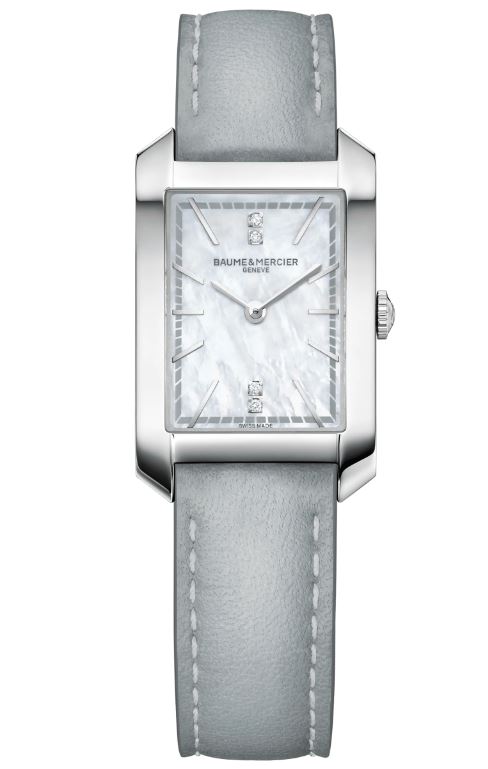 Baum & Mercier Hampton. baume-et-mercier.com
Breitling
Breitling watches are distinguished by large watch faces and polished cases, and the brand has historically been marketed toward diving or aviation. But one need not be a deep-sea navigator or pilot to appreciate the classic beauty of the refined Navitimer 35 in stainless steel/copper ($4450) combining iconic appeal with contemporary sophistication. The Chronomat 36 stainless steel/mint green ($4700) is modern-retro, versatile, sporty, and chic. Fun fact: Jerry Seinfeld can be seen wearing the men's version of a Navitimer or Chronomat in almost every episode of Seinfeld.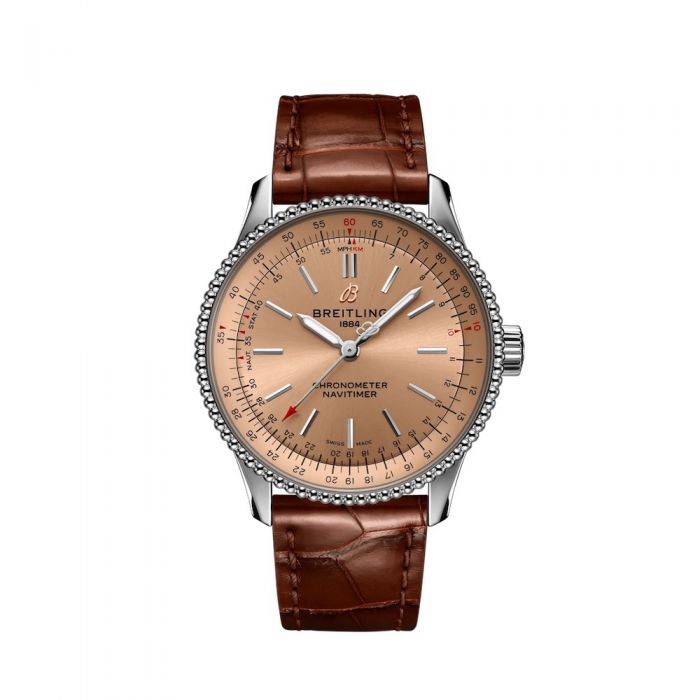 Breitling Navitimer 35. breitling.com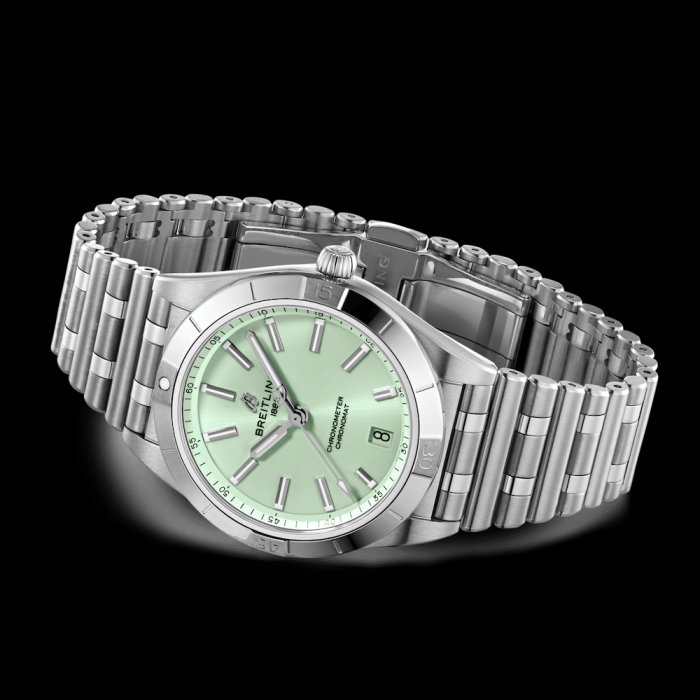 Breitling Chronomat 36. breitling.com
NOMOS Glashütte
This German watchmaking company founded in 1990 (two months after the fall of the Berlin Wall) is based in Glashütte, Saxony and its designs are known for their modernist, clean look. The brand's first collection, for instance, was influenced by the Bauhaus purist style. Those who appreciate a unisex look will like the Minimatik ($3680) which also comes in champagne and midnight blue faces. The feminine Tetra Pearl ($2080) also comes in hues of Matcha, Azure, and Grenadine.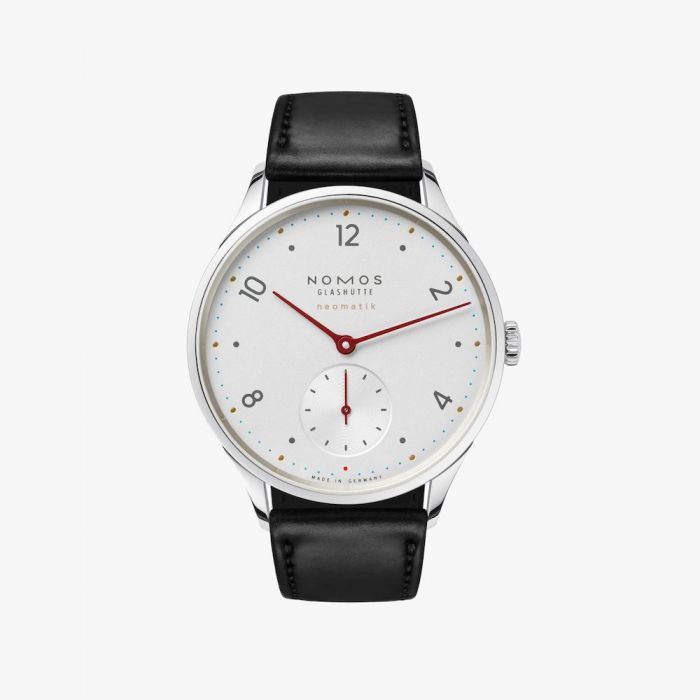 NOMOS Glashütte Minimatic. nomos-glashutte.com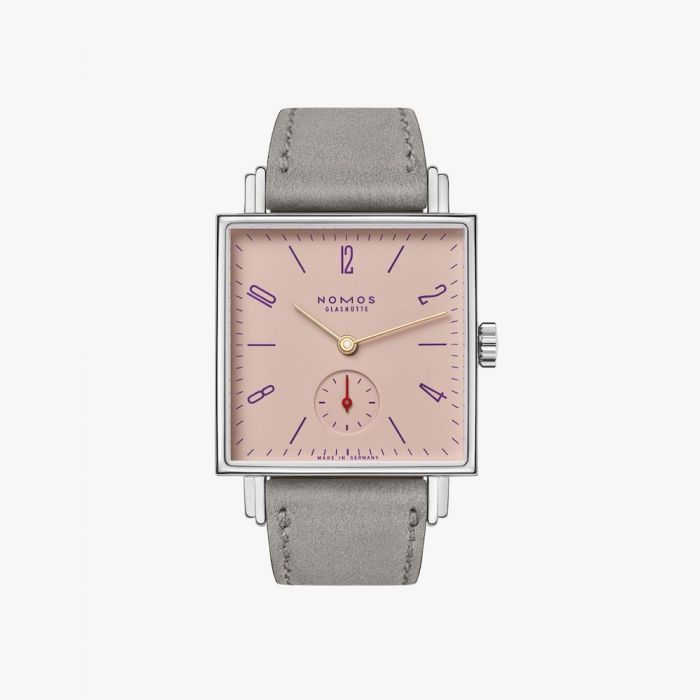 NOMOS Glashütte Tetra Pearl. nomos-glashutte.com
Omega
Swiss watchmaker Omega was selected by Britain's Royal Flying Corps in 1917 as its official combat unit timekeeper. Omega was also NASA's choice for first watch on the Moon, and the company has been the official timekeeper of the Olympic Games since 1932. Additionally, Omega is currently the timekeeper of the America's Cup yacht race. Need we say more? Consider the gorgeous DeVille Prestige Quartz ($3150).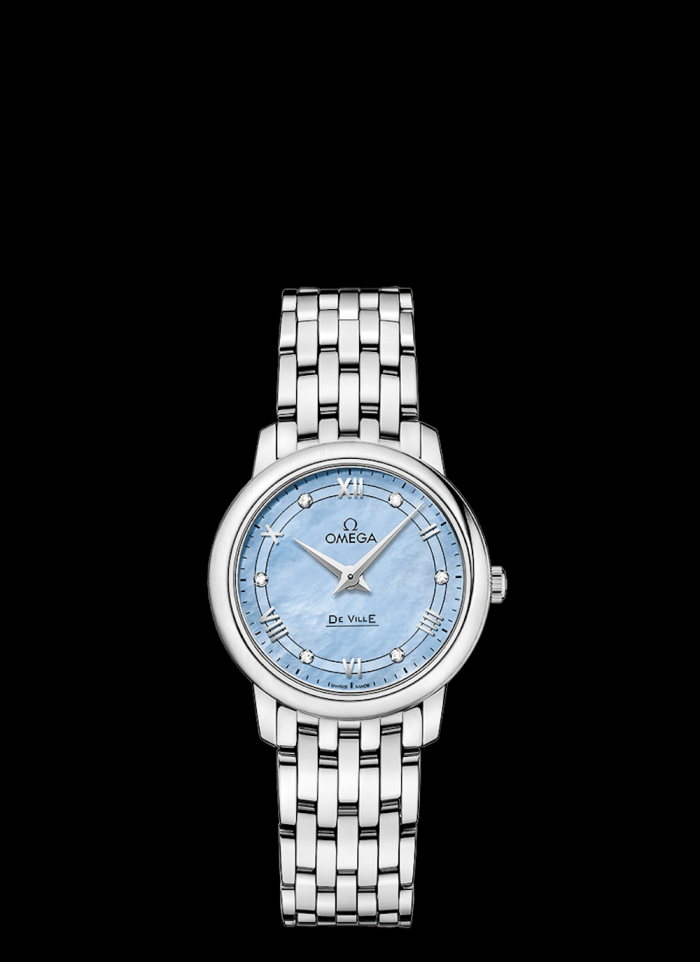 Omega DeVille Prestige Quartz. omegawatches.com
Cartier
Ahhh. Cartier. Even amongst the uninitiated, this jeweler needs no introduction. Within the world of timepieces, its Panthere de Cartier watch is about as classic as it gets. Founded in Paris in 1847 by Louis-Francois Cartier, Cartier and its watches ooze luxury and sophistication. Choose between the Panthere small ($4150), or medium ($4750).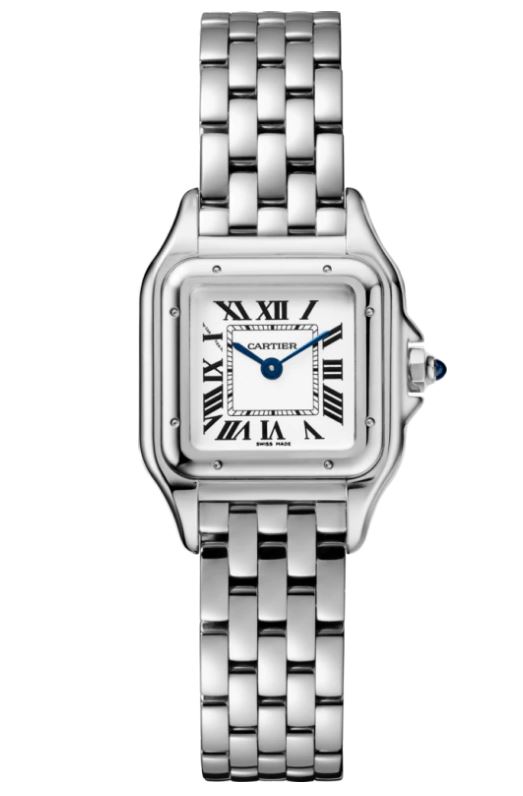 Cartier Panthere Medium. cartier.com
Chanel
Chanel makes a full line of watches that are equally as glamorous as its purses, shoes, tweed jackets, and perfumes, but, the J12 ($5150) is the only watch within its collection that truly matters. With its black or white (our choice) ceramic face, fans and critics agree that this unisex timepiece helped to define watch design since its 2000 debut. Count us on board for anything of which Keira Knightly is a fan.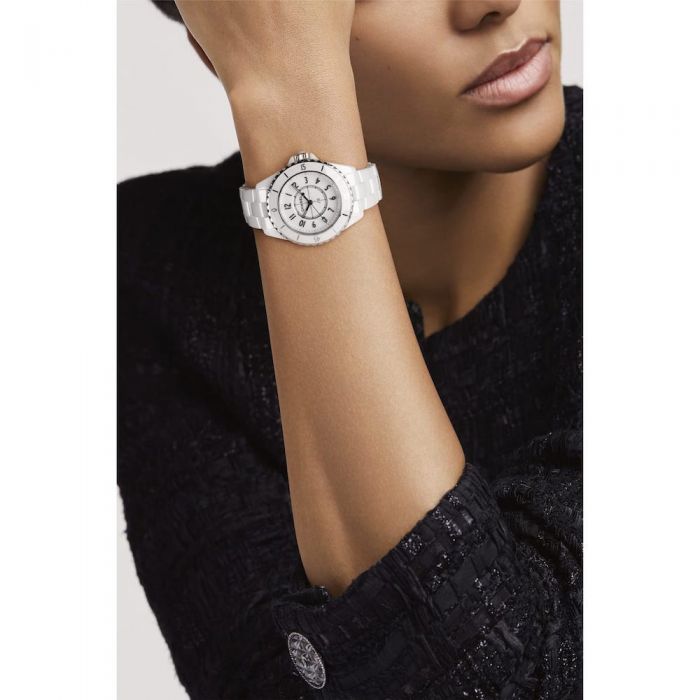 Chanel J12. chanel.com
Hermès
Best known for its Birkin bags, Hermès has been making collectible watches since 1912 when family patriarch Emile Hermès added leather straps to his pocket watch so daughter Jacqueline could wear it around her wrist. Though not as well-known as other luxury watches, the gift of a Hermès Cape Cod steel model ($3125), with its opaline silvered dial, quartz movement, and short interchangeable double tour strap in natural Barenia calfskin, would surely make any watch aficionado's day.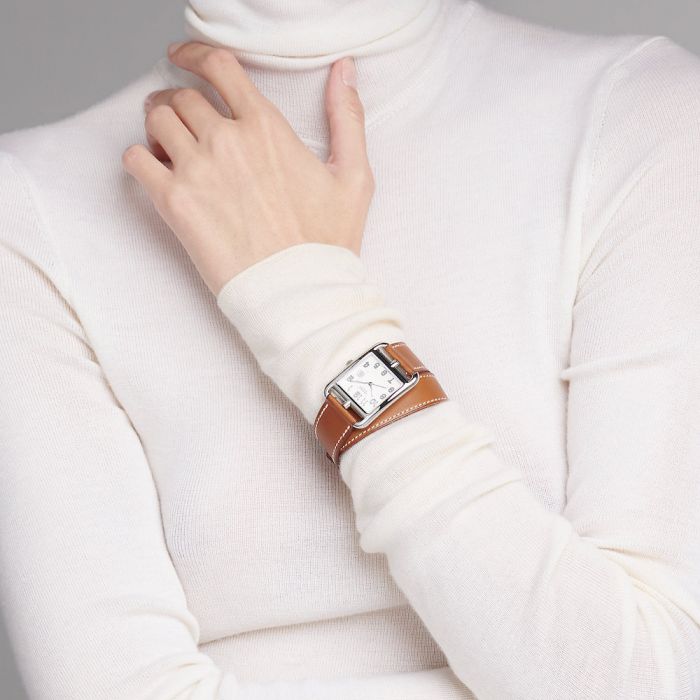 Hermès Cape Cod. hermes.com
Jaegar-LeCoultre
Founded in 1833 in the Swiss mountains of Jura, Jaeger-LeCoultre manufactures some of the most beautiful watches in the world. Of the Reverso Classic Monoface (price not listed, but experts assure this one is under $5000), the Jaegar-LeCoultre site states, 'An inseparable accomplice of the active woman who likes to distinguish the day from the night. Under the rays of the sun or the glow of the moon, the links of its flexible bracelet are adorned with a thousand reflections. The essence of chic, embodied in a timepiece.' We couldn't agree more.
Jaegar-LeCoultre Reverso Classic Monoface. jaegar-lecoultre.com
Mido
Since its 1918 founding by imaginative Swiss watchmaker Georges Schaeren, Mido (meaning 'I measure' in Spanish) has artfully merged technical innovation with timeless design. The Baroncelli Heritage Lady ($1170) is distinguished by its lightness, slimness, and pure lines provided by double-sided hands and double gadroon. Fitted with an automatic movement, this watch is the perfect expression of Mido's expertise.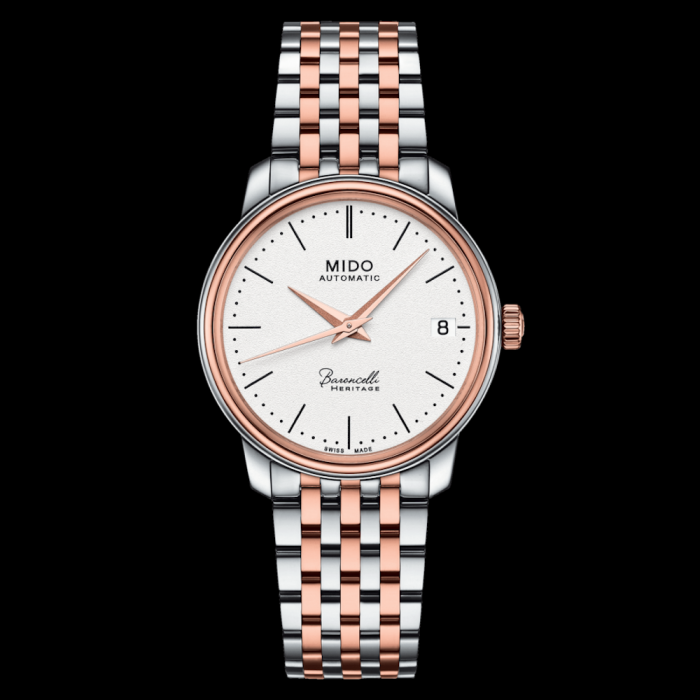 Mido Baroncelli Heritage Lady. midowatches.com
Montblanc
Just as Montblanc is synonymous with the world's finest writing instruments, its timepieces too are synonymous with classic sophistication. Despite being a relative newcomer within the watch world (their watch factory was built in Le Locle, Switzerland in 1997), Montblanc is a top contender; one look at its gorgeous Boheme Automatic ($3110) and it's easy to see why.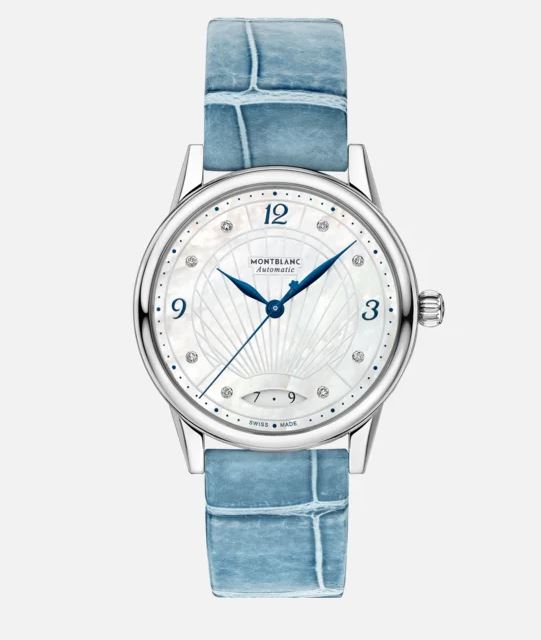 Montblanc Boheme Automatic. Montblanc.com
Grand Seiko
This Nagano-based luxury watch company was founded in 1960 and has won every Japanese chronometer competition since. Our choice from this high-end brand is technically a men's watch, but a simple strap change can easily feminize the look. The SBGW231 ($4300) from the Grand Seiko Elegance Collection combines delicacy, strength and beauty and features a three-day power reserve.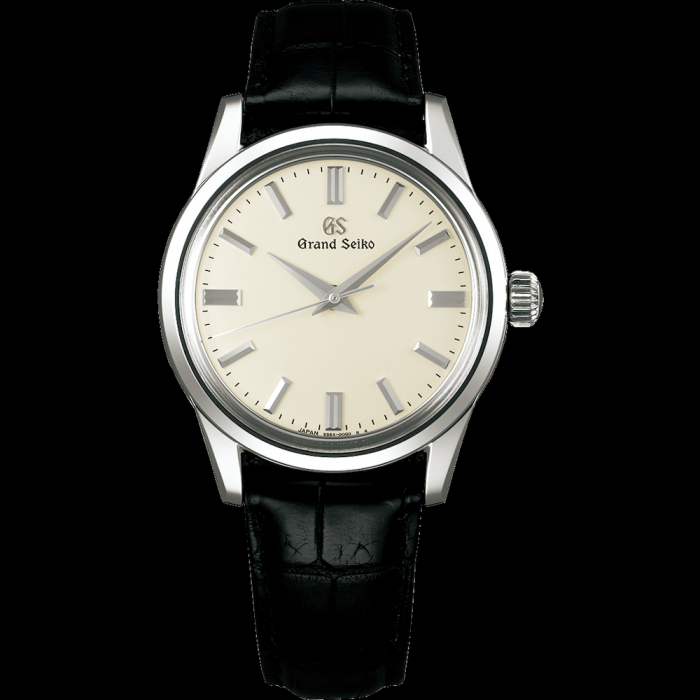 Grand Seiko SBGW231. grand-seiko.com
Tiffany
A Tiffany blue box is illustrative of the treasures within. But don't wait to be gifted. Treat yourself to the Swiss made Tiffany East West Mini 2-Hand ($2900), and wear the unmistakable blue hue on your wrist year-round. In stainless steel, the Tiffany Blue® dial features silver poudré numerals and gray calf single and double wrap interchangeable straps.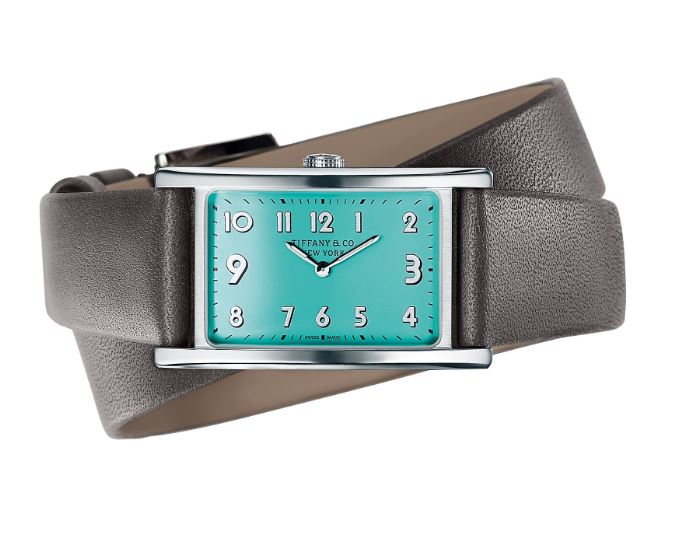 Tiffany East West Mini. tiffany.com