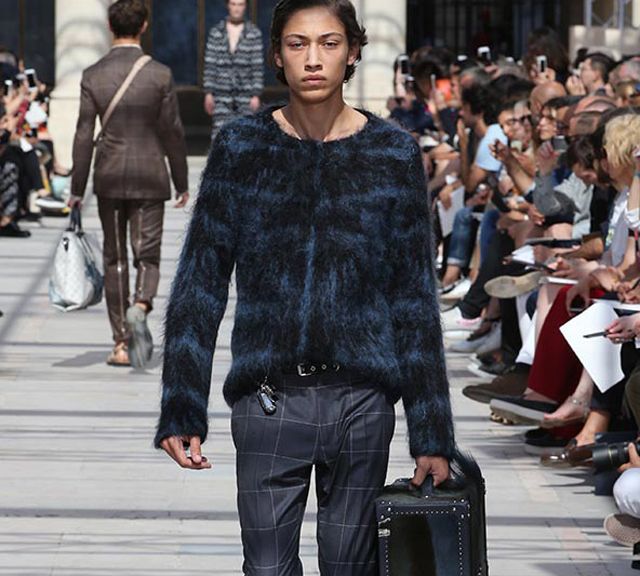 Photos Credit: Louis Vuitton
For Louis Vuitton's menswear designer Kim Jones, the idea of travel isn't just an inspiration for a collection, it's a lifestyle. The Botswana-born creative director is known as a travel obsessive, flitting around from continent to continent in an almost never-ending global vacation. But for his latest collection, he journeyed back home, pulling inspiration from the plains of the Serengeti and the punk-rock subculture that has always influenced his designs and personal style.
Presented at the Palais Royal in Paris, the Louis Vuitton Spring 2017 Menswear collection perfectly demonstrated Jones' creative approach. Animal hides and prints were found in abstract forms on accessories, sweaters and jackets, layered over heavy metal collars, plaid trousers and slim-cut suits that called to mind the classic punk movement in London. In theory, blending punk rock and safaris sounds like a potential disaster; in execution it was one of the more exceptional collections shown during Men's Fashion Week. In fact, when mohair sweaters printed with African designs were tossed over buckle and bondage tartan pants, Jones was at his best.
The collection was muted in tone, dusty beige, taupe and tan were some of the most popular colors on the runway, but it was broken up with splashes of electric blues and fiery reds that streaked their way through luggage, sweaters and plaids. Standout pieces included an ecru crocodile leather trench coat (that subtly kept in line with the African theme) and a series of trunks that were printed with animal sketches from Louis Vuitton collaborators Jake and Dinos Chapman.