Photo Credit: Musika Frère
How a "Regular Brooklyn Kid" Became One of NYC's Hottest Menswear Designers
A man in the right suit is a powerful thing. Such is the knowledge of designer, fashion influencer and overall dapper dresser Davidson Petit-Frère. At the tender age of 27, the native Brooklynite already has two successful brands under his belt, Musika Frère and Lavati. Both brands outfit some of the biggest names in the game, be it on the court or the silver screen. Davidson counts A-listers like Steph Curry, Kevin Hart, Chris Evans, and Jay-Z among his clients, but the list is ever growing. JustLuxe recently sat down with the designer to pick his brain about where men's fashion is headed and how he intends to dominate it.

After a brief stint in college, an 18-year old Davidson left academia behind to pursue a career in real estate. Despite achieving success in his field at an incredibly young age, he quickly found that his passion lay somewhere other than in buying and selling property. Working in the high-powered New York City real estate world often meant dressing the part—something that Davidson enjoyed more as his career wore on. At 21, after growing an avid fanbase through his Instagram and an impressive lsit of personal contacts, he chose to leave his first profession to pursue fashion full-time. When asked about the gravity of that transition, he simply states that, "it's not about the money at the end of the day. It's about loving what you do." A year later, his first collection was born.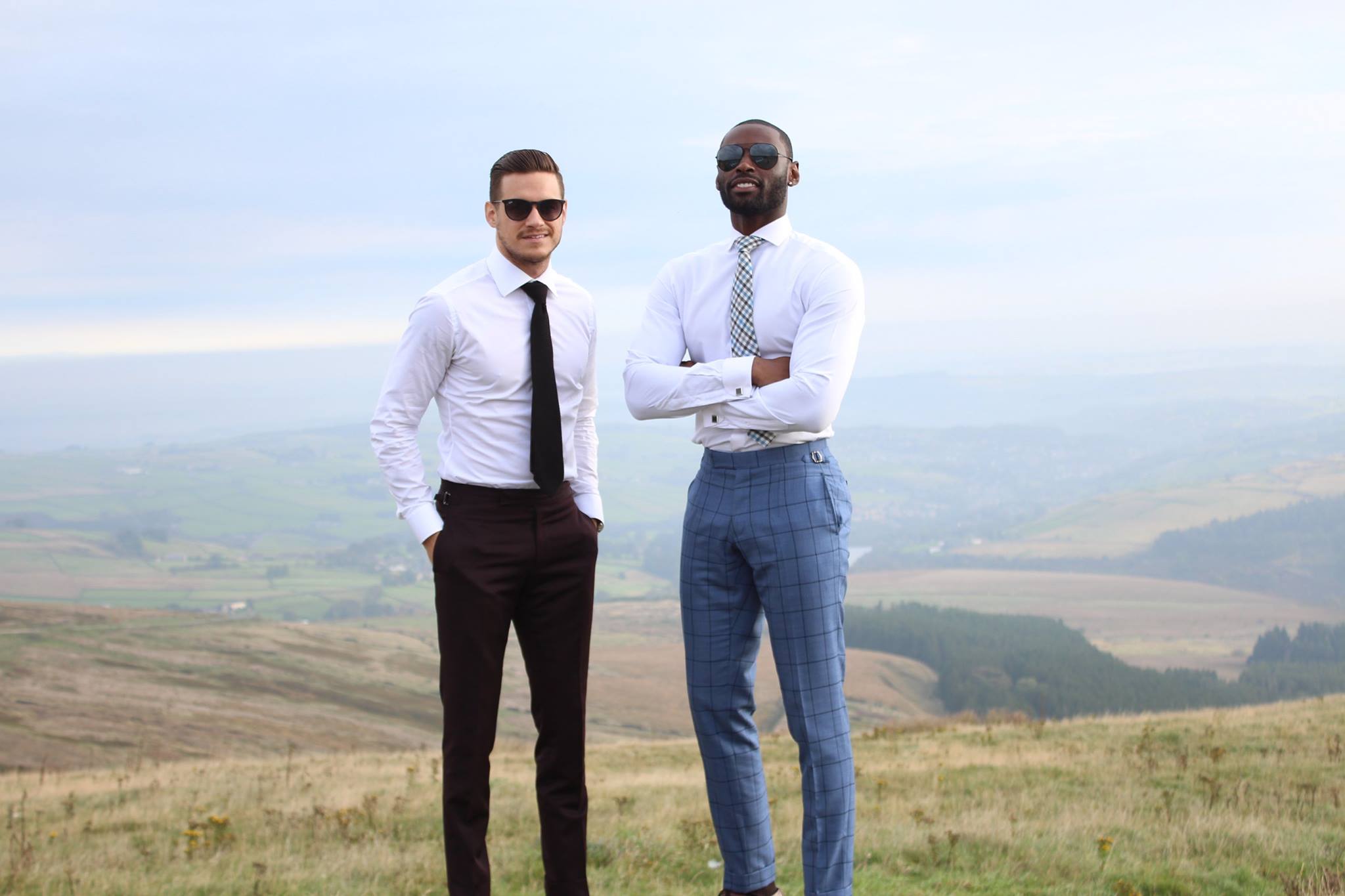 Photo Credit: Musika Frère
Musika Frère, Davidson's first fashion label, is the brainchild he shares with business partner and former Tom Ford Miami ambassador Aleks Musika. The two collaborated heavily, scouring the globe for the best manufacturers and designers that could create a product that would garner respect and, ultimately, admiration for their clientele. In his own words, "we had to crawl before we could walk...we focused heavily on the craftsmanship and DNA of our brand before anything else." Musika Frère began bespoke, creating custom-tailored suits that gave their audience an outlet to create exactly what they wanted to see in fashion. While the brand has moved some of their wares to their online boutique, having one-on-one, custom contact with their clients is still at the heart of their business. The label has also moved on to staging fashion shows, showcasing at their first Mercedes-Benz Fashion Week in September 2014.
When it comes to dressing clients, there are few fashion boundaries that the design duo isn't willing to push; bold hues, custom fits and luxurious fabrics are all par for the course. The inspiration for this ethos comes from a variety of sources, including Davidson's own father, a Haitian-born engineer with a passion for colorful, well-tailored workwear. Davidson claims his aesthetic is also informed by a desire to, "remix the past and make it more modern," citing style icons such as Tom Ford, Ralph Lauren and Michael Jackson among his most influential muses. If there was anyone he'd want to dress for the future? "Idris Elba, Tom Brady, Migos and definitely Ryan Gosling—these are men that are all impactful in their fields and portray that look through their clothes," he remarks.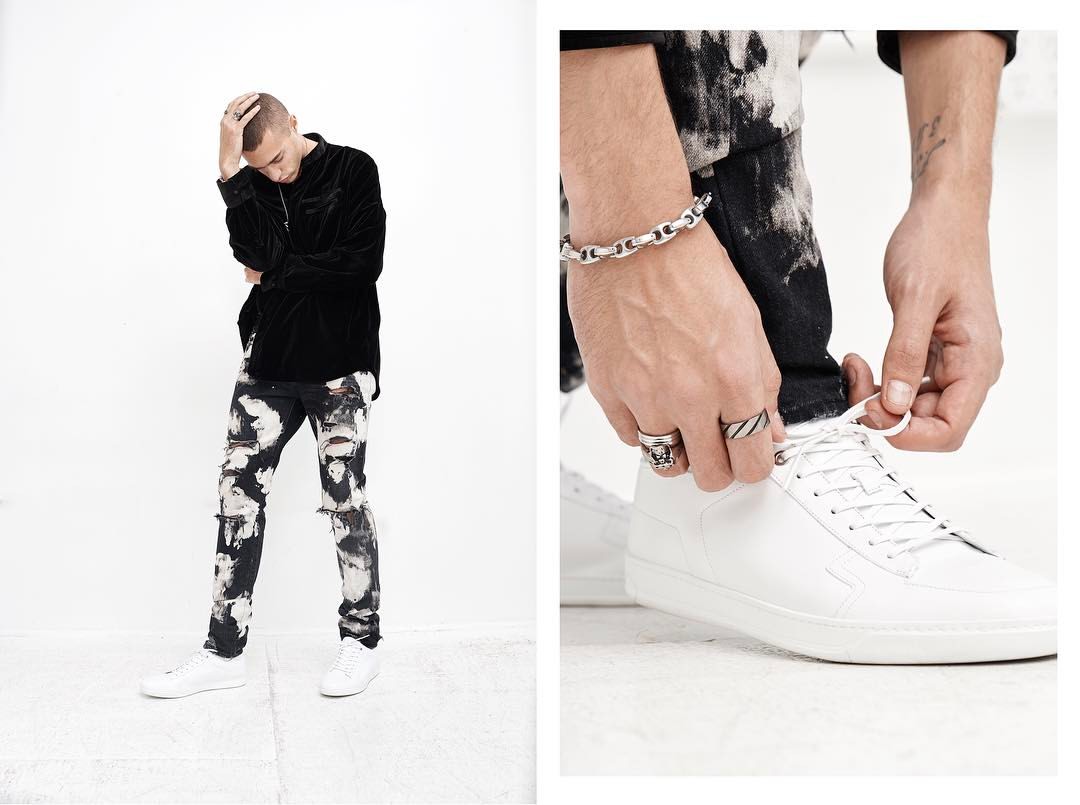 Photo Credit: Lavati
Davidson's sartorial talents aren't relegated solely to clothes—he's now making a name for himself in luxury footwear. His latest endeavor with co-founder Yossi Benshetrit is called Lavati, which roughly translates to "clean" from Italian. Clean is the right adjective for the line's style, featuring classic shapes such as the Chelsea boot, as well as more contemporary sneakers that can be dressed up or down. Each shoe is crafted in Italy by hand, using the highest quality leathers and manufacturers available. To select each component for his collections, Davidson personally flies to Italy to ensure that every piece of product is the best of the best. "I'm not a do-things-by-phone kind of guy... It's important that I see every step of that process firsthand." He goes on that, "the same client that loves a Jordan 1 or a Yeezy would ideally purchase a Lavati shoe. The consumer will buy what they love because they know quality."
Though design is an important facet of his business, Davidson makes it clear, "I've always said that I'm an entrepreneur first and a designer second." He credits much of his success to the accessibility and marketing available on social media. He claims that it "all started on Instagram. The hashtag allows someone to be seen in seconds, which gives you amazing press and your audience an outlet for their own content." Ultimately though, the business always comes back to the clients. What drives Davidson Petit-Frère is not necessarily fame or money—it's the opportunity to create a quality product that makes his customers feel good. "All fashion really is a boost for your self-esteem. Having the ability to give someone a temporary boost of confidence is why we do this. We put our heart and soul into our products so that our customers feel that and will want to come back for life."
Despite his already myriad successes so early in life, Davidson isn't ready to stop there. He plans to scale up Musika Frère in the coming years to include a wider range of acc