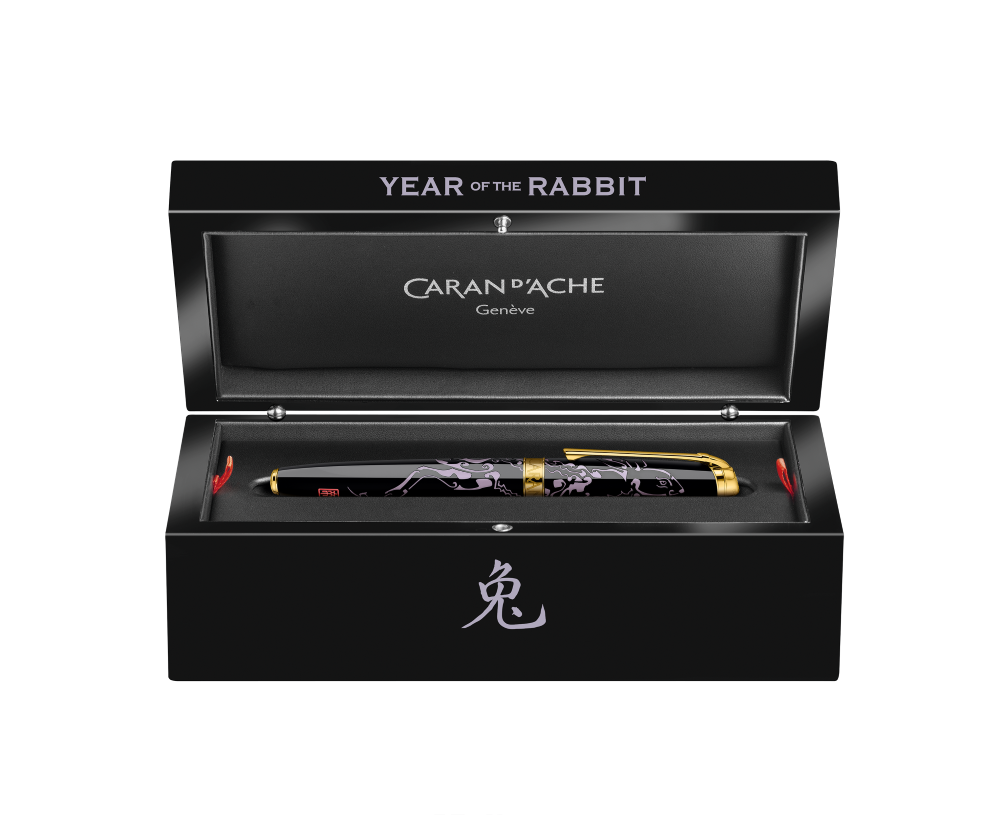 Caran d'Ache
In celebration of the 2023 Chinese Zodiac sign – the Rabbit, Caran d'Ache, the world-renowned Swiss writing instrument master crafter has launched a Limited-Edition Haute Ecriture Pen Collection. Symbolising Caran d'Ache's unique expertise in the field of luxury writing, the new pens use figurative engraving and Chinese lacquer to create two fine writing instruments reflective of the refined and gentle nature of this particular sign. Comprising a fountain pen and a roller pen, the new collection is exquisitely crafted into works of art.
An Embodiment of The Finest Tradition of Chinese Lacquer
Caran d'Ache is one of only two western brands to hold the secret to the ancestral Chinese lacquer technique, handed down by the great masters of East Asia, which is a perfect fusion of high precision technique and ancestral arts and crafts. In keeping with previous limited editions associated with the signs of the Chinese zodiac, the 'Year of the Rabbit' revives the splendour of this technique, here adopted as a subtle and elegant lavender outline, revealing the rabbit against the pens' darker shades.
Chinese lacquer (a natural product derived from the sap of the Rhus Verniciflua tree) offers Caran d'Ache's master craftsmen the ultimate freedom when creating incredibly intricate illustrations, without spoiling the lacquered surface. Each layer of Chinese lacquer is applied painstakingly by hand by Caran d'Ache's experts, and carefully completed over 12 whole days of work. The calligraphic symbol for the Rabbit and the red Caran d'Ache Chinese seal enrich the pens, with their nib in rhodium-plated 18 carat gold.
In a further nod to Chinese culture and its emphasis on lucky number 8; Caran d'Ache has created an exclusive number of 888 pens to form part of this new collection.
2023: The Year of the Rabbit
The fourth sign in the Chinese zodiac, the Rabbit is characterized by its serenity, wisdom, and good humor. Sophisticated yet understated, this sign is regarded for its diplomacy and unfailing peace and calm, distinguishing itself by its sense of responsibility. Rabbits' willingness to listen and their vision of the outside world are advantages that will take them far in life.
The 'Year of the Rabbit' Fountain Pen & Roller Pens are available to purchase in all Caran d'Ache points of sale and boutiques as well as online from £2,800