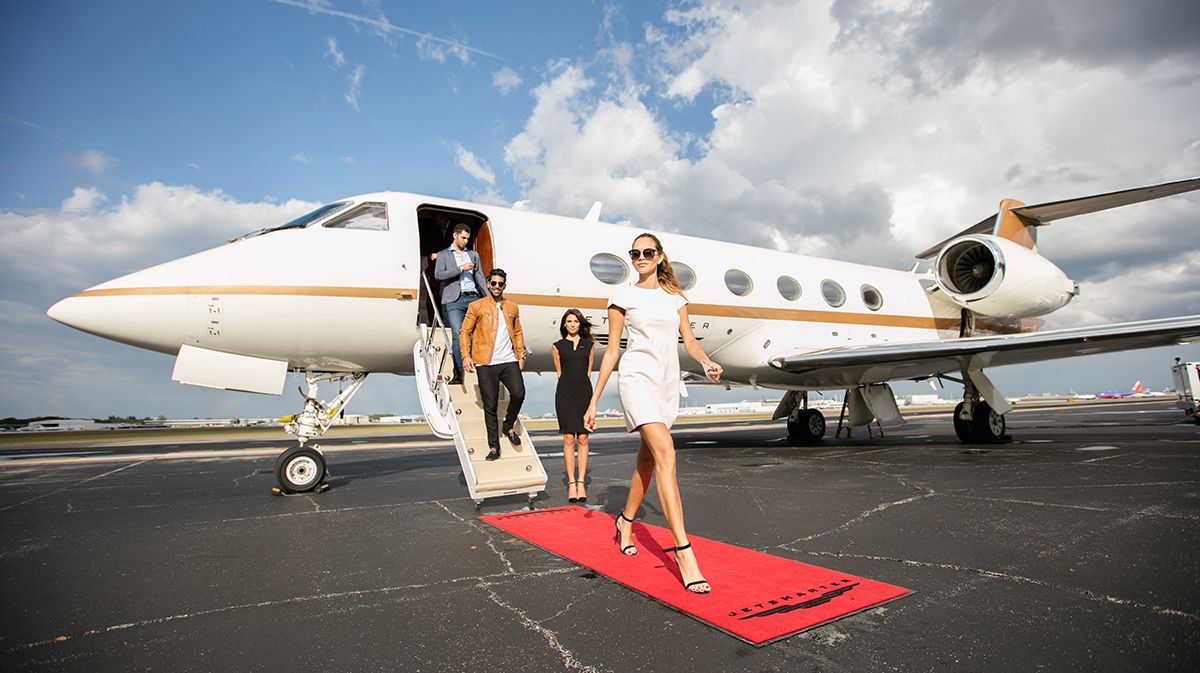 Photo Credit: Jetsmarter
With commercial airlines scrambling to recapture luxury market share from private jet companies, goalposts in the sky have moved. Flying first and business class has never been more attractive but the same can be said for flying private, thanks to new technology, charter methods and accessibility. The shrewd traveler should place value on a few key points when choosing premium air transport: price, time, customization and comfort. Here is a look at the contrasts between choosing to fly commercial or privately.
Price
In general, chartering a private flight is more expensive than the average first class seat. For example, if you were to look at a direct round-trip flight from Los Angeles International Airport to Tokyo Narita Airport on Delta Airlines two weeks out, your first class ticket price would range from $3,300-$6,101, depending on time of departure. Pentastar Aviation's long-range jets can be chartered for $7,000-$9,000 an hour, which for a fully booked 11-hour round-trip flight to Tokyo comes out to around $11,647 per seat.
However, Silicon Valley is looking to democratize private charter prices through JetSmarter, BlackJet, and Skyjet, to name a few. Founder and CEO of JetSmarter Sergey Petrossov places a high value on democritization, claiming, "It's more than just opening up the market - we want to provide a social aviation experience that brings social networks alive with human interaction." Each company offers a range of prices, from individual seats on a plane to chartering a whole bird, so there are more choices than there have been in the past. If you need to do a soup to nuts juxtaposition, Paramount Business Jets offers a price comparison calculator, which takes into account origin city, additional travel time, and other travel metrics so you can make the best decision.
When flying commercial, what you see is generally what you get, unless you're tracking flights and have time flexibility. That said, if you're a frequent flyer, price can change dramatically depending on how often you fly and how many miles you have. Of course, you can always go for gold and book a seat on Singapore Airline's recently introduced Suite Class, which is about $32,000 per ticket.
Photo Credit: Shutterstock
Time
If you're the kind of flyer for whom time is of the essence, private offers unrivaled benefits. As airlines require you to be at the airport a certain number of hours before your flight regardless of flight class, by flying private you won't have to bake in time for airport security, checking in, or be held to the pre-set schedule of a commercial airline. You're also able to control the exact itinerary, often being able to fly at your whim.
If you're beholden to an airline's schedule, you won't have the luxury of choosing the exact times, but your purchasing power should be enough to be able to secure last minute flights and exploit open first or business class seats that often don't get sold. With TSA Pre-Check and preferred airline status time spent in security becomes less of an issue, but it may be nicer to not have to deal with it altogether.
Photo Credit: Etihad Airlines
Customization
Flying private allows for a myriad of ways to customize – from flight path and times to cabin décor. You also have greater flexibility when flying with a group, provided your plane is large enough. You'll be able to take your entire family or conduct business meetings while in the air, which is no small feat and something not easily achieved in commercial first class. As for dining options, many charter companies are completely at your service. President of Sales and National Accounts for XOJet, Gregg Slow, told the New York Times, "If they want sushi from Nobu, we figure out how to get them sushi from Nobu". In terms of special features, the sky's the limit: According to the Daily Mail, Russian billionaire and Chelsea Football Club owner Roman Abramovich's jet has the same missile avoidance system as Air Force One and can sit 30 passengers, comfortably, for dinner.
With the advent of apps moving into the private jet space, you're even able to tailor the type of experience. For example, using Jetsmarter, you can now charter a private plane, buy a seat on another chartered private route, or join one of their regularly scheduled shuttles, which utilize typical aircraft used for private aviation. This offers a completely different spin by introducing both experience and price customization, both of which were previously more or less absent from the private space.
In terms of first class, as with flying private, customization increases dramatically with price. The aforementioned Singapore Airlines Suite Class offers a concierge meal booking service with private chef consultations, and over 1,000 entertainment options. The entertainment systems on all of these flights are top-notch as well, offering thousands of movie, music, and viewing options, including personal LCD screens, internet connectivity and complimentary Bose noise-cancelling headphones. Etihad's The Residence boasts a special inflight chef who will prepare a personalized dining menu for you, where you can choose from a list of gourmet dishes or ask for your favorite. This is far cry from even the First Class days of old.
Photo Credit: Singapore Airlines
Comfort
This one's a toss-up. As airlines struggle with the fluctuation in oil costs and increasing demand of passengers, there are seemingly limitless options for the discerning traveler when flying first class nowadays. Ethiad's The Residence and Singapore Airlines' Suite Class both offer private cabins with beds and showers, and Emirates offers just four seats in one row with fully reclining seats and Poltrona Frau leather, which can also be found on Alfa Romeo and Ferrari's car seats. On both Singapore and Etihad's flights you won't even have to bother with just one berth: both come with a separate seat and bed for you to move seamlessly between. As for dining, Emirates' first class menu includes a first course Caviar tasting and Singapore's food is served on Wedgwood bone china.
Then again, you can have all of these perks if you want to fly in a tricked out jet. Flying private obviously offers a wide variety of comforts: privacy, creature comforts as you choose, personal knowledge of your pilot, and a fully controlled schedule, among other things. If you fly with Trans-Exec, you'll be treated to a private chef who's always at the ready to whip up whatever you like. If you're feeling in need of some TLC, they've got an in-flight spa too, which offers massages and facials while you're 30,000 feet in the sky. If some of the aforementioned advantages aren't available to you by flying private, you can probably access many of them by flying first class commercial. Then again, if you just have to have a golden bathtub on your plane, like Elvis Presley's did on his jet, the Lisa Marie, then you should probably look into buying your own.