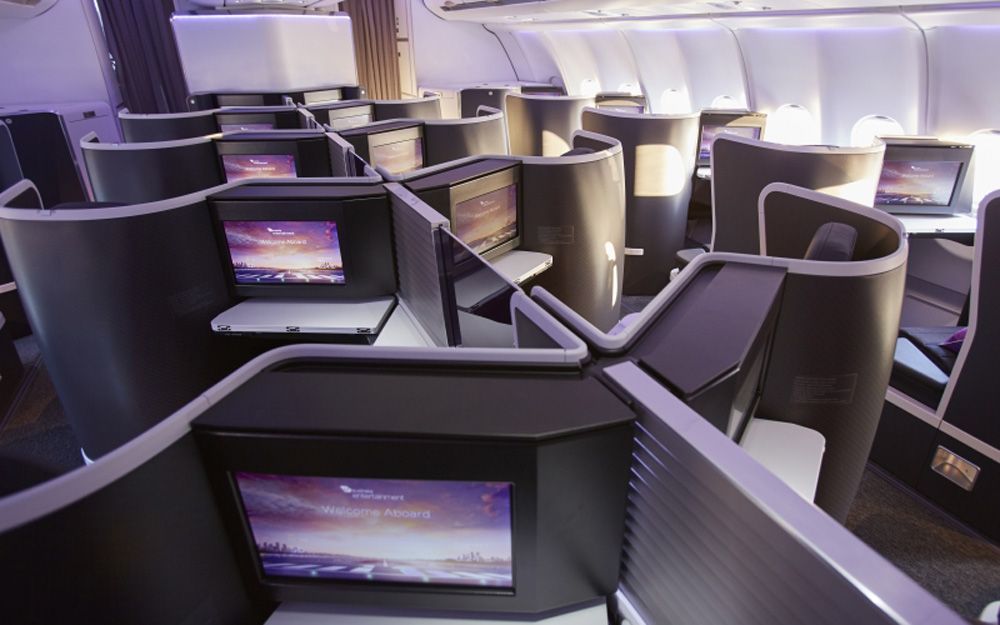 Photo Credit: Virgin Australia
Air travel has evolved immensely over the last couple of decades. British Airways could be said to have been the catalyst for the change; in 2000 the airline changed the game with the introduction of lay flat seats to Business Class, an area of the plane that up until then simply meant fewer passengers and a bit more legroom. Since then, it's been a race to the top, with new standards being set and expectations soaring higher than ever. Some airlines are nailing the new Business Class better than others, offering cool amenities, superior service and in-flight entertainment that may rival what you have at home. Here is a look at some of our favorite Biz-Class perks and a few thoughts on why they should be considered standard to every airline.
Photo Credit: EVA Air
Flat-bed Seats
The inclusion of flat seats into Business Class ushered in a new age of comfort for customers, setting the stage for a wide range of amenities to now be included in the cost of a ticket. Of course, options vary, and while standard on many of the world's top airlines, there are a few stalwarts who have yet to install fully reclining seats in Business Class. Of the most well-known carriers, United Airlines, American Airlines, Delta Airlines, British Airways, Lufthansa, Cathay Pacific, Singapore Airlines, Emirates, Etihad, and EVA Air all have flat-bed seats, which are parallel to the ground, while Virgin Australia and Air France are said to be adding them soon. Several regional carriers also have flat-bed seats as standard for Business Class. Many other carriers offer a mix, with some that offer flat-bed, but also have a mix of angled flat - which were once considered the industry standard - and reclining, which is fast falling out of fashion.
Within the world of flat-beds, there's a range of quality, especially when considering privacy. One critical point to evaluate is whether or not the fully reclining seat-beds block access to the aisle, as some smaller, regional carriers have, to save space. The best Business Class options should offer all-aisle access, meaning you can slip by your sleeping partner at any point during the flight. Also concerning privacy is the configuration of the seats, of which a common one is called "herringbone". In standard herringbone, the passengers sit head to head while their feet point out towards the corresponding aisle, opening up the passenger to aisle traffic and placing sleeping heads very close to one another. Reverse herringbone is considered the preferred alignment, where the feet meet in the middle and the heads splay out, maximizing both comfort and privacy. Air New Zealand, EVA Air, Cathay Pacific and American Airlines currently offer this for Business Class.
Photo Credit: Virgin Australia
Sleeping Amenities
Qantas, Virgin Atlantic and Australia, and Air New Zealand have some of the best in-seat amenities out of all the classic carriers. Air New Zealand, in particular, offers its Business Premier Class customers an amenity kit that includes a pen, earplugs, toothbrush and paste, and eyeshade, as well as La Prairie moisturizer, lip balm, and eye cream, making it a cut above standard offerings.
Qantas, EVA Air and Virgin Atlantic/Australia have gone a step further to offer full pajama sets for its long haul Business Class flyers, a comfort generally reserved for First Class on most airlines. Qantas' current pajamas, designed by Sydney-based fashion designer Peter Morrissey have garnered quite the cult following, with fans being able to purchase the comfortable and fashionable sleepwear secondhand on Amazon or eBay. They are grey cotton separates with the shirt's logo emblazoned with the Qantas kangaroo on front. Aside from being a pop-culture favorite, the pajamas are said to be very comfortable and are getting a re-design from Australian-born, Paris-based fashion designer Martin Grant in 2016.
Regarding sleeping options, Virgin Atlantic/Australia and Air New Zealand have proven themselves a cut above the rest, probably due to their frequency of flights in and out of the South Pacific to the rest of the world. They're the only carriers to offer mattress pads, which complement their flat-bed seats and provide a legitimately good night's sleep for long-haul Business Class passengers.
Photo Credit: Singapore Airlines
World-Class Dining
Paying a premium for an airline ticket means that you should have the best food available, and Austrian Airlines has risen to the occasion with their "Flying Chef," who is on board during the flight preparing soup and appetizers, a choice of three main courses, desserts and cheese for Business Class passengers.
Singapore Airlines offers a feature it calls "Book the Cook," which allows passengers to reserve a main course from a menu selected by its international culinary panel up to 24 hours in advance of the flight. The panel includes chefs from France, India, Japan, China, United States, Australia, and Italy—some of whom are Michelin-starred and James Beard winners. EVA Air's Royal Laurel class allows its ticketholders to select prime steak or lobster after enjoying crusty, fresh bread with olive oil.
Premium Drink Options
Having a drink while relaxing on a long-haul flight has always been a cherished pastime, and the options for Business Class flyers have only improved as standards have increased. Air New Zealand, in particular, has made headlines for their premium Business Class wine list. They offer only wines from New Zealand's world-class wineries, all of which have won some sort of accolade and are considered the best the country has to offer.
EVA Air offers complimentary Krug Champagne when you arrive to your seat, making it the most luxurious welcome out of any Business Class carrier. While many customers prefer in-seat service, long-haul flyers will appreciate being able to get up and serve themselves drinks. You can do this on both Air New Zealand and Virgin Atlantic/Australia, while Emirates offers full bar service with an on-flight bartender. Of course, top-shelf liquor and wine are standard whether you serve yourself or not. Quality isn't just for drinkers, though—if you're a teetotaler, EVA Air has you covered with Fiji water.
Photo Credit: Singapore Airlines
In-Seat Mirror
This one may not seem like such a big deal. Try to remember, though: have most of the seats you've flown in had mirrors? According to our research, probably not. This is one in-seat amenity that seems to be consistently forgotten, and when traveling in Business Class, the small touches matter. If you're flying to a business meeting or a black tie event, you'll want to make sure you look your best before deplaning.
In-Flight Entertainment and Internet Access
For the most part, Singapore, EVA, Etihad, Emirates, American, and Delta offer complimentary in-flight internet with ticket purchase. This one was surprising to us—this means some airlines don't offer internet in Business Class? Some carriers simply don't have the capability for connectivity while in-flight, while some will make you pay extra for the privilege. Whether flying for business or pleasure, in 2016, this is one amenity that shouldn't be done without.
As for entertainment, very few airlines would dare offer anything other than personal entertainment screens with a range of complimentary options for its Business Class tickets, knowing this comes standard in Economy Class on certain carriers. HD touch screens, noise-canceling headphones, USB and Apple product ports, and power sockets generally come standard in Business Class on the world's top carriers.