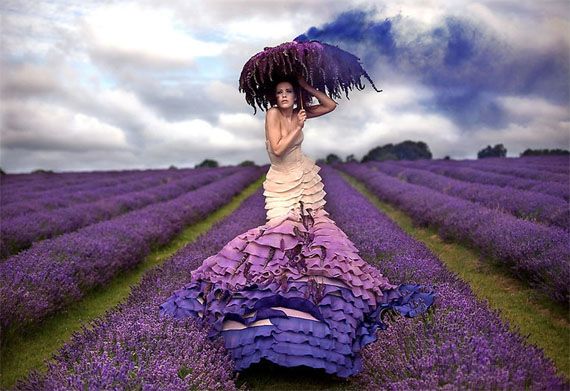 Photo Credit: Kirsty Mitchell
There is one piece of advice I hear every time I ask, "what is your secret to success?" The answer varies from person to person, but the explanation often includes "follow your passion." Apparently, the basis of one's drive to succeed is that passion which pushes you towards it. It is that feeling that you cannot stop until you have achieved it.
I have had the pleasure to become acquainted with UK based
photographer
, Kirsty Mitchell, with whom I am so impressed with that I felt compelled to share her auspicious story and passion-driven accomplishments. Clearly seated on the driver side racing down the path of success, Mitchell tirelessly labors over her artistic projects that have captured international attention.
I do not want to sound melodramatic, however viewing Mitchell's photos take me to another world. My favorite collection that I am most fascinated with, still two years in the making, is "Wonderland." Mitchell explains the theme behind these fairytale images as her desire "to convey the fact that this would be a place where anything could happen. The notion of a girl's escapism through stories." Well executed, Wonderland is a fantasy with elaborate costumes and expressive colors. A favorite of Mitchell's as well, she tells me of this series: "It has been an enormous labor of love and I am trying my hardest to make the final images the very best I can."
Mitchell goes to great lengths to achieve the look and scene she envisions for each photo, scouting out the perfect locale. Some scenes required a twelve-month wait to capture the blooming seasonal flowers that are then around only for a two-week period. The characters are make-believe, although the location's natural scenery is not. Moreover, the strong use of color in the Wonderland series was one of the most important factors as Mitchell states, "it (color) can transport our mood and emotions to a better place and this was my intention."
Mitchell has climbed that ladder of success from the ground up with no formal photographic training and no budget to begin with. Working full time as a fashion designer, Mitchell started the Wonderland series literally out of scraps. "We made things out of old bits of wire, stolen flowers from parks, and anything we could find. Some of the dresses the models wear are just fabric I pinned around them on the location!" Mitchell is now obviously able to devote all time and effort into the extravagant costume designs entirely hand made by her.
What's next for Mitchell after the completion of Wonderland for her exhibition and book ends up being something I cannot disclose publicly yet. "It's hard to say right now as there are some very exciting things slowly happening which could lead my work into a whole new world I'd never really imagined before now. I can't comment on who or what the project is yet, but I'm honored to have been approached by these people."
Click Here to See the Wandering Through Wonderland With Kirsty Mitchell Slideshow
This all seems to have become a butterfly effect for Mitchell who continues to be propelled by passion. "I'm extremely interested in film and music too as they hold great emotional relevance to me and how I work. The idea of layering this with the visuals I produce really excites me. I'm meeting more and more interesting creative people every day who are inspiring me in so many ways. I feel like this has opened a door to the world I've always wanted to be a part of."
Mitchell's wish list with whom she desires to collaborate include Tim Burton, Cirque Du Soleil, and Alexander McQueen, just to name a few. Interestingly, Mitchell had interned with the late Alexander McQueen during her studies in fashion design in London and remains an influence in her photography. I urge everyone to relish her work on her bewildering site,
KirstyMitchellPhotography.com
, from intro to end; and be sure to turn up the volume.
Mitchell opens up there about how she has become consumed as a photographer following the unfortunate death of her mother in 2008. "That was when photography engulfed me, becoming an overwhelming passion that I couldn't stop. I found myself producing pieces that echoed the memories of her stories, and the belief in wonder I have always felt since a child."
Lovely is she, Kirsty Mitchell, photographer extraordinaire. Her work takes my breath away, as does her path to all her great accomplishments. "Determination is key," Mitchell advises. "Don't compare yourself to others and try to find your own identity and passion. If you can visualize it, you will get there, somehow. Just push your boundaries and never give up."
Wonder not why Wonderland is, Wonder not where Wonderland takes you. Rather, wonder why she takes you there.
Check out our favorite photographers for the new year:
Visually Stunning Images by Our Favorite Photographers for the New Year
Kirsty Mitchell
Kirsty Mitchell