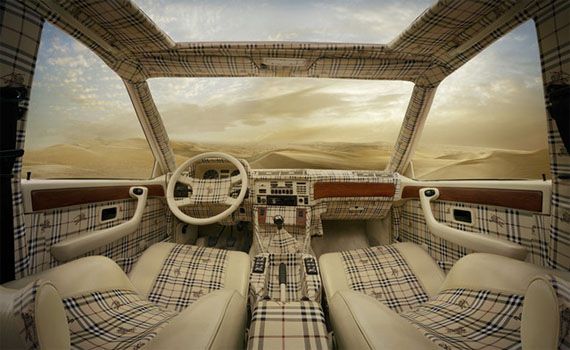 Photos Courtesy of Luis Gispert
For some fashion fanatics out there, simply living in their favorite designers clothing is not enough. America has a longstanding love affair with the automobile, so it's no shocking surprise that there exists a cultural enclave that takes haute couture beyond the closet and into the car.

New York-based artist Luis Gispert recently spent two years photographing the cars of people who have detailed their automotive interiors in designs oft reserved for the runways, from Burberry to Louis Vuitton. During his show at the Mary Boone Gallery, he will display life-size photographs of luxury rides decked out in designer patterns, and their often dressed-to-match owners.

This latest endeavor by Luis Gispert began with interior photographs of big rigs and airplanes with striking landscapes seen through the windshield before he discovered the possibility of this new project, which exudes an obsession with one's craft that he can relate to.



Gispert was born in New Jersey, and went on to earn a Master's Degree in Fine Art at Yale University before settling into his own studio in Brooklyn. Over the years he has produced films and sculptures, but his photography is the standout work within his resume. Using a special camera and lens set up, he photographs these luxury car interiors from the same vantage point every time, with surreal landscapes similar to those used in his earlier work.

The first vehicle he sought out was a Cadillac Escalade donning Louis Vuitton by Takashi Murakami seat and dash trim, and then was also able to track down a Burberry-embellished BMW and a Coach collectible. The rich and colorful interiors are a jolting juxtaposition to the stark and serene backdrops seen through the windows, and this artistic touch draws the viewer to concentrate on the vehicle's upgraded upholstery, while pondering the title of the show, Decepcion.

To learn more about the artist and his work, visit his web site at LuisGispert.com, or head to Mary Boone Gallery from September 8 through October 22 to view the comprehensive collection.