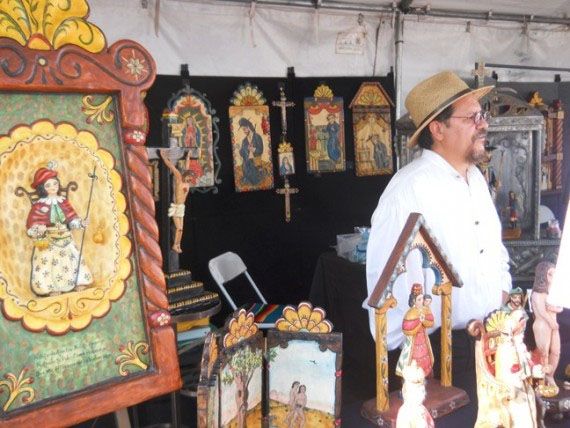 Photo Credit: Ruth Mitchell/Spanish Colonial Arts Socie
Walking through the Plaza in
Santa Fe
during the July Spanish Market, I was greeted by a small girl with a big smile. "Hi," she said with a big toothy grin. "Hi there," I mirrored her enthusiasm. I had just met Marissa Chavez, aged 10. I thought she was helping her mother who stood in the background. But then wasn't I in the youth section of the market? The sun shone and it was a very pleasant 80 degrees. I dreaded going back to 100 plus degree temperatures at home.
I took another look at the bird carvings in front of the small, friendly girl. They were excellent. I examined them more closely and was drawn to one particular sculpture. Soon, I was asking a lot of questions. Marissa, very businesslike, was telling me she was ten years old and that she had been carving since she was three! This child prodigy seemed so extraordinary in our current American culture, where tradition is so rarely passed down; but then I was in New Mexico, not just anywhere.
We think of the East Coast as the heart of our nation's rich historical tradition, with its farm houses dating back to the 1700s, but the reality is New Mexico was colonized by Spain in 1598. And that rich historic perspective is being continued in part by such events as the Spanish Market which is a function of the Spanish Colonial Arts Society, founded in 1925 by writer Mary Austin and artist/writer Frank G. Applegate. Its purpose was to preserve and perpetuate the Hispano art forms that have been produced in New Mexico and Southern Colorado since Spanish Colonial times.
Each summer, the Square in Santa Fe is filled with booths and teeming with visitors and locals. But you won't see the regular art fair inventory here. Instead you will see religious iconography taken to the level of Smithsonian collectability. There are over 200 local artists as well as continuous live music and art demonstrations. The youth exhibition is an important part of the festival including 100 outstanding emerging artists. Come December, the market returns with a fresh lineup of indoor excitement.
Many of the works fall under the category of Santos, images of saints, either bultos, carved sculptures painted or unpainted, and retablos, colorful wooden panels representing Christian iconography. While the works are highly influenced by European culture, the New Mexican art form has taken on a distinctive character of its own over the last couple centuries. You will also see hide paintings, tinwork, furniture, intricate silver jewelry, straw appliqué, pottery and other uniquely regional characterized art forms.
I recommend this event to any serious follower of the arts. While it is rare these days to find any affordable art in Santa Fe, this particular festival with its plethora of vendors is a time when you just might find a "deal." And you will certainly get the opportunity to hobnob with some serious talent and visit with the artists first hand. Go to
SpanishColonialBlog.org
to learn more.
See more upcoming
Arts & Culture Events
Ruth Mitchell
Hide painting has a historical context
Ruth Mitchell
Handcarved 'santos' are highly collectible
Ruth Mitchell
Traditional art forms include skeletal figures