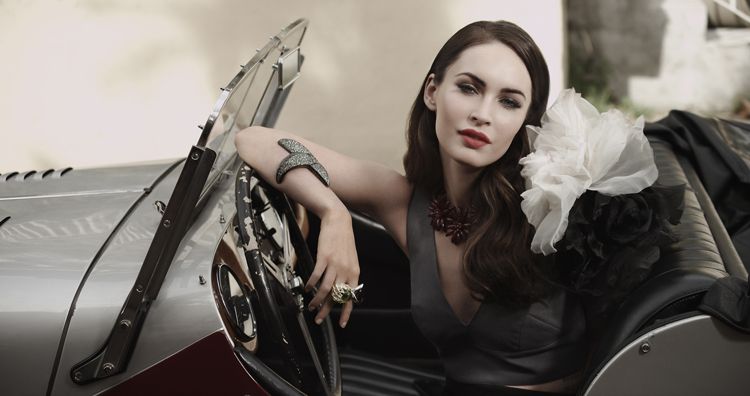 Photo Credit Greg Lotus
After two decades of glamorous photography, Greg Lotus' bio reads much more like the sanctified black book everybody wants to get their hands on. Celebrities he has worked with include Channing Tatum, Lisa Marie Presley and Katy Perry, just to name a few. His editorial work is top tiered as well, both domestically and internationally with Vogue, Vanity Fair and W Magazine.
"My most exciting new venture is bringing my work to art galleries," states Lotus of his latest endeavor. He is, quite possibly, the most interesting man in the world, as I am convinced Lotus was the inspiration behind that ad campaign. This once small town boy, whose destiny changed from one chance encounter with the leading modeling scout, has taken him around the world doing what he calls his "passion." From his home in Miami, Greg Lotus discusses with me his modest upbringing, what it takes for the perfect picture, and other developments we shall be seeing from him in the next years to come.
Lotus has evolved his work from mainly fashion photography to an all out artist whose limited edition prints can now be found in fine galleries. The respected fashion photographer has captured the attention of art enthusiasts, along with all the fashionista's, with his artistic compositions. What his eyes capture is viewed in awe and admiration everywhere, as we've seen in popular campaign ads from Cartier and L'Oreal, to Vogue covers, and to celebrities such as Penelope Cruz and Megan Fox. "Beautiful actresses make beautiful models," Lotus indirectly replies when questioned about who was the one person that photographed best for him. Yet admits, "Megan Fox never took a bad picture."
Lotus has come a long way from his upbringing in rural West Virginia to where he is today. "I didn't see my first real city till I was sixteen, when I wrote an essay on world peace and won a school trip to New York City," he recalls. It was a turning point for Lotus, who on that same trip was scouted by Eileen Ford of the Ford Modeling Agency. "This woman stops me on the street, and it was Eileen. So I went back to the city and started modeling." However, Lotus quickly realized he preferred to be behind the camera instead. "I love creating images," he proclaims.
For the perfect photo, "Focusing on detail, while seeing the whole picture," is what Lotus reveals. "A flawless composition is crucial, but so is putting together the right team for an assignment." The payoff to this passion of his is, "The precise moment when I'm capturing a certain image," describing, "the adrenaline that hits me when I know I have the shot!"
It certainly takes more than a pretty face for a pretty picture and Lotus makes sure of that in his compositions of creatively juxtaposing a super model with an elephant or giraffe, for instance. Reminiscent of Richard Avedon, who Lotus states is the photographer that has influenced his work most explains, "I like mixing different elements in my compositions, pairing wild animals with gorgeous models in the middle of a swamp or a forest, or a canyon perhaps." The emotion Lotus wants to convey is evident as the one common noticeable element is sex appeal. "I tend to steal beauty from nature, people and objects, so 'desire' is the first emotion that comes to mind."
The super successful gallery exhibitions feature some of his best work in limited editions. "I have been in this business for a long time, and in 2011 I had my first solo exhibition at the 1stdibs Gallery in New York City." Some of these images are of the bizarre, like the apparent evil witch snacking on an apple with rats. Other images are beauty and the beast-like where a dame enjoys a conversation with a dog over a drink, titled Champagne Poodle. The photos are massive so you can almost walk into them and participate in the captured affair. This is what comes to mind when admiring Summer Day, a print five feet wide of women in a pond, one calling you in with her eyes. "As a photographer I get to see the inside of a picture, while others only get to see the outside," analyses Lotus, "It's a powerful feeling."
Captivating people are always nice to look at; even that evil witch was gorgeous. Lotus poetically explains the beauty he sees in people portrayed in these images; "My woman is sophisticated and impeccably chic. My man is equally sophisticated but in a manly way. My nature is always graphic. That's what makes them all uniquely beautiful to me."
Nature has played a significant part in Lotus' photography, partially due to his upbringing in rural West Virginia. Much like my own grandfather's childhood stories, he illustrates the "two mile walk just to catch a school bus, then twelve more miles to school. No neighbors as far as the eye could see." It is hard to believe that this cosmopolitan man and acclaimed artist never experienced a big city until his teens. "My childhood was simple and humble, but it had its perks being constantly surrounded by nature as a young boy. It's something that transpires from much of my work today."
Out of all the exotic locations he has been to for shoots around the world, Lotus is a down-to-earth homebody. "I travel so much for work that home feels like a dream vacation spot to me." In his home, the art on the walls include some I expected like his nude Wagon Wheel, and others I did not. "My favorite photos are of my grandparents. They mean so much to me and remind me of what great people they were," this statement from a man who spends intimate time with nude models (camera always firmly positioned between them, of course).
Lotus discloses future endeavors, which include exhibitions of his photography in New York and Los Angeles, and a book. Finally, I no longer have to rip out pages from Vogue of his photos and tape them to my wall. I have matured to owning an original Lotus, a framed and showcased piece of art, giving it the respect it deserves.
For more on Greg Lotus, go to his website at www.greglotus.com. For inquires on purchasing prints, send an email to info@greglotus.com.
"My portraits are more about me than they are about the people I photograph." - Richard Avedon
Check out our favorite photographers for the new year:
Visually Stunning Images by Our Favorite Photographers for the New Year