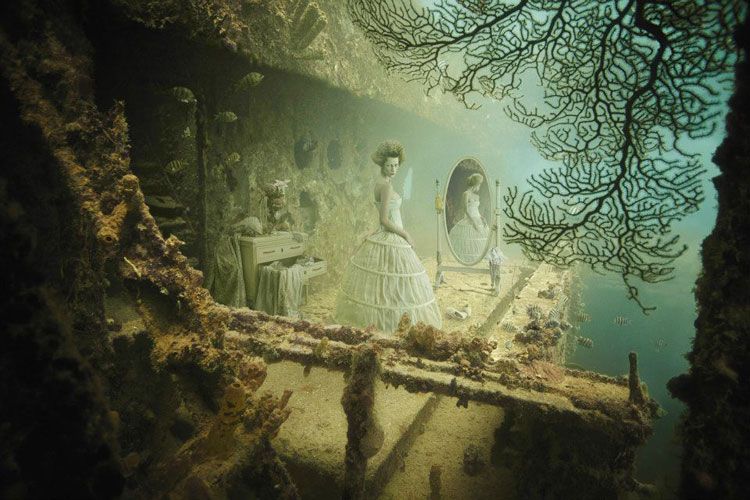 Photos Courtesy of Andreas Franke
Alright, so we know that the Rococo movement was a century prior to the Titanic's ill-fated voyage but come on, you know that was your first thought when looking at these images too, now wasn't it? While that was probably not the point of Andreas Franke's latest 
fine art
 exhibit, the display is certainly one meant to get people talking. If you are a fan of the artist, and would like to see his newest exhibition entitled
Stavronikita Project
, hopefully being submerged underwater is not a particular phobia, because the gallery space is located 24 meters beneath the surface of the Caribbean Ocean.
Following his artistic underwater installation on the wrecked USS Vandenberg, and as part of
The Sinking World
endeavor, Franke has undertaken another deep-sea venture, this time using the sunken SS Stavronikita as a gallery for his images. The ship's address of 13.8 N, 59.38 W might not be recognized by a GPS, but heading to the island of Barbados is step one, as the ship rests on the ocean-floor right off its coast.
Andreas Franke is a Viennese photographer known for merging staged photographic images with environmental shots in order to create surreal, fantasy worlds. Sunk over 20 years ago, the Stavronikita is now overgrown with aquatic wildlife. In this series, the artist chose to pair images showcasing the lush marine life found at the shipwreck with the decadence of the Rococo period. Teeming with coral, barnacles, and sea creatures, the ship serves as an elaborate backdrop for the photographed scenes.
Franke depicts well-heeled 17th century courtesans and court figures surrounded by sensual pleasures, yet steeped in idleness. A trio of women along with two manicured poodles sit among a lavish picnic with enough pastries to feed a banquet. Apparently gossiping in sugary indulgence, the extravagance of the picnic scene is complemented by the excessive marine overgrowth on the rotting ship as well as by the exotic fish swimming nearby.
The artwork is fastened to the walls of the ship with magnets, but thankfully, there are dry images available, because who knows how clear they are when seen underwater and through goggles. Visitors will first have to travel to the island of Barbados and suit up properly for the occasion. This Caribbean destination is a popular vacation spot with plenty of
resorts
to choose from, and as long as no sharks are seen in the photographs, Franke's Stavronikita Project seems like an artful underwater adventure for everyone.