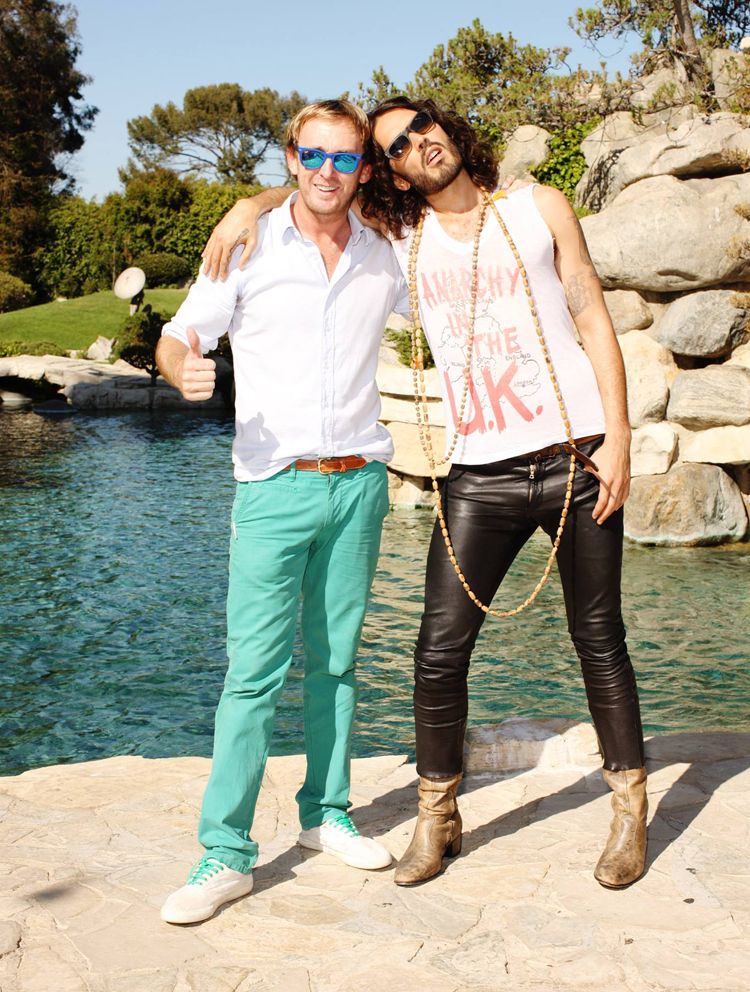 Photos Credit: Tony Kelly
Dublin-born photographer
Tony Kelly
has a problem — he's got the perfect life. I may have called him early in the morning for our interview, but even when pulling himself from the haze of sleepiness, Tony exudes charm and likability (which may have been due in part to his accent or possibly because he was awaking at 7 a.m. in Waikiki). With an air of David Hemmings circa 1966's
Blow-Up
about him, he is chatty in a way most people can never be, because though he rambles, he does so with a passionate purpose. Throughout our half hour chat he dispelled the myth that famous photographers live to work with big name celebrities, explained why he prefers working with unknown models, and divulged the most important detail of the business.
The 37 year old got his start as a junior press photographer when he was around 18, working for the main newspaper publisher in Ireland,
Independent Newspaper
, and its two main titles,
The Irish Independent
and the
Evening Herald
. He began capturing people, places, and situations most people never experience, such as the civil war in Rwanda and the war in Afghanistan.
Though he was photographing areas of conflict and human interest, his need for control was creating an almost depressed dissatisfaction towards his work. He began to feel restricted by press photography and after around eight years, found himself gradually shifting his focus to fashion. "Even though what was unraveling in front of me may have been a great photo opportunity, I wanted to
cast
for these images. I'd be in news situations, but in my brain [there] was this movie running and I saw different people with different profiles in those images I was taking," he explained. "I used to find it almost depressing to photograph these boring mundane people with no character at all."
When glancing through the portfolios of new fashion photographers, many seem to feel the need to fill their images with sex, because after all, sex sells right? Tony will be the first to admit that he fell into that trap when just starting, but believes he has since evolved into creating more thoughtful and intelligent compositions. "As you learn your craft you become more confident in being more discreet. You don't need to have a naked girl bent over a car to make people laugh or to entertain people." He now strives to create images that can be enjoyed by a wide array of people, from a feminist to a testosterone-riddled teen to his own grandmother — whom he shows all his works to.
"Without sounding cocky, I'm very proud of all my work. I have never said that one of my images is
good
, because that's not somewhere I want to go. I do say, 'I do my best.' No matter who is the client, no matter what the budget is — whether it's a $300K production or whether it's a $20 production — I do my best. I think once you do your best, then you'll feel fulfilled at the end of the day."
With no guiles about what he's doing, Tony is quick to cast off any assumptions about there being a hidden societal or political agenda beneath his images — regardless of his press background. Though he considers his work to be incredibly personal, reflecting his own style and aesthetic, he's not interested in making any sort of grand statements. Instead, his key goal is to entertain. He does this through contrast and humor, whether it be contrast between the subject and setting (like Justin Bieber in a boxing ring) or in replacing a female figure in an iconic image with a comedian (like Simon Pegg in a recreated cover for Roxy Music's
Country Life
).
Of course, with work as saturated in color as his — with a self-confessed affinity for beautiful blond models — comparisons and copies are sure to run rampant. Recognizing that there's nothing he can do about either problem, he embraces the occurrences as flattery and moves on. "People are going to copy what you do and if they
do
copy, then I'm delighted. It means that, I suppose, the voice or the vision I have is being seen by other people and that's a great thing."
His acceptance comes from knowing that while the finished product may be reproduced by countless photographers younger and newer than he, the source of the copied image is his and his alone. "At the end of the day, what I produce — my images — they come from my head and people can't really copy your thoughts. They may be able to copy your images, which is a great compliment, but they can't copy the actual source." Though Tony used to look to fashion magazines for inspiration when he was young in the business, he no longer references any work but his own. Pulling from within for inspiration is the biggest piece of advice Tony can give burgeoning photographers, assuring that once you dig deep within yourself, your work is your own.
He believes that as long as you have the idea, the right mind, you can take great pictures on any camera — even on an iPhone. "A good idea is the most valuable commodity. Not a good camera. It's a good idea, simple." He's definitely a fan of the uprising in technology, making the industry open to anyone willing to try, though he doesn't think it means there's necessarily a rise in quality. "You can get Photoshop on your iPhone now and that's great! It's brilliant! But although it means there's a lot more pictures, it doesn't mean there's any better pictures, you know?" Whether you're shooting on the most expensive camera around, on a phone, or on a tourist camera, for Tony it all comes back to the idea backing it.
Sometimes inspiration is fickle and even Tony can't force it when it's unwilling, oftentimes approaching a shoot with no idea as to the final outcome. With a shoot looming over him just one day away, he was relaxing on his balcony overlooking Waikiki beach and having no idea as to what he was going to do.
"[Inspiration] may happen an hour before a shoot, it may happen on a shoot, it may happen after a shoot. You can't control it," he laughed.
If there's one thing that will probably never inspire him though, it's a big-name celebrity. Unlike most photographers who seem to chase after the hottest actress, Tony would choose an unknown model any day. He prefers working with people who can give him a frame of reference, people who have
lived
enough to reflect their experiences back at the camera. "I see so much…bubblegum in terms of celebrity pictures today from all the glossy magazines, but in 10 years these images will never be looked at again. They haven't left a mark. They haven't contributed in
any
way to society — a boring picture of a celebrity in a very controlled environment," he says. "I have no interest in sacrificing my concepts or the contrasts in the images or the story for a celebrity, that just doesn't work for me."
Even when the celebrity in question is fun to work with, the photographer still struggles to maintain artistic integrity. "I just shot Russell Brand for the British
GQ
cover and it's a
really
special shoot. I have my vision and ideas before I [go] to the shoot, [but] the minute you arrive to the shoot with a big celebrity, it's an uphill battle for you to try and achieve what you had visualized in the first place. It's very diplomatic and you have to be very crafty in your ways," he explained. "Generally I get it. There's ways of doing it."
With a head packed full of images and scenes, it's no surprise that Tony is already on the path to directing. Having already done a few television commercials (
American Apparel
, for example), he finds the position behind a film camera even more natural than his experience behind a photography lens. Considering he never thinks of his work as independent shots, instead seeing them as stills from a movie, his ability to visualize a scene isn't surprising at all. "I guess I've had these movies going on in my head for many years, probably since I was born," he laughed. "It's not something I
want
to get into in the future, it's something I am
already
in."
Tony also has three upcoming books in the works, each slated for release next year, and always has something new going on — from shooting bodybuilders in LA (specifically, one from Pittsburg who has the face of a model and the body of a "pumped up gladiator") to Russell Brand at the Playboy Mansion. More than anything, Tony just wants people to know that what he does is directly connected to who he is. "It's honest and it comes from the heart, and that's who I am. I don't portray myself as some intellectual or an artist because I'm not. I'm a guy who takes pictures to entertain people, I love what I do and that's it."
With our interview at its end, Tony still had no idea what he would do for the following day's shoot. "I guess I could go out and do a shoot on my iPhone," he laughed. "Why not? Once you have a good idea it doesn't matter what you shoot it on. You can draw a picture or paint it if you want. That's the key element that a lot of people forget and especially guys starting off, they complicate their setup by using a lot of studio lights. If you want to go technical, that's fine but
before
you go technical, get a good idea in your head. That's the most important factor...And on that note, I need to find 15 of them in the next 12 hours."