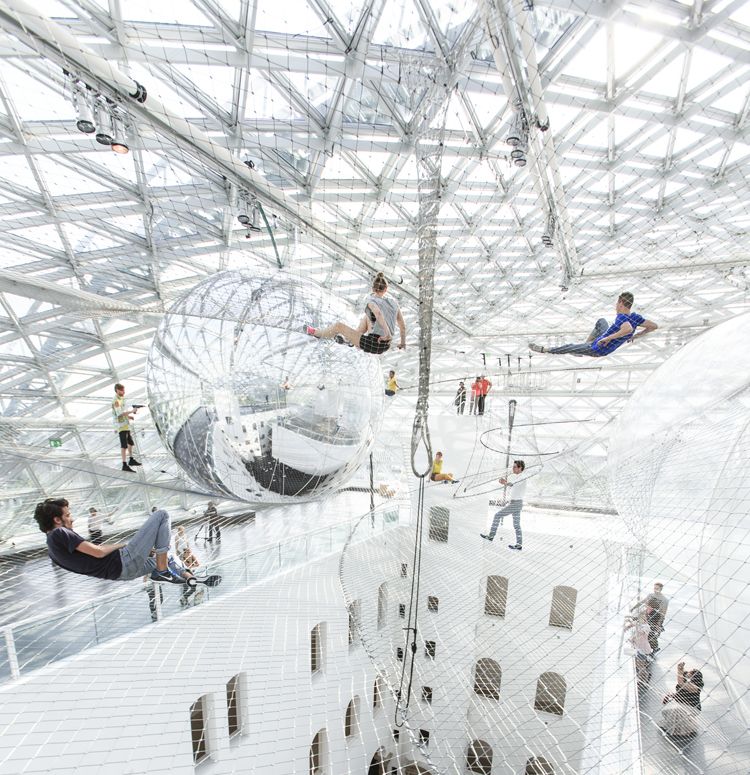 Photos Courtesy of Tomás Saraceno
A massive interactive art exhibit by Tomás Saraceno called
In Orbit
has been assembled under a vast glass dome ceiling at the
K21 Museum
in Düsseldorf, Germany. Planned to remain on display until fall 2014, the installation is made using steel wire mesh and transparent orbits which come together in a surreal landscape reminiscent of a sea of clouds — on which visitors are invited to climb. As visitors move across the nets and inside spheres, their movements cause vibrations like a real spider web, which combined with heights exceeding 80 feet, create a fascinating spatial experience.
"To describe the work means to describe the people who use it — and their emotions," Saraceno said of his exhibit in an interview with
Art Daily
. "When I look at the multi-layered levels of diaphanous lines and spheres, I am reminded of models of the universe that depict the forces of gravity and planetary bodies. For me, the work visualizes the space-time continuum, the three-dimensional web of a spider, [and] the ramifications of tissue in the brain, dark matter, or the structure of the universe. With
In Orbit
, proportions enter into new relationships; human bodies become planets, molecules, or social black holes."
The exhibit, which was planned over a period of three years in conjunction with engineers, architects, and biologists, is Saraceno's most elaborate installation to date. The wire mesh alone weighs three tons, the largest of the six spheres weighs over 600 pounds, and the entire web structure spans an area of almost 27,000 square feet. Visitors who are seen climbing on the installation appear to be swimming in the sky. The piece, incorporating concepts from nature and references from Jules Verne to American architect and visionary Richard Buckminster Fuller, is meant to instill emotions about life and death, thrill and fear, even for those visitors that choose to simply observe the exhibit.
The
Düsseldorf Office of Tourism
is offering a special package for visitors to the installation, which can be booked directly through its website.