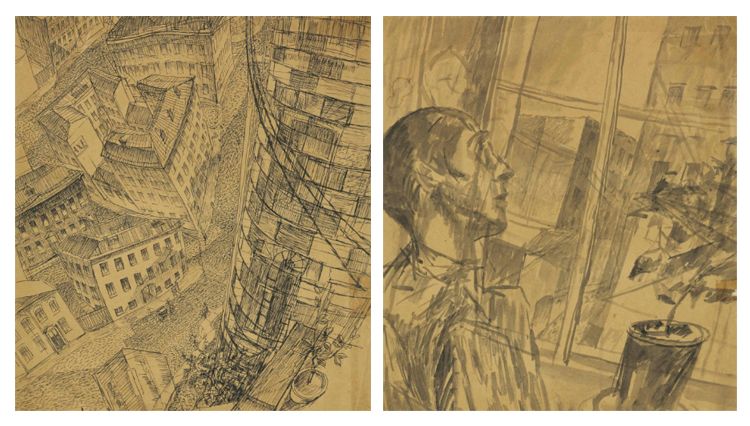 Photos Courtesy of Christie's
Christie's auction titled Arbiters of Style: The Collection of Anthony Hail and Charles Posey took place in New York City on October 8, 2013. The event, which included more than 230 lots, realized $1,927,875 — with 99 percent sold by lot and 99 percent by value.
"Anthony Hail and Charles Posey were advocates of designing a home to look as though it was done over time, with objects of superb quality, craftsmanship and provenance, which spanned across styles and time periods," said Katherine Brambilla, specialist, private and iconic collections of Christie's.
Highlights of the auction included Kuzma Petrov-Vodkin's Street View From a Roof (ink on paper), with a pre-auction estimated selling price between $15,000 and $25,000. This piece sold for more than 1,100 percent than pre-auction estimates, going at $239,000, setting a world record for the artist for a work on paper. Additionally, Petrov-Vodkin's Man Gazing Out of a window (wash and ink on paper) sold at $185,000, exceeding its pre-auction estimated sales price of $15,000 to $25,000 by 825 percent.
Paolo Porpora's (Naples 1617-1670/80 Rome or Naples) Hares, A Tortoise, A Crocodile, Frogs, Quails, A Hedgehog, Butterflies, Dragonflies and Parakeets By a Pool, With Flowers, Strawberries and a River in the Distance (oil canvas) sold for $149,000. It had a pre-auction estimated sales price pegged between $80,000 and $120,000. David Hockney's Gregory, Arizona Biltmore (ink on paper),which was drawn in 1976, sold for $85,000. A pair of Danish silvered, gilt wood and polychrome mirrors, circa 1740, fetched $68,750. A Dutch ebony and ebonized silver-gilt striking "haagse" clock by Johannes Van Ceulen, The Hague (circa 1695), tapped out at $43,750.
"The success of this collection is very much a testament to the value of their philosophy. The sale witnessed competitive bidding from both private individuals and the design community, demonstrating the significant appetite within the international marketplace for instances of exceptional design. We were particularly pleased with the results of Kuzma Petrov-Vodkin's Street View From a Roof, which realized $239,000," said Ms. Brambilla.