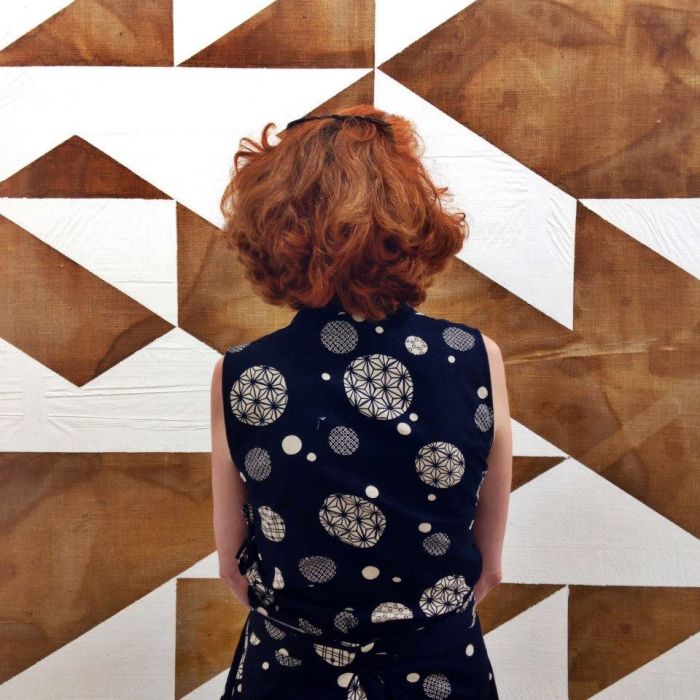 Photo Courtesy of Art Basel
Over 70,000 people flocked to Miami Beach over the weekend to check out Art Basel, the leading international gallery that showcases countless pieces from renowned and emerging artists. With everything on display, from sculptures and paintings to installations and films, it can be very easy to get lost in the cultural smorgasbord, giving no thought to how it was actually put together. After all, someone had to have delivered all of those artworks safely for you to enjoy them with cocktail in hand. And furthermore, where does million-dollar art live when it's not on display? When something as seemingly harmless as a moisture in the air can destroy a piece, major galleries turn to trained intermediaries to get artwork from them to a show, like Art Basel. And one such "middleman" is RoboVault.
With its high-tech storage facility in Fort Lauderdale, RoboVault promises to keep your valuables safe and protected from the environment. Whether you need somewhere to keep your priceless luxury car or your Van Gogh, RoboVault can help. Not only do they keep it safe for you, they do everything—from the packing and shipping to the moving and installation. Which is why Art Basel trusts them to deliver the artworks needed for its Miami event.
Photo Courtesy of RoboVault
Naturally, we had plenty of questions regarding the problems associated with moving priceless works of art and thankfully, Bruce Tang, Director of Shipping and Fine Art Services at RoboVault, was willing to give up the details.
JustLuxe: How did you get involved with RoboVault?
Bruce Tang: Shortly after RoboVault opened in 2009, I was brought in to coordinate shipments and oversee major projects such as art fairs, interior design projects, and estate relocations.
JL: What sets your company apart from its competitors?
BT: Besides the obvious (our high tech, ultra-secure facility), our amazing team of highly trained packing specialists that average 10 years of experience truly sets us apart in our industry. There is far greater risk in the handling, packaging, and transportation of highly valuable and fragile assets than there is while those assets simply sit in storage. We use modern technology combined with scientifically proven methods of packaging to mitigate these risks (vibration, shock, temperature, humidity, light, pollutants, water, pests, fire, and vandalism). We are members of organizations such as PACCIN, largely comprised of museum personnel, and ARCS, an association of registrars from the world's leading museum staffs that share knowledge and information about the latest trends, materials, [and] technologies used to preserve the world's treasures.
Photo Courtesy of Art Basel
JL: What does it take to transport a piece of art to something as huge as Art Basel? What is the most difficult part? The most essential?
BT: Most art is shipped in by shuttle trucks from major art hubs such as NYC, LA or Chicago. Many galleries come from abroad and ship by air. No matter how the art is shipped, it must be properly packed to mitigate the inherent risks encountered by the various methods of transport. Generally speaking, sea freight is not advisable due to the harsh conditions; although for a monumental sculpture, this may be the only option. Art dealers don't necessarily want their art stuck on a ship or at a sea port for weeks at a time, so the preferred methods are by air, or art shuttle road services that provide air ride and climate-controlled cargo.
The most difficult part is encountered during the very short periods of time that the organizers allow shippers to deliver, unpack, and install the art. Then at the end of the show, there's even less time to take it all down and safely repack before shipping the art out again or delivering sold items to their buyers. The most essential part of the process is in the hands of the coordinator that plans the entire process. This coordination is partially my job and partially the responsibility of the gallerist or gallery rep in charge of coordinating the shipment and booth design. There are many moving parts to consider: deadlines for delivery, risk mitigation, gallery budgets, and last but not least, aesthetic appeal once everything is on display. Lighting also plays an important part in showcasing the art and sculpture on display.
Photo Courtesy of RoboVault
JL: What has been the toughest transport job?
BT: Our team truly enjoys transporting large sculptures. We recently transported and installed a 13-foot Jim Dine bronze sculpture that weighed over 3,500lbs! This required weeks of planning, the use of a 75-ton crane, a specially built steel transport frame (so we could lay the sculpture down when transported), a flatbed truck, a large "boom" forklift and some good old fashioned man power. These types of transports are very rewarding once the sculpture is set on its base and the client is smiling as they watch the sculpture lowered into position exactly as they envisioned.
JL: What is the strangest thing you have had a client want to store in a vault?
BT: Cigars, perfume bottles, fur coats, "Rolls Royce" golf cart…we've probably seen it all! But I must say the strangest was a collection of antique tools used for human amputation! They were primarily from the period around the turn of the 20th century, and owned by a retired anesthesiologist!
Photo Courtesy of RoboVault
JL: Is there a piece of art that you saw in person that really floored you?
BT: I am amazed every year during Art Basel week in Miami. So many new artists, new ideas, and new creations. In 2013, we delivered and installed a sculpture that was installed by securing a string to the floor, a string to the ceiling, and in the middle sat two identical cup-like figures that contained magnets that held the ensemble in position as if it were defying gravity. Quite a unique piece that required precise installation.
I also recently saw a slice of a meteorite approximately three feet wide by one foot tall that must have crashed to earth during its interstellar journey. The owner had it mounted on a stand upright and it was lit up using LEDs that brilliantly illuminated the various extraterrestrial crystals contained within the meteorite. Literally, out of this world!
Photo Courtesy of Art Basel
JL: Do you have any advice for people who have their own high-end art collection or who are interested in starting one?
BT: I find that the most avid of art collectors truly care about the art and feel a responsibility to not just share their collection with their closest friends at social gatherings, but in order to share with the world for eternity, they take the necessary precautions to protect their collections and ensure their collections will be preserved for generations to come. There are many experts in the art world. Conservators, museum professionals, and reputable art advisors can be valuable resources for new collectors.
Photo Courtesy of Art Basel
Photo Courtesy of RoboVault