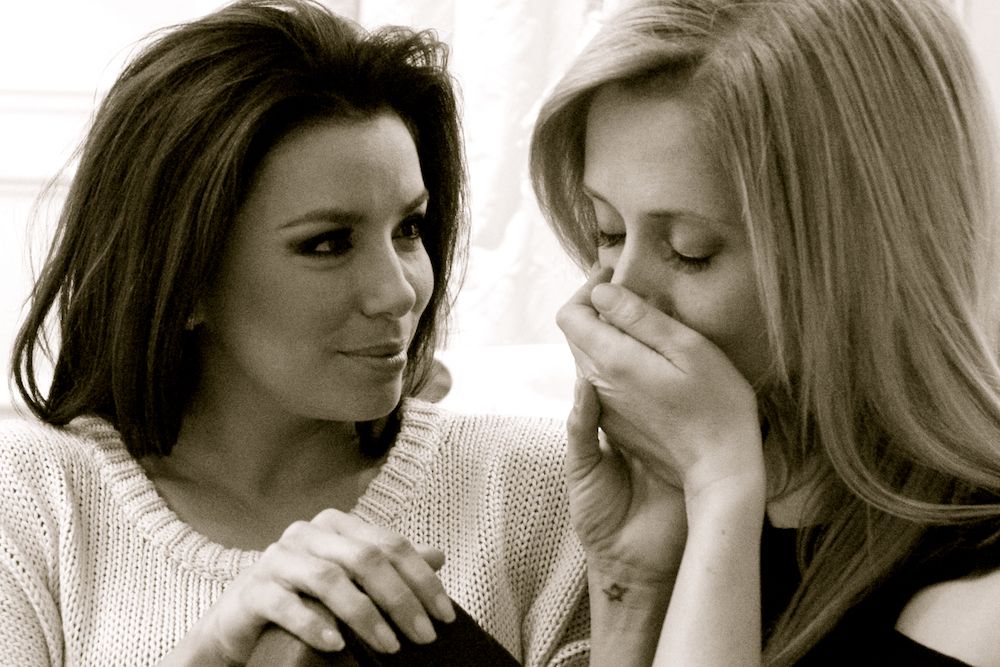 Photos Credit: Olivier Ciappa
Disturbed by the outpouring of homophobia he witnessed when France began legalizing gay marriage, French photographer and director Olivier Ciappa created Imaginary Couples, a photography exhibition that has drawn worldwide acclaim. Olivier relies on the help of celebrities, sports figures and well-known personalities from different fields to pose as gay couples and families to illustrate how love can take on many different forms.
The exhibition originated in France and Ciappa is now in the United States to create new images with celebrities that are more familiar to American audiences. He has already attracted the participation of stars like Eva Longoria and Olympic athletes like Florent Manaudou, as well as international singers and Oscar-winning directors. JustLuxe recently sat down with the artist to chat about his inspiration for the project and what the future holds for Imaginary Couples.
JustLuxe: How do you describe Imaginary Couples?
Olivier Ciappa: It is an international photography exhibition showing my vision of gay couples and gay families, sharing tender and intimate moments. My goal is to influence narrow minds in a subtle, but efficient way, in order to counter prejudice and change mentalities.
The celebrities that I shot are both heterosexual or homosexual, but not real couples, so it was essential to me that you would believe these imaginary couples and families they portray are real. If you couldn't identify with their love and feel it was real, then I would have failed. And to show that love is love, no matter who, the exhibition also features real gay families, straight ones, single parents, disabled, people of different skin colors and origins, different religions, young couples and old ones. All of these pictures, imaginary or real, have the same glamorous and warm monochrome style that makes them look not only appealing, but also timeless.
JL: What drew you to this project?
OC: A few years ago, gay marriage in France drew a totally unexpected negative backlash. Millions of people marched with banners saying frightening sentences like, "France needs babies, not homosexuals." I talked to a lot of these people to understand them. That's how I realized that a homophobic person is often similar to a racist, often not very open-minded. The problem is that they have absolutely no knowledge of what a gay family is truly like. I heard some of them saying on TV the worst clichés, such as two gay men with babies would have sex orgies in front of their kids or would dress with feathers to bring their kids to school. To me, the unknown leads to fear and unfortunately, fear leads to worse fantasies.
Currently, real couples and gay families are so rare in the media, movies, TV or talk shows. There are more than before, but unfortunately it is just a drop of water compared to the hundreds of heterosexual couples we see every day. So I decided to take these photos myself and…show what, in my eyes, a gay couple and gay family look like. Having these pictures everywhere, on building façades in a city and in the media, would hopefully make people see them. The more the uneducated…will see these pictures, the more it will be engraved in their memory and will slowly erase the fantasies they invented themselves from their lack of knowledge. I call this, "educate the retina."
JL: What made you decide to showcase celebrities posing as gay couples or families?
OC: Nowadays our models are actors, singers, sports champions or politicians. They are whom we admire. They are who make us think and they at times help us change our mind thanks to the characters they play in movies, the lyrics they sing, speeches and interviews they give and also what they write on their personal social media. That's why their support on this exhibition was pivotal.
JL: Who are some of the celebrities you photographed for this project?
OC: In each country I brought the exhibition, I shot some of their most beloved and famous actors, singers, TV hosts, worldwide athletes and public figures. Very few are known in the United States, but I hope in the future to get more known celebrities. Included in past exhibitions were…Eva Longoria; the French First Lady Julie Gayet; Canadian Academy Award nominee and director of Dallas Buyers Club, Jean-Marc Vallée; Director of Sicario and Prisoners, Denis Villeneuve; gold medalist swimmer, Florent Manaudou; Wimbledon Champion, Marion Bartoli; and Israeli singer Yael Naim.
JL: Was it difficult to get celebrities to participate?
OC: It was extremely difficult. I tried in vain…for two years, going through the official channels. But I am more than persistent and never take "no" for an answer. I…waited for months outside of stage theaters, movie premieres, concert halls, television stations, sports stadiums, Parliament and political headquarters…and it worked. Most celebrities fell in love with the project. And honestly why would they say no? They would be able to change mentalities in a very artistic and glamorous way. It presented a very good image to their audience. They would be exposed everywhere, from the billboards to the media, in positive reviews.
JL: Where has Imaginary Couples been shown?
OC: It has been shown in numerous cities within France, Canada, Peru, Slovakia, Germany and Lebanon.
JL: What type of reception did it receive?
OC: The reception was always amazing. Way beyond what we expected. If you Google Imaginary Couples, you will find articles from all over the world. It is hard to find a negative review of the project.
JL: How did the response vary from country to country?
OC: The response was always a positive one, as I said before, but what varied from country to country came from extreme religious organizations who were trying to do whatever they could to shut the exhibition down…They know that they could give all the speeches they want, nothing will ever change mentality like art does. Whatever the subject, art will always be the strongest weapon against hate. In Peru, for example, the government put my pictures on countless billboards in their cities. A week after, the extreme Catholic movement put new pictures on a huge scale all over the country and it was the same warm tone, the same happiness, the same graphic style and almost the same logo. The difference? It was called The Real Couples and it showed straight couples…
JL: You are now planning to bring Imaginary Couples to the United States; tell me a bit about that?
OC: My biggest goal is to reach countries where gay people are the most in danger. In more than 70 countries homosexuality is not only forbidden by the law, but often people have to face the death sentence. To be able to reach these countries, I need…beloved celebrities, the people that will have a huge impact on the inhabitants of these countries. The only way to do so is by doing an exhibition in the United States and in Los Angeles, the entertainment capital of the world. This is where it needs to be done first…and after, we will be able to go to other cities that are more conservative...
JL: What would you like people to take away from this project?
OC: I would like the people to change their vision of homosexuals and gay families. I would like to erase the horrible fantasy vision they have and as I said before, I would like to "educate their retina."
JL: Los Angeles is the first city you'll be showing it in the United States; when will the exhibit be shown?
OC: We are looking to do the exhibition in Los Angeles during the summer of 2016. I have met with celebrities, musicians and public figures who were extremely excited about the project. We are hoping to continue to promote this movement and attach some big names in the future to showcase Imaginary Couples all over the United States.