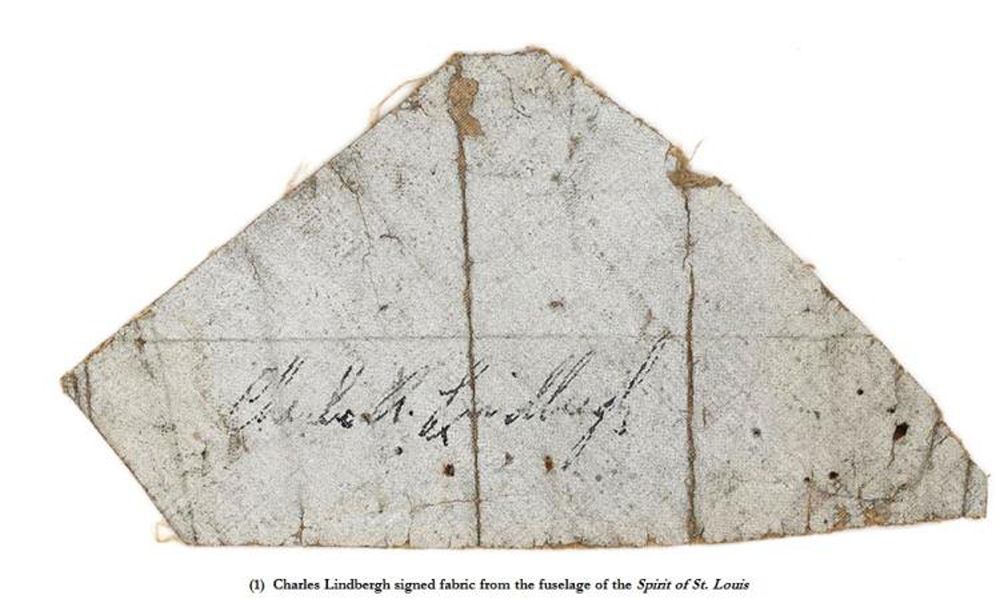 Photos Credit: Lion Heart Autographs
Calling all history buffs! New York autograph and manuscript dealer Lion Heart Autographs is holding quite the sale on June 15. They are auctioning a collection of rare historical artifacts they are calling "Five Centuries of Autographs: Ferdinand & Isabella (1492) to the Present." The collection offers a piece of the original silver-colored cloth from the fuselage of the Spirit of St. Louis, which had been signed by Charles Lindberg just days after his historic trans-Atlantic solo flight. It's considered extremely rare as no other examples signed by Lindbergh when he landed in Paris are known to exist. To paint a picture, thousands of spectators waited for the pilot to touch down at Le Bourget airfield and as the crowd stormed the plane, they tore off pieces as souvenirs. When the plane went in for repairs, a piece of fabric was taken by an anonymous person who received the signature when inspecting Lindberg's plane before he flew to Belgium a few days later. This is estimated to sell for $15-20,000.
Other documents offered in the sale include a rare handwritten manuscript by Albert Einstein, where he discussed matter and cosmological structure and detailed a variant of the central formula for his theory of relativity. This is expected to sell for $60-80,000. Another Einstein document, which is priced at $18-20,000, is a letter from him to his son about Sigmund Freud and sex. Ferdinand and Isabella's decree punishing adultery, signed by Catholic monarchs, was written in 1492, the same year that Christopher Columbus set sail. It's included in the auction and is expected to go for $10-12,000. In the same price range, a proclamation signed by President Truman signaling the end of World War II and signed on V-E Day, May 8, 1945 is for sale, as well.
Smaller items include a rare customs card issued to a Titanic survivor who was aboard the rescue ship Carpathia; a thank you note from Jackie Kennedy Onassis on her personal Fifth Avenue stationery, a signed sepia portrait photograph of the great American poet, Walt Whitman; a twice-inscribed card from Helen Keller; and six ink drawings by President Ronald Reagan on White House stationery. The auction has over 100 pieces on offer and will take place online, partnering with Boston-based website Invaluable and eBay Live Auctions.