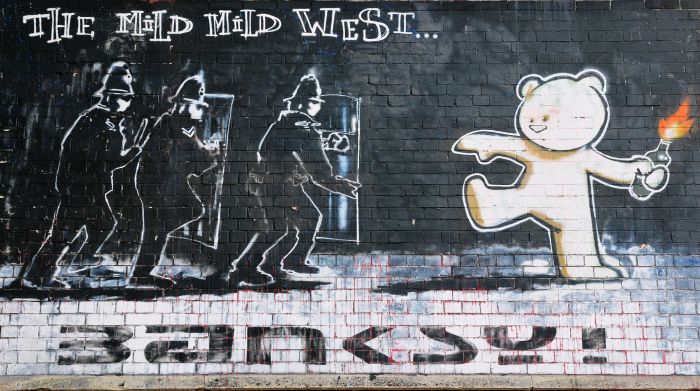 Photo Credit: 1000 Words / Shutterstock.com
Some people may scoff at the idea that Banksy's name should be as high up there as Vincent Van Gogh or Damien Hirst. But there's no denying it: Banksy is one of the most famous artists living on the planet today....and we don't even know who he really is.
As a matter of fact, not much is known about the mysterious street artist, as his identity has been kept under wraps since the early 1990s. It is thought that Banksy keeps his identity a secret to avoid prosecution for painting his murals on public buildings—an issue street artists are all too familiar with. And to make things more difficult, government officials in many cities ask workers to remove any street art or graffiti as soon as they appear on a building; though in recent years, some cities like Bristol and London tell workers not to remove original Banksy pieces, given their worth.
Banksy's pieces can sell for up to the millions, and have reached record-breaking sales in art actions like Bonham's and Sotheby's. But when it comes to his street art, his pieces are essentially priceless, as the originals cannot be framed or hung up on a wall. Because of this, avid-Banksy collectors consider finding his street art serious business; but finding an authentic Banksy piece in a city can be like finding a needle in a haystack (or more like a realistic-version of Where's Waldo?)
If you're hoping to snap a photo of an original Banksy street art piece, or even just see one with your very own eyes during your next holiday, here are some tips on how to find original Banksy street art during your travels: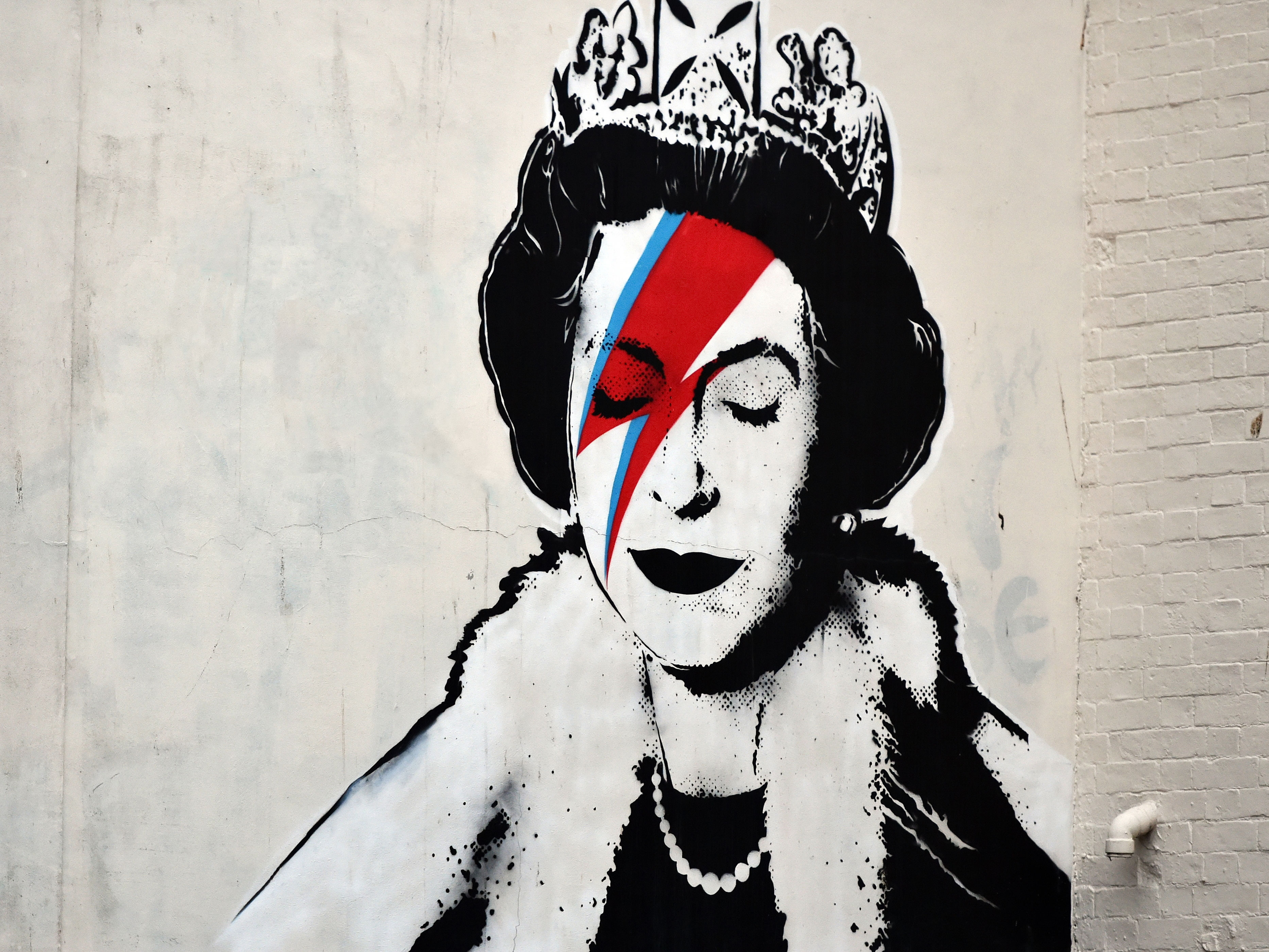 Photo Credit: 1000 Words / Shutterstock.com
How to spot an authentic Banksy piece...
Normally Banksy's street art pieces portray various political, philosophical, social or economical messages with a combination of satire and dark humor. Most of the time, his stencils feature people or animals doing something unexpected, interesting or incredibly funny (like two police officers kissing, a man hanging naked outside a window after his lover's husband arrives home, etc.)
Banksy's street art normally stands out from the rest as he's known to use multi-layered stencils, and sometimes even spray paint. He often places his work on important buildings or landmarks, (like on a wall in the West Bank of Israel, or near the London Bridge and Houses of Parliament), but it's not uncommon to find a random Banksy piece off-the-beaten-path either (such as behind a security fence, on a police headquarters building, and even on a parked steam roller!). And whenever a new Banksy street art piece pops up in a city, you can always count on there being hoards of people surrounding it and snapping photos with their phones, just in case it's removed the following day.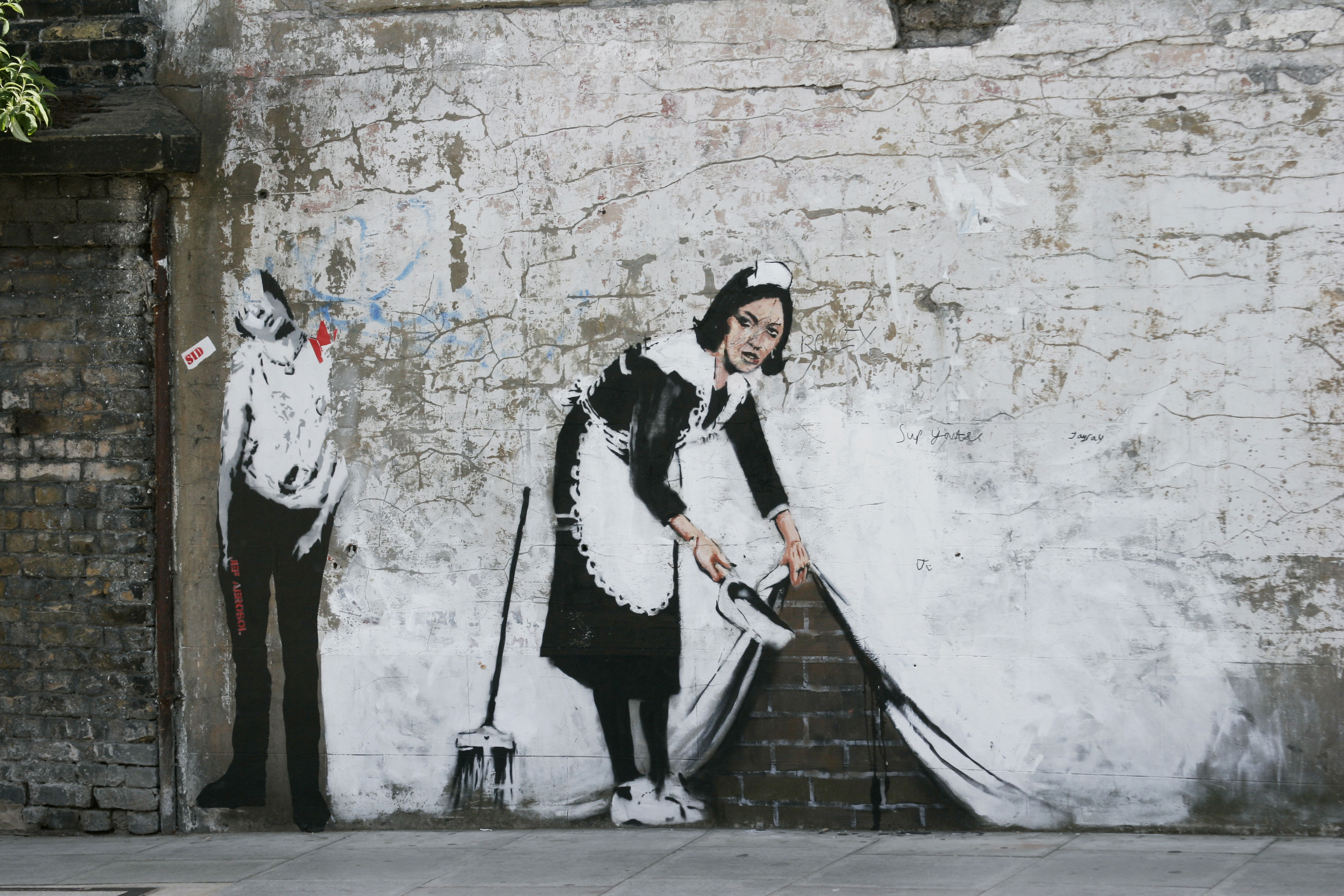 Photo Credit: BMCL / Shutterstock.com
Which cities have the most Banksy street art?
From London to Brighton, to Los Angeles to Hamburg, Banksy has been known to put his pieces up in major cities all around the world.
London quite possibly has the highest number of Banksy pieces, especially near North London and Shoreditch. Leake Street in particular is home to so many Banksy pieces, it's even been coined as "Banksy's Tunnel" over the years. Unfortunately, however many of Banksy's street art pieces in London have been removed over the years, so if you really want to catch a glimpse of an authentic Banksy piece, your best bet would be to go on a London street art tour.
Bristol is another city loaded with a ton of Banksy pieces, so much so that experts believe Banksy might even be from there, (or at the very least, lived there at some point during his life). There are a ton of original Banksy pieces to be discovered just north of Cabot Circus, as well as his famous "naked hanging man" piece on Park Street; (although it was vandalized with blue paint a few years ago, you'll still be able to see it when you're walking along the sidewalk).
Banksy has also put up various pieces of his artwork in major and/or capital cities all around the world, as there's been sightings of his pieces in Melbourne, Los Angeles, New Orleans, Jamaica, and even Mali!
But if you really want to dig deep and discover Banky's latest street art, you might want to head to his official website, as the artist regularly posts updates on his most recent street art pieces around the world.