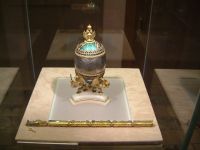 Arts & Culture:
It is said the Fabergé Trans-Siberian Railway egg, gifted by Tsar Nicholas II as an Easter gift to his wife, the Tsaritsa Alexandra Fyodorovna in 1900, is one of the finest of the 69 jeweled eggs made by Peter Carl Fabergé and his assistants between 1885 and 1917. It is currently on display in the Kremlin Armoury museum in Moscow.
The exterior of the exqusite egg is made of onyx, silver, gold, and quartz. It is decorated with colored enamel and the interior is lined with velvet. The egg is supported by three gold-plated griffins, and the surprise inside is a miniature replica of a steam locomotive made of gold and platinum.
The term "Fabergé egg" has become a synonym of luxury and the eggs are regarded as masterpieces of the jeweller's art. Fifty Imperial Fabergé Easter eggs were made and presented to Czars Alexander III and Nicholas II of Russia. The eggs are made of precious metals or hard stones decorated with combinations of enamel and gem stones.
Carl Fabergé and his goldsmiths designed and constructed the first egg in 1885. It was commissioned by Czar Alexander III of Russia as an Easter surprise for his wife Maria Fyodorovna. On the outside it looked like a simple egg of white enameled gold, but it opened up to reveal a golden yolk. The yolk itself had a golden hen inside it, which in turn had a tiny crown with a ruby hanging inside, reminiscent of the nesting dolls.
Empress Maria was so delighted by this gift that Alexander appointed Fabergé a "Court Supplier" and commissioned an Easter gift each year thereafter, stipulating only that it be unique and contain a surprise. His son, Nicholas II of Russia continued the tradition, annually presenting an egg each spring to his wife Alexandra Fyodorovna as well as his then-widowed mother.
By Ruth Mitchell