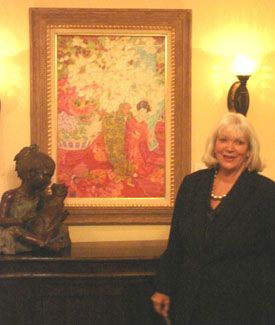 Arts & Culture:
For some people becoming the art curator of a fabulous historic
hotel in Santa Fe
is a dream come true. Just so, for artist Sara Eyestone formerly of San Antonio who has returned to her native New Mexico to light the walls of the historic and beautiful La Posada Hotel with amazing painted images.
Sara has a keen eye for color and subject matter as she seeks to recapture the glory days of the 40s and 50s at La Posada when the "cinco pintores," artists including Will Shuster gathered here to paint.
There are the spirited horse images of John Farnsworth, life-size and so detailed, they leap off the walls in a grab for reality so luring you will want to to connect by touching their muzzles. Then there is the "warm your heart" cows, and coyotes of Sarah J. Weber, or the stunning paintings of local artist Kathleen Frank whose bright hybridization style — she primes her canvas with red not white — seems to be a cross between classic folk art and the images of Georgia O'Keefe. Don Ward's images grace the lobby, and I do mean grace, with his delicate detailing of Western landscapes.

The images of Texas artist Jill Pankey feature wild parties, florid colors and cowboy boots come alive in a great show of whimsy, while Nancy Kriebel paints impressive local scenes at very affordable prices. Then there are the bird nests of Kentucky artist Kim Barrick, whose larger than life bird nests can seem to leap of the walls.

La Posada does much to support its artists and collectors as well, by featuring special packages for collectors, and studio prices on the art, making a "win-win" for all. You may schedule your own private tour of the art, or partake in one of the scheduled events or painting workshops. It doesn't hurt that the award-winning sustainable cuisine by Executive Chef Mary Nearn is to die for. If you get to Santa Fe and love art, La Posada is definitely a perfect place to stay.

For more information on the art scene at La Posada, visit www.LaPosada.org.