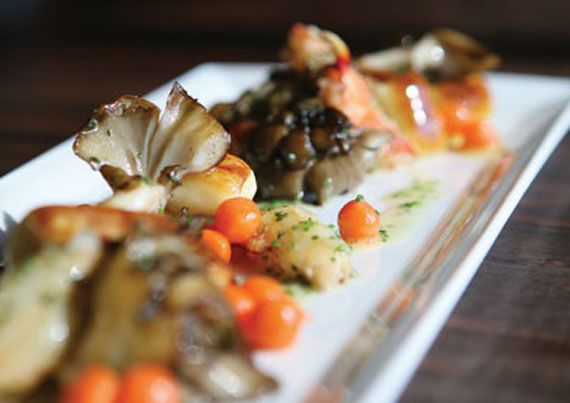 When
The Allison Inn & Spa
opened in the Willamette Valley, a new level of luxury was introduced to the area. Its signature restaurant JORY pays tribute to Oregon's agricultural bounty and acclaimed wines. This succulent dish is just one example.
Fried Potato Gnocchi with Dungeness Crab and Truffle Crème Fraiche Courtesy of Sunny Jin, Executive Chef, The Allison Resort's JORY Restaurant.
Potato Gnocchi
4 large yukon potatoes

½ cup flour

2 egg yolks

1 Tbsp truffle crème fraiche

Salt and pepper

¼ cup blanched sweet carrots, diced

½ cup Maitake mushrooms, feathered

1 shallot, finely chopped

1 Tbsp parsley, finely chopped

¼ cup vegetable stock

1 Tbsp unsalted butter

1 tsp Champagne vinegar

Truffle Crème Fraiche

2 Tbsp black perigord truffles, chopped

1 cup truffle crème fraiche

1 tsp truffle oil

1 Tbsp chives

Salt

Gnocchi: Preheat oven to 375 degrees. Cover potatoes with salt and bake for 45 to 50 minutes or until tender. When fully cooked, pass potatoes through a fine sieve tambourine while still hot. Add egg yolks and truffle crème fraiche to the passed potatoes and thoroughly mix together. Cover and place in refrigerator until cool.

Once cooled, sprinkle flour on top of mixture and cut with a spatula, being careful not to overwork the dough. Roll out the dough onto a flat surface to ½ inch thickness. With a knife, cut into ½ inch squares. Take each portion of dough and roll over a gnocchi board onto a sheet pan lined with parchment paper. Add gnocchi to boiling salted water and cook until the gnocchi rise to the surface. Remove from water and drain on paper towel. Place gnocchi on parchment-lined sheet pan. Freeze.

Truffle Crème Fraiche: Combine all ingredients in mixing bowl, gently fold together, and season to taste. Cover and place in refrigerator and reserve for later.

Assembly: Place a large sauté pan on medium-high heat. Add canola oil and gnocchi and sauté until caramelized. Add the Maitake mushrooms and sauté until cooked through. Add carrots, Dungeness crab, and vegetable stock and continue to cook until heated through. Add shallots, parsley, and butter. Adjust to taste with salt and champagne vinegar. Place the gnocchi in a warm bowl and finish with a generous spoonful of truffle crème fraiche.

The northern Willamette Valley's Ponzi Family has been producing world-class wines for 40 years. They opened The Dundee Bistro so wine tasters could enjoy fine dining in wine country. This recipe gracefully adapts to poultry. Simply exchange the poultry for tenderloin, the Pinot Noir for Chardonnay, the Port for Vino Gelato or Marsala, and the raspberry vinegar for a pear or light apple vinegar.

Pork tenderloin in Pomegranate and Walnut Sauce Courtesy of Christopher Flanagan, Executive Chef, The Dundee Bistro.

2 pork tenderloins (approx. 2 lbs)

Marinade

½ cup Pinot Noir

2 Tbsp olive oil

2 tsp star anise pods, crushed

2 Tbsp shallots, chopped

¼ tsp ground allspice

Salt and pepper

Sauce

1 Tbsp olive oil

2 Tbsp shallots, chopped

½ cup Pinot Noir

½ cup Port

½ cup pomegranate concentrate

½ cup fresh orange juice

1½ cups chicken stock

2 star anise pods, whole

2 Tbsp raspberry vinegar

Salt and pepper

1 tsp honey

2⁄3 cups toasted walnuts, finely chopped

2 Tbsp unsalted butter

Garnish: pomegranate seeds and fresh mint sprigs.

Marinade: Combine marinade ingredients in a sealable plastic bag with pork tenderloins. Refrigerate for 2–3 hours. Remove tenderloins and pat dry; reserve marinade.

Sauce: Sauté shallots in olive oil for 2–3 minutes. Add Pinot Noir and Port. Bring to boil, reduce heat, and simmer until reduced by half. Add pomegranate, orange juice, stock, star anise, and reserved marinade. Continue to simmer until reduced by half again, or until sauce thickens enough to coat back of wooden spoon. Cautiously add vinegar, honey, and salt and pepper to taste. Remove from heat, strain, and add walnuts and butter. Keep warm.

Tenderloins: Brown by grilling (5–6 minutes/side) or sauté in olive oil 4–6 minutes/side without overcooking. Hold tenderloins at least 5 minutes in tinfoil tent. Slice into 1⁄3-inch slices. To serve, spoon a pool of sauce on individual plates or serving platter. Arrange sliced pork on top, then additional sauce.

Garnish with pomegranate seeds and mint sprigs. Recommended accompaniments: a simply prepared rice pilaf, barley, oven-roasted potatoes, or pasta dressed with butter, olive oil, and salt.

No culinary tour of Oregon is complete without hazelnuts. This delightful recipe from Torii Mor Winery in the heart of Dundee Hills marries the crisp sweet notes of pear with a rich, smoky hazelnut flavor.

Pear & Hazelnut Salad with Honey-Citrus Vinaigrette Courtesy of Torii Mor Winery

Ingredients

1 tsp Dijon mustard

1 tsp honey

1 Tbsp white wine vinegar

1 Tbsp grapefruit juice

3–4 Tbsp olive oil

Salt and pepper

1 small pear, cored and thinly sliced

Mixed greens

¼ cup roasted hazelnuts, coarsely chopped

Whisk the mustard, honey, vinegar, and grapefruit juice together in a small bowl. While whisking, slowly drizzle in the oil. Season dressing with salt and pepper. Add sliced pears to dressing and toss to coat. Place a mound of greens on four salad plates. Using tongs, arrange dressed pears on top of greens. Drizzle remaining vinaigrette over mixed greens and sprinkle with roasted hazelnuts.