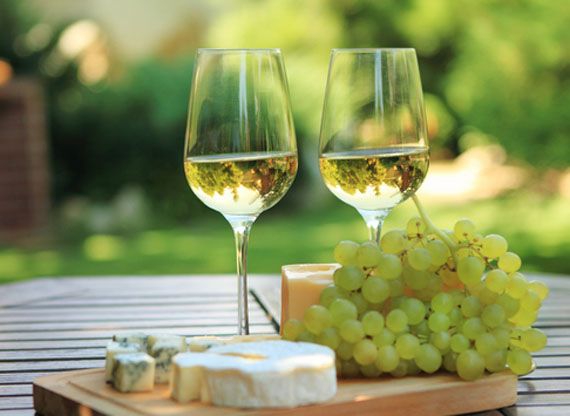 The long, sunlit days and cool, brisk nights of a
Washington
summer are easy to savor. You'll find them in the white wines made from the more than 13,500 vineyard acres of grapes that grow across the state.
The grapes languish in an average of 17.4 hours of sunlight—two hours more than
California's prime growing region
. This extra daylight allows grapes to ripen, while cool nights let the fruit's natural acids remain high, resulting in intriguing, richly flavored, and well-balanced white wines. Here are some good things to know about Washington's distinctive whites.
CHARDONNAY
5,992 acres
In 2010 Washington grape growers crushed 33,400 tons of Chardonnay, making it the state's top white wine grape for the year. Washington Chardonnay is often distinctively bright and delicate, presenting the aromas and flavors of crisp, juicy apples and other orchard fruits. To allow these delightful fruit flavors to shine through, oak is often used with a light touch. Some wineries also use secondary malolactic fermentation to add a rich vanillin or buttery flavor.
In general, Washington Chardonnay is said to be crisper, more delicate, and more acidic than Chardonnay produced in many warmer regions. It pairs nicely with seafood, veal, chicken, foods prepared in butter sauces, cream based dips, mild cheeses, and spicy dishes.
Chardonnays to Taste
2009 Airfield Estates Chardonnay
2008 Kestrel Estate Old Vine Chardonnay
2008 Rulo Sundance Chardonnay, Wahluke Slope
2010 Swiftwater Cellars Chardonnay
2007 Tsillan Cellars Estate Chardonnay
GEWÜRZTRAMINER
632 acres
This German-named grape (gewûrz means spicy, traminer means coming from Tramin, Austria) loves the state of Washington's climate— especially the cold, but not too cold, winters. And savvy wine drinkers are learning to love Gewürztraminer wines. The grape, which brings allspice, tropical fruit, and zesty aromas like grapefruit, lychee, pear, and peach to the nose and palate, is sweeter than Riesling. Traditionally, Gewürztraminer was made only in an off-dry, or slightly sweet style. Today, many Washington winemakers are stretching the envelope of dry-style Gewürztraminer to retain the grape's rich aromatics. Regardless of how it is crafted, it is more full-bodied and robust than most white wines.
Gewürztraminer is best when served slightly chilled (about 50 degrees Fahrenheit). It pairs nicely with spicy dishes, barbecued meats, and strong cheeses. When the weather is cooperative and the winemaker is patient, vintages of late harvest Gewürztraminer can be produced. Sweet enough to be enjoyed on its own or with a light dessert, a late harvest vintage from Washington tends to gain complexity and richness for several years, if you can wait that long.
Gewürztraminers to Taste
2007 Ash Hollow Gewürztraminer, Columbia Valley
2007 Chateau Ste. Michelle Gewürztraminer, Columbia Valley
2009 Columbia Crest Two Vines Gewürztraminer
2008 Maryhill Gewürztraminer, Columbia Valley
2008 Washington Hills Gewürztraminer
RIESLING
4,404 acres
One of the first grape varieties grown in Washington, Riesling is a versatile grape that can be crafted into many different wines ranging from bone-dry with mineral, lime, and floral flavors; to very sweet with fruity and spicy flavors. Riesling is quite at home in Washington because it likes to ripen slowly. When October arrives, the cooler days and nights maximize the grape's acidic backbone. Sometimes, conditions spur "noble rot" late in the ripening season, and a concentrated, decadently sweet late-harvest dessert wine can be produced. When the conditions are right, Washington vintners also produce incredible ice wines from Riesling, as well as other varietals.
Riesling's aromatic, crisp, vibrant qualities make it a great food wine. Its non-oak profile makes it an ideal companion to Asian, Middle Eastern, Indian, and other dishes featuring a variety of spices and ingredients. The most important thing to remember about Washington Riesling is it is crafted with many different levels of residual sugars. Not all Rieslings are sweet!
Rieslings to Taste
2005 Bookwalter Riesling, Columbia Valley
2010 Charles Smith Kung Fu Girl Riesling
2003 Hogue Late Harvest White Riesling
2007 Pacific Rim Dry Riesling
2010 Swiftwater Cellars Riesling
SAUVIGNON BLANC
993 acres
Vibrant Sauvignon Blanc is the state of Washington's third most planted white grape. It yields fruit-forward wines with an herbaceous (grass, weeds, lemongrass, gooseberry) component, and lively acidity. Winemakers will occasionally soften the wine by leaving some of its residual sugar, or by blending it with a fruitier wine like Sémillon. Washington
Sauvignon Blanc is most enjoyable with white meats, fish, shellfish, goat cheese, pasta with cream sauce—which complements the wine's acidity—or a variety of green vegetables that share elements in the wine's flavor profile. Because Sauvignon Blanc from this region typically presents a crisp acidic edge, it doesn't pair well with red meats. It's not surprising that the aromatic Washington Sauvignon Blanc is often thought of as a summer wine. Fragrant fields of fresh-mown grass delight the nose and conjure up strong associations with a blissful summer day.
Sauvignon Blancs to Taste
2009 Chinook Sauvignon Blanc, Yakima Valley
2007 Gordon Brothers Family Vineyards Sauvignon Blanc
2008 Silver Lake Sauvignon Blanc, Rattlesnake Hills
2008 Three Rivers Sauvignon Blanc, Columbia Valley
2009 Woodward Canyon Estate Sauvignon Blanc, Walla Walla Valley