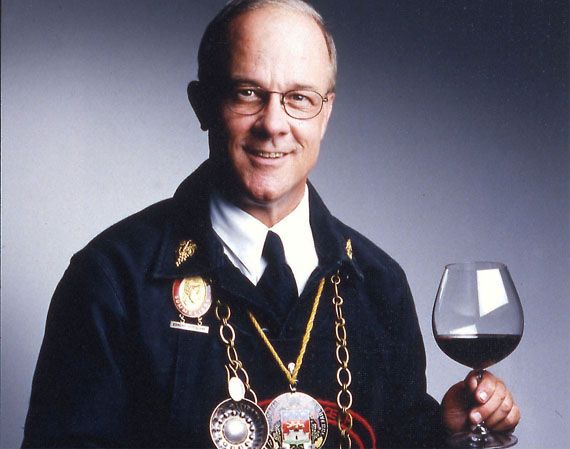 Photo Courtesy of Eddie Osterland
As the first
Master Sommelier
in America, Eddie Osterland has evolved into the first speaker of wine over the past 25 years, conducting "Power Entertaining with Food & Wine" workshops to teach executives essentials for wining and dining international clients.
His schtick is to start each program with a heavy French accent, visibly intimidating the people in the room, then break into his American voice to say he's kidding. His "students" are often CEOs and executives from Fortune 500 companies and professional societies, who learn the finer aspects of wine from a pro in a fun and enjoyable way through the seminars.
Not too shabby for a guy who grew up in New Jersey and didn't know from wine from grape juice until he began working as a waiter to help pay college expenses. When the sommelier didn't show up one night, the manager put the silver chain and tasting cup around his neck and gave him a quick lesson. He became fascinated with wine after that.
Osterland, who earned his bachelors at Fairleigh Dickinson University, studied at L'Institut d'oenologie at Université de Bordeaux, University of Bordeaux, France earning a (D.U.A.D) Diplôme Universitaire D'aptitude A la Dégustation Des Vins degree; then a Master Sommelier designation from the Guild of Sommeliers in London in 1973.
The first step in his wine career was to become Director of Trade Education at the International Wine Center. He was the wine editor for Restaurant Business magazine for a decade in addition to authoring the book "Wine and the Bottom Line" for the National Restaurant Association. Among the corporations sending their people to learn about wine: Citibank, IBM, General Mills, Merrill Lynch, UBS, Discover Card, SPRINT, Qwest, Crystal Cruises, Ritz Carlton and Ford. Osterland is spreading the wine gospel throughout the world now, in places such as China, where he spoke in five cities and participated corporate entertainment events for the 2008 Beijing Olympics.
The first of now 96 master sommeliers in the United States, Osterland enjoys a rare position as one of first wine master designees, just as the country began to build a reputation for producing some of the finest wines in the world from its California vineyards. He clearly enjoys his role as a spokesperson for wine and the United States, both.
This post originally appeared at
Oenologist.com
.