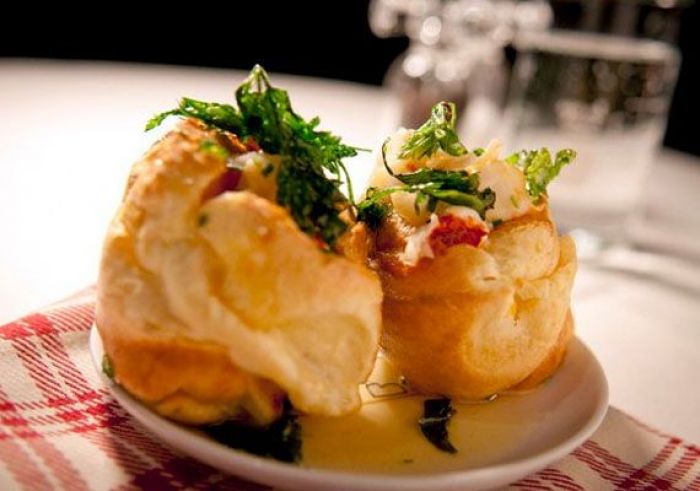 Photo Courtesy of Towne Stove and Spirits
Chef Lydia Shire has been a household name in the
Boston restaurant
scene since she first became known for now legendary, Biba. Prior to that, Shire worked at Maison Robert, Harvest, Parker's at the Omni Parker House, Seasons and Pignoli before moving on to head up the kitchens at Excelsior, Scampo at The Liberty Hotel and Towne Stove and Spirits.
Here, she shares with us her famous recipe for lobster popovers, which are available on the menu at Towne Stove and Spirits.
Ingredients:
2 large eggs beaten well with a whisk
1 T. melted butter
1 cup whole milk
1 tsp. salt
1 cup sifted flour or "unpacked" flour leveled off
Directions:
Beat all of these ingredients very well with a whisk or, better yet, place all in a blender and mix together.
 Refrigerate at least 15 minutes to one hour or over night covered with plastic wrap.
Set still oven to 400 degrees (I prefer a still oven for popovers rather than a convection oven).
Melt 3/4 stick butter or 6 T. Place popover pan in the overn to heat or a muffin pan, preferably cast iron.
Remove your chilled batter from the fridge, stir again and divide the melted butter into the 11 or 12 "wells." The butter should immediately sizzle.
Pour in the batter quickly almost to the top (use it all); put the hot pan back in the oven with a half sheet pan positioned under the popover pan to catch any dripping fat. Close the door and don't even dream of opening it for 20 minutes!
Lobster Meat:
Start off with a one-pound lobster cooked for six minutes in boiling salted water, then chilled in ice water.
Next, all meat removed from the shell will weigh four ounces. That would serve two or possibly three people. I would cook two nice "kicking" lobsters for six people.
Your other option is to buy cooked lobster meat. However, in my world fish companies typically overcook the lobster and "wash" the meat leaving it dry. Learn to do it yourself!
One bottle of Jack Daniels Honey Whiskey or Cream Sherry from Spain or Amontillado Sherry from Spain will do (but I am loving the Jack Daniels with the lobster — you will, too).
Four to six ounces lobster meat cut into chunks
1/2 stick of butter for sautéing
1/2 stick of butter for inside the popovers
Chopped chives or curly parsley for garnish on the sautéed lobster
One lemon
One plastic squeeze bottle or green can of Lyles Golden Syrup (many supermarkets carry this product or you can find it at Williams Sonoma) nothing else will do — definitely NOT honey!
Method: 
When you believe that you have 10 minutes left in cooking the popovers, take a medium size skillet, add 1/2 stick of butter, let it foam up and immediately add your lobster chunks.
Give the pan a quick shake (your lobster will turn a brighter shade of red and give off a wonderful lobstery smell). Add 1/2 cup Jack Daniels or sherry and let sizzle away.
 Remove the lobster with a slotted spoon so that it does not overcook. Let the sherry and lobster juices cook down a bit.
Squeeze the juice of 1/2 lemon, take off the heat all together and mix the lobster and juices together. Sprinkle over some chives or chopped curly parsley, let sit.
Serving: 
Place hot popover right out of the oven on a dish for each person. Stab a hole on the top with a sharp knife.
Place a tsp. (or two or three) of good butter (I use Kerry Gold Irish Butter, if I can find it) then spoon in the designated lobster with its wonderful sauce.
Drizzle Lyles Golden Syrup into the hole (as much as you like) and watch your guests' faces light up as they enjoy!
Afterthoughts: 
Popovers may be made in the morning, the day you are serving them. Just simply warm them for a few seconds in a hot oven and continue on. For more information, visit TowneBoston.com.

Towne Stove and Spirits