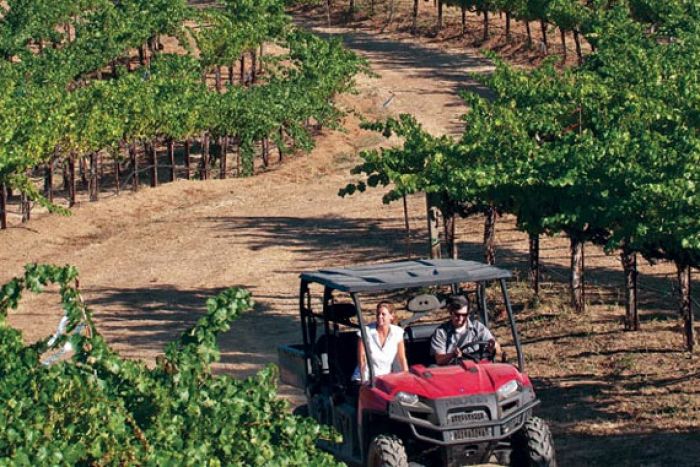 High in the hills above
Napa Valley
lay two pristine valleys that together hold the fertile estate vineyards of Somerston. Allan Chapman purchased the 638-acre Priest Ranch property in Soda Valley in 2004, and the adjacent 990-acre Lynch Ranch in Elder Valley early 2006. After the purchase, he spent an extensive amount of time exploring the properties and learning about the rich history of the acreage, which includes vineyards, several spring-fed lakes, and a natural soda spring. Foundations from old homesteads, dated ranching tools, and century-old farming equipment remain scattered about the ranch as a reminder of all who were here before.
Today the land is planted to more than 200 acres of grapes on elevations ranging from 850 to 2,400 feet above sea level. Divided into 87 individual blocks representing a diverse range of soils (alluvial fans, silty clay, and fractured shale), the vineyards provide a range of distinctive fruit coveted by some of Napa Valley's most renowned winemakers and wineries.
Although a substantial amount of fruit is sold, Somerston utilizes grapes from premier blocks for estate wines. Somerston just finished construction of a winery in a renovated 12,000-square-foot barn in Soda Valley. Completed recently, the new winemaking facility features many new proven technologies including the first process waste anaerobic biofilter in Napa County, and one of the country's first carbon neutral cooling, heating, and hot water systems.
Somerston's General Manager and Winemaker Craig Becker is strongly committed to the winery's sustainable practices. "The modern sustainable movement has transcended organics in many ways," Craig says. "As we consider our impact on the environment, practices are emerging that take into account concerns like carbon consumption, fuel economy, and new ways to enhance efficiency and conservation. For me, sustainability is not a marketing tool or gimmick; it is a way of life."
Somerston crafts wine for three labels: Somerston, from premier blocks on the Somerston estate; Priest Ranch, representing the diversity of Somerston's vineyards; and highflyer, an eclectic lineup of varietals from distinctive vineyard sites, including Somerston, Bennett Valley, Santa Lucia Highlands, Santa Maria Valley, and Santa Ynez Valley.
When visiting the Napa Valley, wine tourists are warmly invited to visit the ranch located just 25 minutes off the Silverado Trail. Although a little planning is in order (tastings and tours are by appointment only, and it takes time to drive the winding country roads), it is more than worth it. Guests will enjoy
wine tasting
at the new facility and in connection, may enjoy an exhilarating vineyard tour in an open-air all-terrain vehicle through rolling vineyards and wooded forests, past natural soda springs, grazing sheep, and organically farmed gardens. The winery also has a more convenient, yet charming, downtown Yountville tasting room, where wine lovers can enjoy the great wines that express the history, beauty, and the sustainable farming philosophy that set Somerston apart.
An Interview with General Manager and Winemaker Craig Becker
Q: What brought you to Somerston?
Craig Becker:
I wanted to make some Petite Sirah and this property had all three varietals that I needed, especially the Grenache growing on the Priest Ranch property. I purchased the fruit and was blown away. I met the founder, Allan Chapman, and over the next couple of years we got to know each other well. I made a little bit of bulk wine for him and gave him some advice about the vineyards. In 2007 we got the winery permit and in 2008 we merged our wine brands.
Q: The Napa Valley has made great strides in sustainability in the past several years. How is Somerston playing a role?
CB:
At Somerston, we're not just about vineyard and winery practices; we're a giant eco-conscious system. We practice a multi-use concept on the land. We raise livestock and grow a lot of the feed, and eventually we'll plant row crops. Basically, we take as little as possible from the land and leave the best we can for the next generation.
Q: What's next for Somerston?
CB:
We have goals of educating and introducing people to our amazing property and what's in our bottles. And we want to develop a Somerston label that reflects a sense of place. I'll be traveling, touring, and educating people. We've already developed our export market with an importer in Hong Kong overseas. Our expansion is heavily focused in Asia and we have a developing interest in Europe, plus we're already going out to 30 plus states.
Q: What do you think the future holds for the Napa Valley?
CB:
I think the future holds great things for us overseas. We're well established now as a premier growing region in the United States, and now we need to make a sustained long-term effort in educating these customers. The great thing about Napa Valley and California wine is that we age our fruit on the vine and not in the bottle. This will be a great door opener as we introduce ourselves around the world.
WHAT TO BUY:
'07 Cabernet Sauvignon Ripe black plums, Kirsch, creamy cocoa $120

'09 Priest Ranch Petite Sirah Graphite, licorice, incense, blueberry, spring flowers $40

'07 Highflyer Centerline Blend Blackberry and blueberry jam, acacia flowers, cocoa, strawberries, espresso $28

CONTACT:
Somerston
3450 Sage Canyon Rd.
St Helena, CA 94574
707.944.8200
info@somerstonwineco.com
SomerstonWineCo.com
Ranch and Vineyards Tasting by Appt Only
Tasting Room Open Mon 1 p.m.–8p.m.; Tue–Sat 10 a.m.–10 p.m.; Sun 11 a.m.–8 p.m.
6490 Washington St.
Yountville, CA 94599

SPECIAL NOTES: Sustainable farming practices, scenic view, picnic grounds, educational seminars, culinary events.