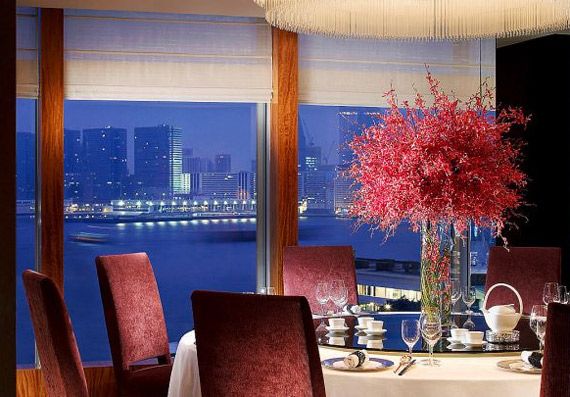 Photo Credit: of Four Seasons/Janice Nieder
During an incomparable eating tour in China recently, I was more than happy to "double-down" for back to back dining experiences at the Michelin two- star restaurant, Zi Yat Heen, at the
Four Seasons Macau
, followed by lunch at Hong Kong's Four Seasons restaurant, Lung King Heen.
Hong Kong's most revered Cantonese restaurant is overseen by Chan Yan Tak, the first Chinese chef to earn three Michelin stars. Even though I'm not the proud mother, it was still impossible to pick a favorite since both provided sublime food, flawless service and a relaxing, sophisticated yet casual ambiance. I'd happily return to either at the drop of a chopstick.
Zi Yat Heen is the only Cantonese restaurant in Macau to achieve the Two-Star status. This casino laden area can feel more than a bit frenetic so I was happy to escape to this culinary oasis of calm for a couple hours of gastronomic bliss.
The new Head Chef Ho Pui Yung focuses on presenting authentic Cantonese cuisine using only the finest ingredients which he combines in inventive ways, then subtly seasons with a light touch. This can best be experienced when trying any of their soups. To extract every last bit of flavor the hearty soups are double-boiled, as traditional Cantonese soups should be.
Signature dishes include almost every one of the creative dim sum, but particular standouts include the Steamed Scallop Dumplings with Chinese Spinach, Steamed Pork Dumplings with Shrimp and Crab Roe, and the delicate, Crispy Taro Puffs with Roasted Goose and a crispy crab claw with shrimp mousse, which is lightly fired and then cooked in a broth prepared with more than 10 exquisite Chinese ingredients.
The BBQ duo was an enticing combo of salty-sweet, honey crisped pork and suckling pig. Not-to-be-missed entrees include: the pristine steamed fillet of garoupa with ginger and spring onion, wok-fried prawns with dried chili and shallots; sautéed wagyu beef cubes with mild green peppers; and the famous Zi Yat Heen crispy chicken, accompanied by a selection of the finest Chinese specialty teas.
The next day I hopped the hour long ferry to the three-star (Michelin's highest rating) Lung King Heen restaurant at the
Four Seasons Hotel
Hong Kong. The beautifully appointed glass-filled dining room sparkles under the silver-leaf ceiling. The unadorned view of the magnificent Victoria Harbour, seen through wall-to-ceiling windows, provides the perfect backdrop for the understated yet astonishing Cantonese cuisine of Chef Chan Yan Tak (the world's first Chinese three-starred chef).
Although he's justifiably proud of the entire menu, he recommends you try his favorite contemporary dish: an intriguing combination of crispy scallops with fresh pear. This dish showcases Chef Tak's talent of delivering stunning presentations with clean flavors that often hide a textural surprise. If it wasn't the height of bad manners I would have smothered every dish I tried with Chef Tak's amazing, homemade XO Sauce.
The secret spicy sauce uses delicious ingredients like dried shrimp, scallops, ham, and chiles. Luckily, I scored a jar of Chef's vegetarian version, loaded with mushroomy umami flavor, which is equally addictive; and since I've been home I've tried it on everything from pasta to scrambled eggs with equal success.
Dishes I was particularly enthralled with include the wok-seared turnip cakes, the otherworldly baked whole abalone puff with diced chicken, braised bamboo piths stuffed with Superior bird's nest, crispy eel with honey and just the right touch of tart Pomelo, braised duck liver in abalone sauce and the perfect ending was provided with a still-life work of art—a time intensive walnut cookie served with a Chinese wolfberry gelatin.
If for any reason you're tired of Chinese food (which I would never understand) you can clear your palate by experiencing another three-star Michelin meal at Caprice, the hotel's celebrated French restaurant (Note: this is the only hotel in the world to contain two Michelin three-star restaurants). Earning just one Michelin star is an incredible feat, catapulting a restaurant into "world-class" territory, so with five stars between them I'd strongly recommend that you visit each of these Four Seasons offering "exceptional cuisine, worth a special journey." Visit
FourSeasons.com/Macau
or
FourSeasons.com/HongKong
to learn more.