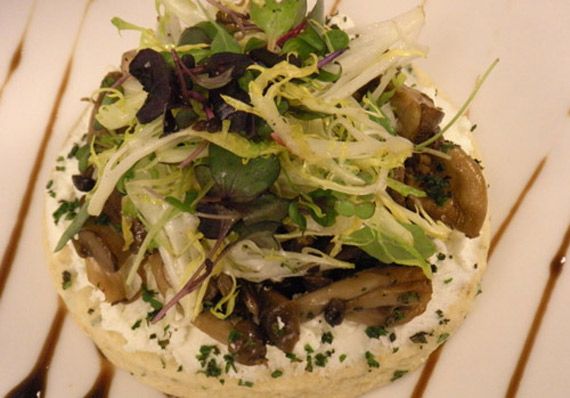 Photo Courtesy of Sea Glass Restaurant
If you love mushrooms then you'll want to try out this recipe from Executive Chef Mitchell Kaldrovich of the Sea Glass Restaurant at Inn by the Sea of Cape Elizabeth, Maine. Rich mushroom, light greens and tangy goat cheese make a great appetizer for the family or dinner party guests.
Ingredients:
(Yields 12)
Parmesan Crust
¾ Pound All Purpose Flour
1 Tbs. Baking Powder
1 oz. Sugar
1 Stick Unsalted Butter, Dice
¾ Cup Milk
1/3 Cup Fine Parmesan Cheese
¼ Cup Chopped Chives
½ Tsp. Black Pepper
Method:
Put all ingredients together in a food processor and pulse to combine.
Working over a little flour, roll to 3/8'' thick.
Cut with a 5'' round cookie cutter.
Pinch with a fork a few times to avoid bubbles.
Bake at 350 F for 8-10 minutes or until very light brown. Set aside.
Roasted Mushrooms:
Our mushrooms are from Rick Tibbett's, from Scarborough and we use: Hon Shimaji, Oyster Mushrooms & Shiitake. But any mushroom is good for this recipe.
3-6 cups Mushrooms (¼ cup per person after cooked — but of course it would vary based on the type of mushroom you use)
Olive Oil
Garlic, Chopped
Fresh Thyme
Salt and Pepper
Method:
Cut into small pieces, for Shiitake, use cup of mushrooms only, then sauté quickly in a very hot cast iron skillet with a little olive oil, some chopped garlic, fresh thyme, salt and pepper.
Try not to overcrowd the pan with too many mushrooms at once.
Balsamic Syrup
Reduce Balsamic Vinegar to a syrupy consistency.
Additional Ingredients:
Goat Cheese
Baby Arugula
Red Wine Vinaigrette
Salt
Method:
Spoon a good amount of fresh Fern Hill Farm Goat Cheese over the cooked crust, then top with mushrooms.
Bake for 6 minutes at 350 F.
Dress some Baby Arugula with a good red wine vinaigrette & salt.
Top mushrooms with the salad and garnish with the balsamic syrup.
Enjoy!