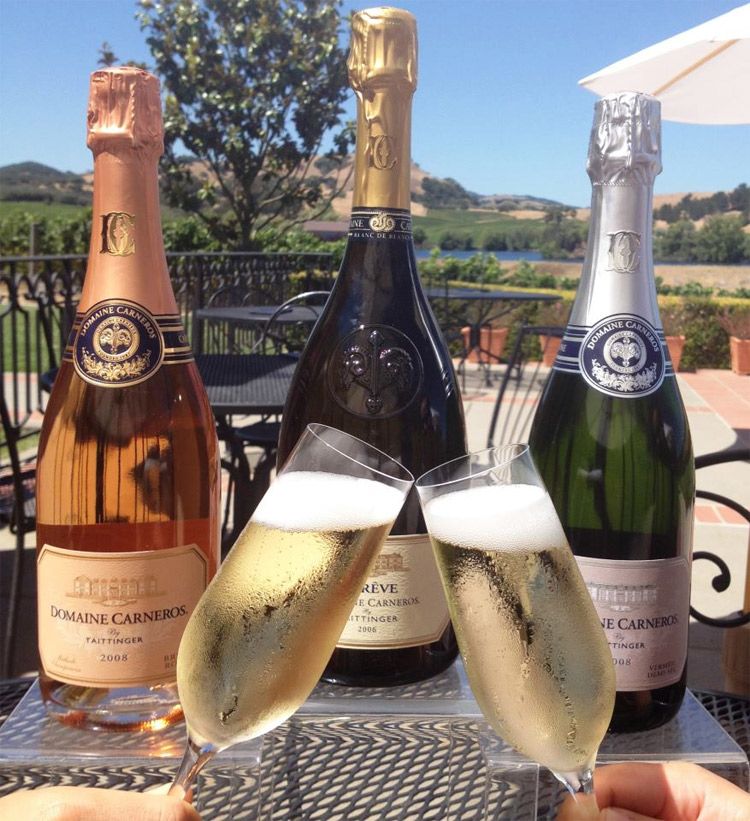 Photo Courtesy of Domaine Carneros
Most wine tastings, whether for amateur, leisure or professional reasons, have to do with current or future releases. Tasters are treated to glimpses of young wines yet to be unleashed on the public.
While exhilarating for wine enthusiasts, your average wine tasting is just a snapshot of a winery's or winemaker's identity. To gain a fuller knowledge of the character of a wine, connoisseurs and critics alike are often invited to what are known as "vertical wine tastings."
Not to worry—no one is suspended from the ceiling or forced to do a multi-story ice luge of wine. Instead, a vertical tasting is when you taste a single wine from several different vintages rather than tasting a whole range of wines from a single year (or a few close-together years).
I was treated to a vertical tasting not long ago at the Hotel Bel-Air of one of America's most prominent sparkling wine producers, Domaine Carneros, led by the winery's pioneering winemaker, Eileen Crane. Crane had brought vintages of the winery's signature Le Rêve sparkling wine ranging from 1992 up until 2006. A select group of media and wine industry insiders were invited to attend the tasting for a fuller, more in-depth assessment of how Crane and her wines have evolved over the past two decades.
A little background first. Domaine Carneros was founded in the late 1980's by one of France's most esteemed champagne houses, Taittinger, which is known for a house style that produces some of the world's finest blanc de blancs champagnes made primarily from chardonnay. According to Crane, although pinot noir often gets the credit for lending champagne its structural potency, it is chardonnay that lends this special wine its unique aging ability...in addition to sparkle and finesse.
In starting Domaine Carneros, Claude Taittinger entrusted Crane with a mission to make the U.S.'s greatest blanc de blancs. Domaine Carneros opened in 1987, and in 1992 she produced the first vintage of Le Rêve, inspired by Taittinger's flagship Comtes de Champagne cuvee.
Le Rêve is historically made from all estate-grown, organically farmed chardonnay, is always a vintage production, and is aged a minimum of five years in the bottle before release. According to Crane, the predominant characteristics she aims for are "elegance, balance and a long finish."
She explains that Carneros, in the very southern part of Napa county bordering San Pablo Bay, is a coastal climate, which produces cooler summers and warmer winters, so the grapevines here experience budbreak earlier than usual, but require a longer time to ripen. This results in more complex, nuanced flavors developed over a longer growing season than in other California regions.
After all that exposition, it was time to get down to the tasting. The first wine poured was the 1992 Le Rêve, the inaugural cuvee, Crane reminisced about making it over 20 years ago during a particularly hot spell when, "during harvest, the vineyard smelled like a peach pie baking." That profile of ripe, yellow stone fruit, vanilla, spice and brown sugar were immediately evident, as were rounder flavors of honey and lemon curd, and a pleasant earthy texture in the mid-palate that spoke to the wine's age.
Compared to it, tasting the 1993 was like night and day—this wine displayed hallmark Domaine Carneros notes of tropical flavors like grilled pineapple as well as orange blossom and even a touch of baking spice.
Without going through all the wines, a few other standouts included the 1994 vintage whose yeasty cream notes and tropical aromas lasted well after the last sip thanks to an impressively long finish; the bright acidity and apricot notes as well as a caramelly coffee taste in the 1997; distinctive floral notes of honeysuckle and vineyard roses as well as luscious white pineapple and mandarin orange undercut by gentle vanilla were all enlivened by a mouthwatering acidity in the 1999.
The 2000 displayed deliciously accessible flavors of pear, ginger and lemon meringue, while the 2002 stood out for signature tropical notes of pineapple, passionfruit and pear. Hearkening back to the toasty 1992, the 2003 was a revelation, exhibiting notes that spoke to both its age and ageability with a palate of ginger, grapefruit and toasted nuts.
The 2006 had a pleasantly buttery overtone that gave way to hints of crisp nectarine, fragrant honeysuckle, brown sugar and even notes of mellow quince and toasted almond. Still young, this wine made no secret of its complexity and of nuances yet to ripen.
Not only was a vertical tasting of 14 flagship wines a rare treat, but it was also an unparalleled picture of how a wine changes both in terms of aging, as well as from year to year despite most factors including climate, soils, the winemaking team and varietal composition remaining constant. It gives the impression of a wine as a living, breathing, evolving entity of its own, much like the winemaker behind it. And it is so much more enlightening to have the winemaker herself—a pioneer of female winemakers in the United States—there to comment on each wine in turn and present her own personal memories of making it, accompanied by original tasting notes and her own extemporaneous impressions of the wines today.
Surely a vertical tasting isn't necessary to understand every wine out there, but with one that is both as complex and representative of its region and house style as Le Rêve, it truly was an educational experience.