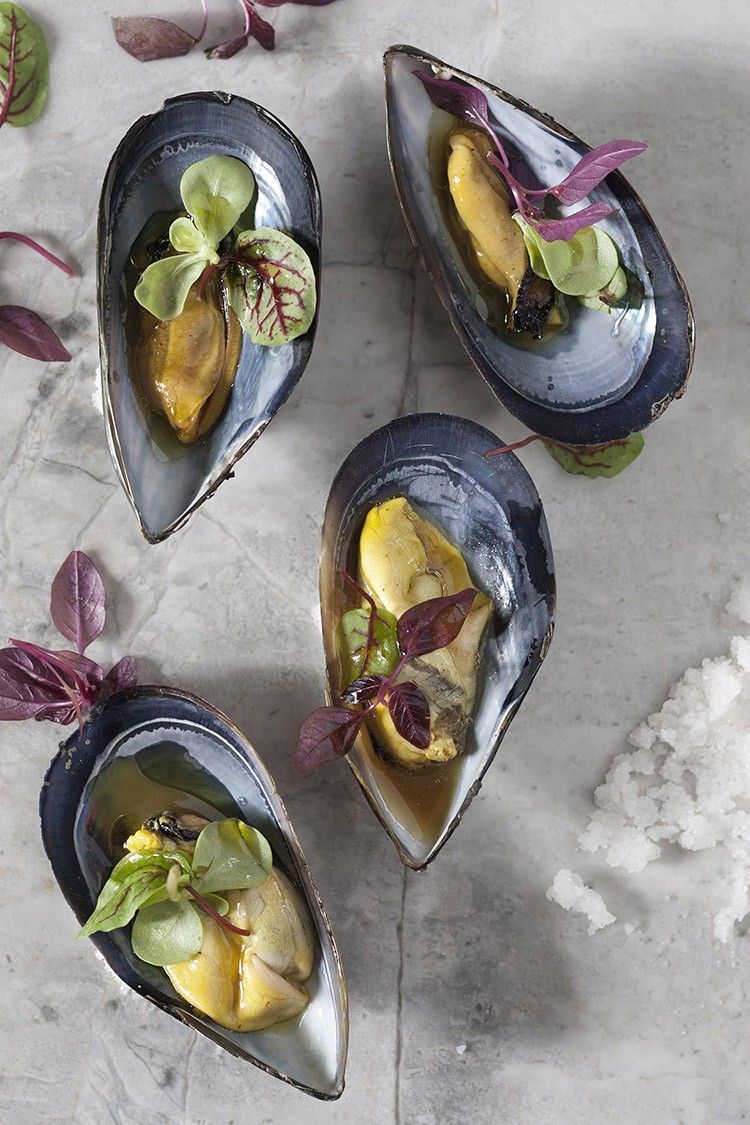 Photo Courtesy of The Apollo
The chatter is loud and welcoming as my friend and I wander into The Apollo on a busy Wednesday night. Tucked away in the trendy area of Potts Point in Sydney, this renowned restaurant comes highly recommended, so we have great expectations for the night ahead.
The Apollo opened earlier this year. It's the brainchild of Jonathan Barthelmess and Sam Christie, with the Greek cuisine a nod to their shared heritage - and so far the reviews have all raved about what's on offer.
Inside, the decor is trendy, funky, minimalist, and fashionable. There's exposed concrete on the walls, towering, warehouse-style windows letting the light flood in, while the tables are simple – this place is all about the food.
Courtesy of The Apollo
Looking around, there's a marble chef's table in front of the kitchen, and the dim lighting manages to create a warm atmosphere in this huge open space. Our waitress is smiling and helpful, handing us our menus and recommending dishes for our fussy requests. 
There's no shortage of choice on the drinks menu – start with ouzo served with ice and water, sip a Craft Athens Lager, splash out on top-notch champagne, dive into the extensive menu, or indulge in a cocktail – which is what we decide to do.
Our Tears Of Chios – Tanqueray Mastic Cucumber, Lemon Sugar – and 5 Star Sour – Metaxa 5-Star Brandy Inco Cyprus Orange Liqueur Cardamom Lemon Orange Zest – are delicious, and bridge the short gap we have until our food arrives.
We start with Pickled Eggplant Served With Garlic Chilli, which, despite looking like octopus, is surprisingly delicious.
Next is Saganaki Cheese Served With Honey And Oregano, which arrives still bubbling in a small frying pan. This small slab of cheese is mouth-wateringly sensational. It's salty like halloumi, but it's texture is deeper, more satisfying – it's too good to even care about the calories. This is a must-try dish when you visit The Apollo.
We're then presented with Wild Weed And Cheese Pie – delicate pastry oozing with creamy cheese and nettle-like greens. It's incredibly moreish and quickly devoured. To wash it all down, we order a bottle of the crisp 2011 Hamelin Bay, Semillon Sauvignon Blanc Margaret River. A gorgeous light, but flavorsome vino, which complements our dishes.
Our mains soon arrive, and we delve into an array of aesthetically pleasing dishes - BBQ Pork Belly With Onions And Chilli; Village Salad With Cucumber, Tomato, Feta Cheese And Olives; Roast Chat Potatoes With Garlic And Herbs; and Iceberg Lettuce With Shaved Sheep Milk Cheese.
Courtesy of The Apollo
The flavors for each are diverse and keep coming; it's an attack on the taste buds – every mouthful bursting with delightful ingredients and it's surprising how simple dishes – the iceberg lettuce is surprisingly great – manage to offer delicate but delicious flavors.
Throughout the evening, our waiter, as well as other staff, check in with us. They're always polite, chatty, friendly and never over the top. 
We are too full for dessert, but decide that we can't leave without trying what's on offer. My Loukoumades Served With Pomegranate Yoghurt Pistachio (honey doughnuts) are divine – almost too good to share. But I do – reluctantly.
With first-class cuisine in a welcoming setting, and with a fantastic staff, this is a restaurant which needs to be on the top of your list when in Sydney. If not, you really will be missing out.
The full Greek experience starts at AUS $55 per person.