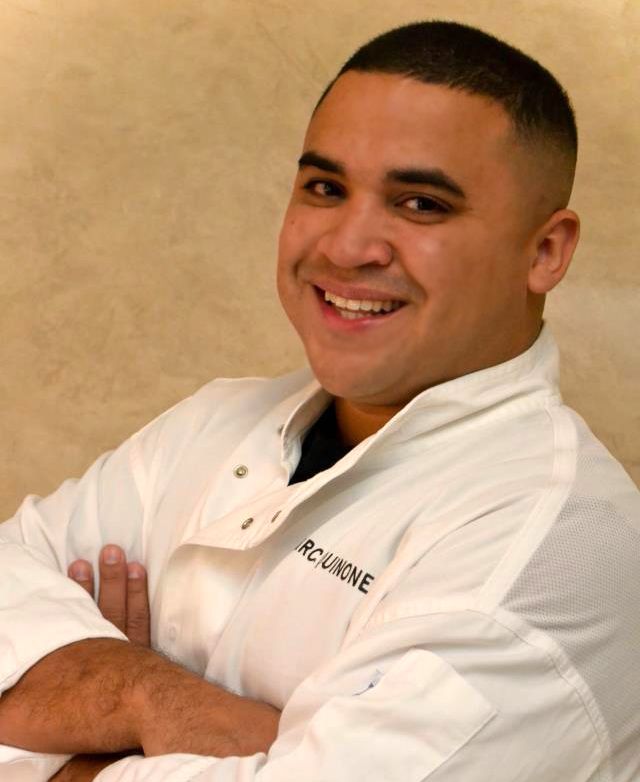 Photo Courtesy of Chef Marc Quinones Official Facebook
It used to be that anyone who found themselves flying to the "Land of Enchantment" (aka New Mexico) would need to travel about an hour northeast of Albuquerque and head to Santa Fe in order to enjoy a sophisticated culinary scene. That is no longer true: Albuquerque is now home to arguably one of the best chefs in the state and at a restaurant that delivers volumes in terms of seductive atmosphere, culinary innovation, salivating taste, as well as the ultimate in professional table service. This is fabulous dining at its absolute best.
Photo Courtesy of Sandia Resort and Casino
Albuquerque's Fine Dining Scene Just Got Better
Marc Quinones is Chef de Cuisine at the fine dining restaurant of Bien Shur Rooftop Restaurant. Located on the top floor of the
Sandia Resort & Casino
, the restaurant commands impressive views of the Sandia Mountains on one side, while the other side overlooks the city lights of Rio Rancho to the southwest. With high ceilings, modern lines, and impressive stonework that effectively grounds the spacious dining room, the place exudes sophistication while imparting a casual ambiance. A well-stocked wine cellar completes the picture.
However, it is since Chef Marc has taken the helm that the restaurant has soared to new heights, receiving more prominent accolades from satisfied "foodies." It is probably due to his flair for fusing traditional with modern, his consistency in turning out great culinary treats, and his constant pursuit of perfection.
But it is not just about food with Chef Marc, it is also about artistic plating and great service. "I know that I have achieved great plating presentation when I can turn the plate around and the dish looks great from every angle. Shapes and colors are equally important as I want each dish to live in the moment," says Chef Marc.
Photo Credit Karin Leperi
The Tastes
Chef Marc likes to make a list of what is in season and then plot it out on a big grid. "I find that by using a matrix I can capitalize on seasonality and freshness while making it a fun way to cook," he notes. "This way I keep all ingredients in mind and then my dish happens right there in the moment." He also keeps it surprising by having weekly specials and highlighting wild game.
My favorite appetizer is the pan fried "jumbo lump" crab cake with cilantro oil, saffron aioli, and a slaw composed of apple, pear, and peach. The tender lumps of crab are lightly dressed so that the full flavor is featured. The slaw, one of the most creative I have tasted, changes with the seasonality of ingredients.
Photo Credit Karin Leperi
"Lamb is by far the most popular dish on the menu," says Chef Marc. Labeled as "New Mexico Lamb Chops", the dish is served with green chile au gratin, baby squash calabacitas, and three dots of a red chile gastrique. The lamb is some of the most tender I have tasted, even compared with dishes I have had in New Zealand and Australia. He tells me that the lamb is procured from a ranch southeast of Santa Fe where they are humanely raised and processed, which may account for the tender flavor.
Equally popular is the Chilean Sea Bass served with a wild mushroom risotto, apricot gastrique, Swiss chard, and Poisson au crème. For those seeking mild tenderness with an eloquent consistency and a risotto that can stand on its own, this is the choice.
Photo Credit Karin Leperi
The Diver Sea Scallops are a great selection, featuring a slightly crispy exterior with a succulent interior. I also heartily recommend the All Natural Chicken "Arroz con Pollo", a dish that showcases Chef Marc's heritage and consists of basmati rice, black beans, and arugula salad.
However, I consider the Elk Tenderloin En Sous Vide to be the signature dish. "The elk is a fun dish because it is playful and takes me back to my childhood," says Chef Marc. Along with a plated blueberry smear, the meal includes creamsicle potatoes and red cabbage. The creamsicle potatoes consist of sweet potato and orange juice and offer the right amount of color and contrast to this hearty dish.
Photo Courtesy of Chef Marc Quinones Official Facebook
The Making of Chef Marc
Chef Marc's diverse background, his focus on ethnic fusion of flavors, as well as his eclectic food experiences across the United States, have proven to be an unstoppable and winning formula for him. Add to this the fact that he openly solicits local products and meats, emphasizes seasonality and sustainability in his menu, designs his recipes for the ultimate symphony of tantalizing tastes, and is ever the perfectionist in his artistic plating skills, it should come as no surprise that he is taking the world of fine dining in New Mexico by storm.
Photo Credit Karin Leperi
He attributes his Puerto Rican heritage and his admiration for his mother's cooking as the reasons he has passionately pursued the art of food. "The greatest chef I have ever known is my mother. She is the source of my drive and her passion for food has bled into me," says Chef Marc. While growing up in the Bronx, New York City, he used every opportunity he could to practice and develop his cooking skills. After high school he moved to Manhattan, where he rapidly advanced his food knowledge and essentially took his skill set from the cafeteria to the executive dining room. Giving him a newfound sense of confidence, this led him to enroll in the Le Cordon Bleu program at the
Scottsdale Culinary Institute
in Arizona, where he quickly set himself apart from his peers by making the President's List.
Photo Credit Karin Leperi
After graduating, he moved from Scottsdale to Santa Fe, and then to Kona, Hawaii before he ultimately decided to come back to New Mexico. The attraction? He wanted to be with his wife. Nowadays, he values his time with his family and enjoys cooking Puerto Rican food for them so that he can share his heritage with the next generation.
Meanwhile, Chef Marc continues with his food philosophy by "paying respect to the main ingredient" and by constantly testing the limits of his Contemporary American style of cooking with a Southwest flair. He does this by using modern techniques, but also by talking to customers to get a better idea of what they are looking for. Chef Marc presents familiar tastes with modern touches in exceptional surroundings. As such, he transcends the world of accomplished chef to that of artistic food designer and gastronomic chef extraordinaire.