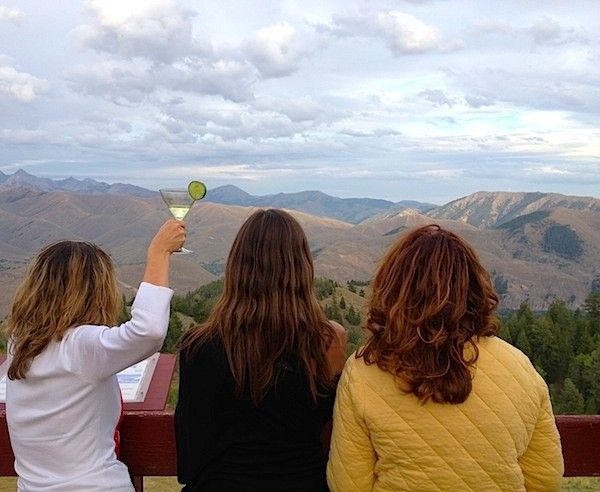 Photos Credit: Janice Nieder
Here's an easy, can't fail recipe for delectable fun in Sun Valley, Idaho: Take one big handful of celeb chefs, cooking instructors and mixologists, and add eclectic regional dishes, fine wines (including lots of bubbly) and craft beers. Blend with unique dining experiences, simmer on low alongside the postcard-perfect Sun Valley landscape, and voila! You have yourself the 4th Annual Sun Valley Harvest Festival! Here's a recap of the best of the 2013 event (which should entice you to save the date for 2014).
Restaurant Walk and Idaho Wine Tasting
This was a tough one since you only had two hours to take advantage of the incredible assortment of delicacies offered by the 19 restaurants that participated in this year's walk, so wear comfy shoes and no dallying!
We were off to a great start at Cristina's European-style trattoria, where we nibbled (who am I kidding, we actually inhaled platefuls) of traditional Tuscan cheese, salami, marinated veggies and bruschette, while relaxing on the cozy back porch. We would have been happy spending the next two hours there if the other 18 restaurants weren't calling to us.
Next up was CavaCava, where Executive Chef Andrew Nix was wowing the crowd by magically creating intense chartreuse colored basil and Meyer lemon sorbet by dousing it with liquid nitrogen. But for sheer scrumptiousness, the award goes to Tom Nickel, long-time owner of the Sawtooth Club, for his live-wood mesquite grilled butter-flied quail slathered with a luscious bourbon/jalapeno/honey glaze.
"I love this event, because it gives folks a chance to visit Sun Valley in September, which is normally a pretty quiet time, but it shouldn't be. This is perfect weather for hiking and biking, and the festival gives folks the opportunity to see just how beautiful Idaho is in the fall," Tom told us as he expertly flipped quail on the barbeque.
Cooking Demos
The professional cooking demos covered everything from a spicy Bittersweet Chocolate Cardamom Torte with Blackberries whipped up by Bravo Top Chef Malika Ameen to vegan Hollywood celeb chefs Tai Ronnnen and Scott Jones, who prepared a completely satisfying, meat-free Eggplant Caponata over Toasted Buckwheat and Black Quinoa.
Bestselling cookbook author Tina Ruggiero was so full of vim and vigor at 9:30 a.m. (when most of us were nursing hangovers from the martini's the night before, although I chose to blame mine on the altitude) that I actually picked up a copy of her latest book, The Truly Healthy Family Cookbook, to see if I could harness some of her energy. Most days I'm guilty of skipping breakfast, but after tasting her quick and easy Choco/orange/cherry infused couscous, homemade Muesli, and tasty Kale Fritatta, I'm going to re-think that.
Exciting New Food Products Graced the Harvest Marketplace
Ron and Florence Pharis turned to their herb garden for solace after they both lost their corporate jobs 13 years ago. This turned out to be their lucky number since they are much happier building their Starlight Herb & Spice Company, which currently offers over 40 fresh tasting, handcrafted rubs, brines and seasoning mixtures. Their small-batch blends are made using organic local herbs that are slowly dried at low temperatures, thus capturing more flavor and essential oils. Originally these superior seasonings were only available to the area's finest chefs, but they are now available online. The "Pick 6" Sampler Crate makes a fabulous gift, since even a complete kitchen klutz is capable of mixing them with sour cream or yogurt for a flavorful dip.
After getting my days worth of vitamins by sampling all the different flavors of Ketchum Kale Chips and Veggie Evolution, created at It Takes a Village Foods, I was ready to indulge in the "scrumptious little cakes in a jar" from Mason Cakes. The business opened last year when fashion designer Shelly Lindsey decided to switch from couture to cakes. Using her well-honed design sensibilities, she came up with the clever idea of doing cakes in eight ounce mason jars. (The fact that her boyfriend is one of the mason jar family descendents might have had something to do with it!) My favorite is the Red Velvet flavor or maybe it's the Meyer Lemon-Greek Yogurt Cake, although I was also a fan of the German Chocolate Cake…
River Guide Outdoor Breakfast
Sipping sparkling wine under the clear morning Idaho sky while picking up some great tips from the hunky river guides/chefs — who cooked everything from lasagna to an unbelievably moist carrot cake using only Dutch ovens — was almost enough to entice me to sign up for a river rafting adventure. Note to self: Next time I'm cooking in a Dutch oven in the great outdoors (as if that's ever going to happen), remember to pile most the hot coals on top of the lid, since hot air rises and you don't want to burn the bottom of your food.
Infectious toe-tapping music was supplied by local musician Spike Coggins, who writes most of his own songs about "whatever I'm feeling at the moment," and strums almost anything with strings, accompanied by a washboard and his chain-wrapped foot.
Baldy and Martini's
The final night's event was a real doozy. Although the Martini & Caviar party always sells out, the festival founders still keep trying to one-up themselves — which they manage to pull off with great panache. This year they decided to hold the party a scenic gondola ride away, at the Roundhouse Restaurant perched 9,000 feet high on Bald Mountain. It was a toss-up which paired best with the endless array of caviar hors d'oeuvres that kept parading by, Michelle's sparkling wine or one of mixologist Ryan Sullivan's crazy-good cocktails.
Now a word about the caviar. Honestly, I wasn't expecting much when I found out they would be serving sturgeon caviar from Idaho, but I'm here to face my misconception. Kudos to visionary entrepreneur Leo Ray, who has owned Fish Breeders of Idaho for the last 40 years. While other 76-year-old's might be content to simply babysit the grandkids, this dynamo has raised everything from alligators, catfish, tilapia, trout, to tropical aquarium fish — which all thrived in the crystal clear spring water surrounding his fish farm in Hagerman Valley. About seven years ago Ray added white sturgeon caviar to his product list. He saw the potential much earlier, but patiently waited the 12 years he thinks is necessary for sturgeon to grow old enough to produce a quality product. Between Ray's patience, experience, and the artesian waters, his caviar can stand up to the flavor and texture of its haughty European rivals.
"Caviar is my 401(k) program," Leo told us with a chuckle. He sold 300 pounds last year, but expects to quickly ramp up to 3,000 pounds annually. With wholesale prices hovering around $454 a pound, this constitutes one healthy retirement plan.
You may have missed this year's Sun Valley Harvest Festival, but that doesn't mean you have to miss next year's! If I haven't convinced you already to attend, maybe the historic Sun Valley Lodge will — after all, you have to sleep somewhere! There may be many hotels, B&Bs and inns for you to choose from, but the Lodge has been a top choice ever since it opened in 1936. Not only is it close to all the action, it offers a variety of accommodation options, from private cottages all the way up to four bedroom condos, all done up in French provincial cozy/chic. The list of amenities not only includes all the basics one would expect, but also a glass-enclosed outdoor pool, ice rink, Gretchen's Restaurant, the elegant Lodge Dining Room, Beauty Salon, Spa and Exercise Room, and even a six lane bowling alley!
From the long list of anticipated participating restaurants that will keep you busy well into the night to the comfortable beds to seek repose in, next year's festival is sure to be even better, so don't miss it!