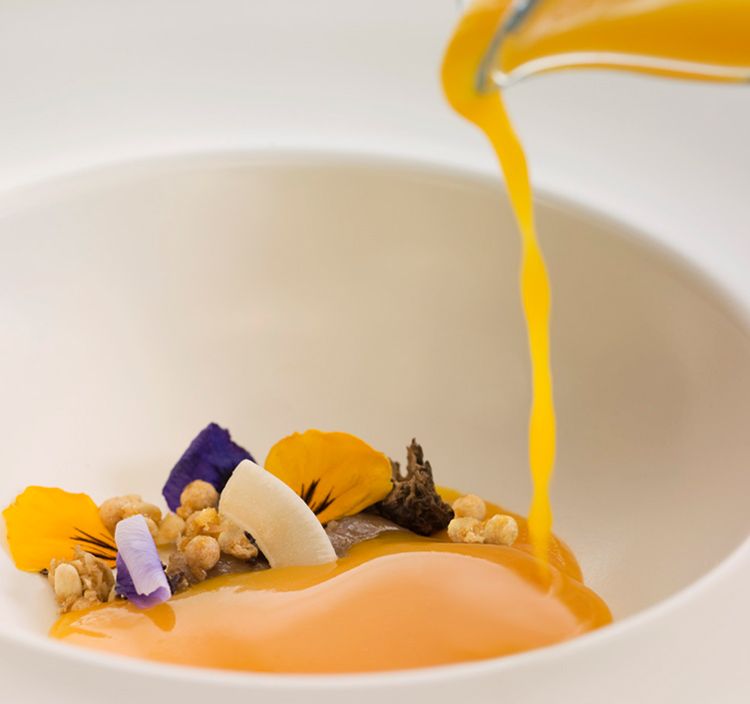 Photo Courtesy of Hotel Arts Barcelona
The best thing about this time of year is all the recipes that involve pumpkins! From pie and soup to lattes and pastries, I really can't get enough of pumpkin on the menu. To branch out from the usual fall fare, try this recipe from Pumpkin and Ginger Cream, which combines our favorite ingredient with tasty vegetables and ginger.
The recipe is part of Hotel Arts Barcelona's Show With the Chef series, "From the Field to the Plate," which launches on November 9. The seasonal culinary workshop is offered four times a year, giving guests of Hotel Arts a chance to explore Mediterranean gastronomy for themselves — including the recipe below. Led by Executive Chef Roberto Holz, guests will get to visit Horta Valanga-Vilamajor, a local private family farm found in Linars del Valles in the Catalonian Countryside. Not only is this farm full of locally grown, organic vegetables, it also supplies all of Barcelona's Michelin-starred restaurants with their produce.
You will be able to pick your own organic produce, which will be used later in a step-by-step cooking presentation, and enjoy a seasonal main course with dessert and Spanish wine pairings. The weekend adventure begins at 390€ ($536).
Pumpkin and Ginger Cream
Ingredients:
300g peeled pumpkin
20g ginger
5 units mini carrots
400g cauliflower
400g broccoli
300g purple potato
200g topinambur (Jerusalem artichoke)
Few mL of milk
Few grams of butter
Balsamic vinegar to season
Olive oil to season
Maldom salt to season
Directions:
Boil the pumpkin with the ginger. Once boiled, mix them together to obtain a base for your cream. It should have the consistency of a velouté. Boil the carrots for five minutes to peel them easily, and boil the cauliflower and the broccoli separately for two minutes to blanch them. Boil the purple potato with the skin and make a purée. Add all the cooked vegetables and mix them together until obtaining a smooth purée. Once the purée is ready, peel the topinambur and boil it with the milk to tender it. Add it to the purée and mix again to smoothen everything together, with a touch of butter if needed.
Finally, add a drop of balsamic vinegar, olive oil and Maldom salt.
Serve it warm or chilled.