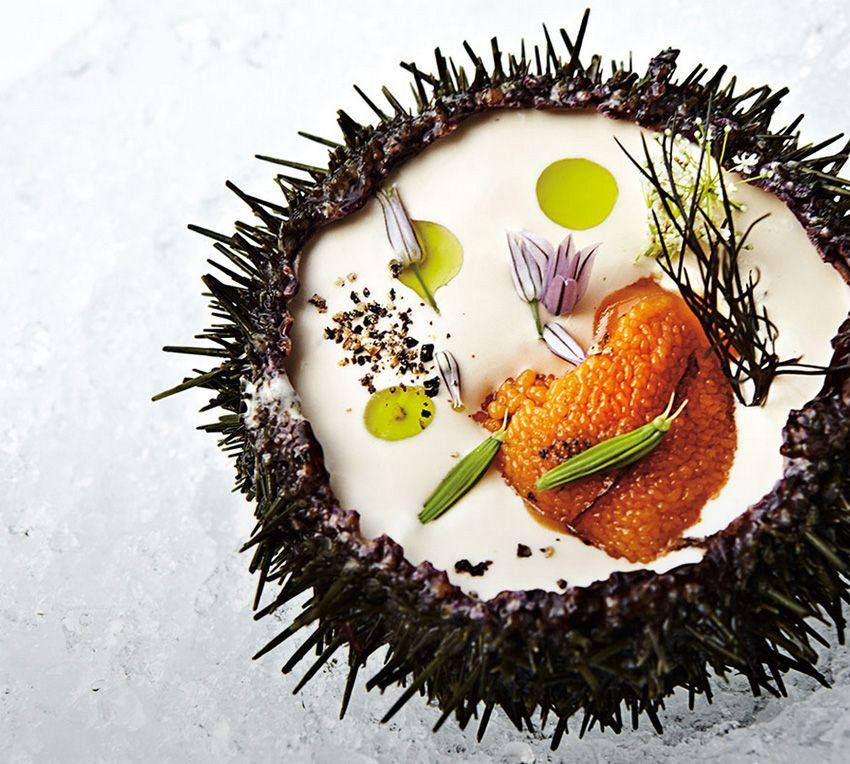 Photos Courtesy of Toqué!
I'm a little embarrassed to admit that before I interviewed Chef Normand Laprise, I wasn't exactly sure who he was. I suppose I can be forgiven since Laprise isn't quite a household name in America (not yet anyway), though he certainly is on the other side of the border. Not only was Laprise voted best chef in Canada, but his recent cookbook, Toqué!: Creators of a New Quebec Gastronomy, won "Best Cookbook of the Year" for Canada at the Gourmand International World Cookbook Awards, as well as a prestigious James Beard Foundation award for excellence in the category "Cooking From a Professional Point of View."
Another reason I'm now a die-hard groupie is that this delightfully unassuming chef has been named a Knight of the National Order of Quebec for his efforts in promoting Quebec cuisine. I didn't know if I should address him as Chef Laprise, Sir, or perhaps Knight of the Kitchen, but after five minutes I felt like we were "besties" and he was just Normand.
Our talk took place not at Toqué!, his highly acclaimed restaurant in Montreal, but at the Cancún-Riviera Maya Wine & Food Festival last month. He had been invited to participate in a conference on "The Future of Cuisine" and take part in a tribute to celebrity Chef Daniel Boulud.
When I asked how he developed his philosophy of "Cooking from Scraps," Normand replied, "It was born out of necessity. Due to my mother's poor health and the fact that my father had his hands full taking care of my seven siblings, I was sent to live on a farm in rural Quebec. Since there were no supermarkets, we had no choice but to use every scrap, bone and peel. We would never think of just using the white chicken breast or select cuts of pork. I developed a deep appreciation for fresh, seasonal eating by watching Madame Lavoie, the farmer's wife, use various methods for preserving food to last us through winter."
He chuckled and said, "I was 12 years old before I first tasted milk from a carton, which I thought tasted like water. To this day, I still can't drink it. We never called it "Cooking from Scraps' though. I came up with that name just a couple of years ago, after I had a little too much to drink at a party. I believe in showing respect to ingredients by using every part, even the trimmings. After all, a quality ingredient will necessarily produce quality trimmings. We take this so far that sometimes we even run out of scraps!"
When I left, he graciously gave me a copy of his 400-page Toqué!: Creators of a New Quebec Gastronomy, which took him 20 years to complete. I can vouch that it makes a fascinating read, even for non-cooks like me, plus the photographs are exquisite. It is a riveting compilation of a behind-the-scenes look at Toqué!, as well as an ode to the passionate staff and artisans who contribute greatly to the restaurant's success. A team of woodsman, gardeners, cattlemen, farmers, and fishermen added their words of wisdom, covering everything from the best sea buckthorn fruit to sea urchin.
Many of the recipes are surprisingly simple to prepare, calling for just a few ingredients. However, they should be top quality and exceptionally fresh. Chef Normand incorporates many of the traditional cooking methods he grew up on throughout the book. For example, there is a circular diagram on transforming strawberries. By separating the pulp from the juice, he can make a berry puree, jelly, paste, chip, syrup, etcetera, effectively utilizing every part of the berry. Chef Laprise even includes a recipe for Strawberry Stem Water, which he uses to make Strawberry Hull Martinis.
Other "scrappy" recipes include a Confit of Salmon Heads, Smoked Sweet Earth Caramel (which calls for a bag of top quality soil), Fried Rhubarb Trimmings (which can be sprinkled over cheese or foie gras) and one for 110% Lobster that is broken down into seven steps, covering everything from Rubber Lobster Caviar to Coral Powder, so that every last piece of shell is put to good use.
One recipe in particular should come with the following caveat: Do not try this in your New York City apartment. It begins with: "Slaughter the pig. Wait a few minutes to make sure it's dead." If you don't have a pig handy, you might want to try the recipe below:
Ham and Strawberries With Molasses and Lime Zest
Preparation: 10 min
Serves: 4 

Ingredients:
1 basket of strawberries, hulled and sliced in half

2 tablespoons molasses

Zest of 1 lime

200 grams (7 ounces) thin slices of dried ham

1 pinch of freshly ground pepper

2 tablespoons olive oil
Directions:
Place the strawberries in an irregular fashion on a large plate. Slowly pour the molasses over the strawberries. Add the lime zest, ham, pepper and olive oil.