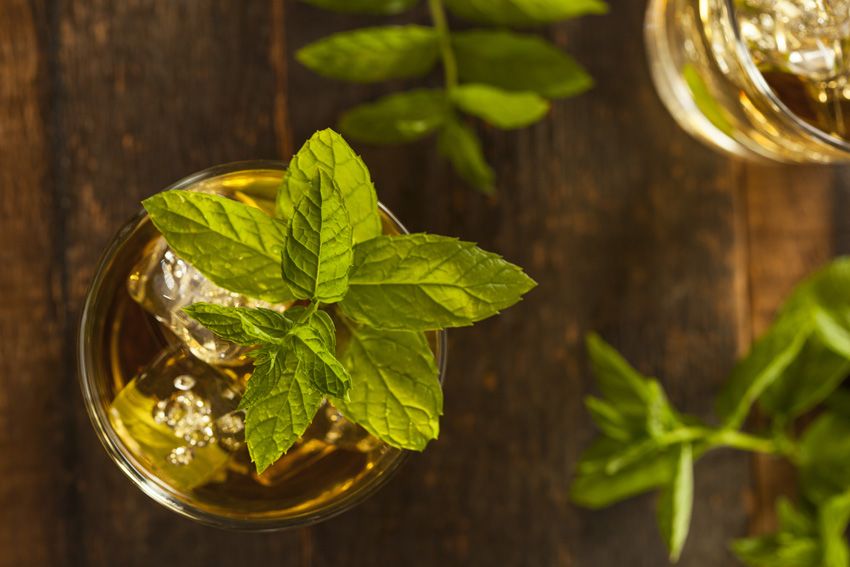 Photo Credit: Brent Hofacker/Shutterstock
The 2014 Kentucky Derby is in full swing and if you're not lucky enough to be there this weekend, you're seriously missing out. This year's event has a lot going on, from the anticipation surrounding pre-race favorite California Chrome to all of the parties (and the hats), and we're sure it hurts a little not being part of it. However, just because you're not at Churchill Downs doesn't mean that you have to miss out on the Derby's official drink, the traditional Julep cocktail! To mix things up a bit, we've got two recipes for you.
With its spicy finish of Basil Hayden's Bourbon, fresh blueberries, refreshing mint and tart lime juice, Basil Hayden's Jockey's Julep is a nice twist on the traditional cocktail. We also have the Knob Creek Storyville Julep, which brings in some sweet honey syrup and pineapple juice for some unexpected modernity.
Photo Courtesy of Basil Hayden
Basil Hayden's Jockey's Julep
Created by Molecular Mixologist Rob Floyd (Los Angeles, CA)
Ingredients:
2 parts Basil Hayden's Bourbon
8-10 mint leaves
8 blueberries
1 part fresh lime juice
3/4 parts simple syrup
Directions:
Muddle mint leaves and blueberries in a mixing glass. Add remaining ingredients and shake over ice. Fine strain into a rocks glass with crushed ice.
Garnish with blueberries and a sprig of mint.
Photo Courtesy of Knob Creek
Knob Creek Storyville Julep
Recipe by Bobby "G" Gleason, Beam Master Mixologist
Ingredients:
1 1/2 parts Knob Creek Bourbon
1/2 part thin honey syrup (3 parts honey, 2 parts water)
1 1/2 parts fresh pressed pineapple juice
6 fresh mint leaves
club soda
Directions:
Muddle pineapple, honey syrup and mint in a tall highball glass.
Fill with ice, add Knob Creek Bourbon and stir top with club soda.
Garnish with a pineapple clip and mint top.