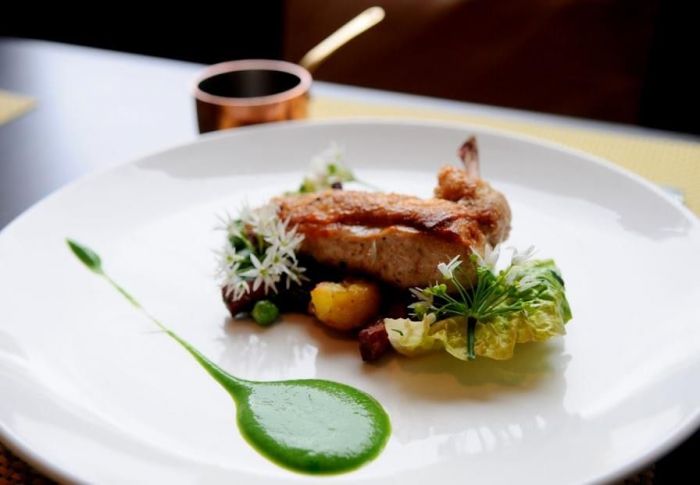 Photo Courtesy of Cail Bruich
A combination of a strong cosmopolitan influence, Celtic creativity, and an abundance of local produce from the surrounding Scottish countryside means Glasgow boasts many fine restaurants. The large city has moved away from its gritty old persona as the powerhouse of industrial Britain and has even been featured in tons of high-profile flicks—it stood in for present-day Philadelphia in the Brad Pitt movie World War Z. Now that it has embraced a clean, borderline wholesome, image based on tourism and financial services, Glasgow has found itself with a booming, pedestrian-friendly downtown that's packed with fantastic cuisine options. To make your next visit to Scotland's largest city easier, we've picked out four of our favorite restaurants that you shouldn't miss.
Photo Courtesy of Cail Bruich
Cail Bruich
Cail Bruich (meaning "eat well" in Gaelic) is an intimate, family-run restaurant led by Chris Charalambous, a young chef whose talents are reflected in diverse dishes. From haggis balls on a plum gelée to organic spelt grain risotto with autumn truffle, the contemporary establishment brings French flair to traditional Scottish cuisine.
Photo Courtesy of Cail Bruich
The taste and texture in dishes is well-balanced, easily seen in the coconut sabayon with curry royal and hazelnut, as well as in the velouté of pumpkin, buttermilk royal, sage and parmesan sable—warm, nutty, and spicy flavors are presented in the smooth and velvet-like sauce. The same can be said about the meat dishes, which are well balanced with earthy accompaniments such as Perthshire pheasant with spelt grain, artichoke, girolle mushroom and truffle sauce, not to mention the slow-cooked beef cheek bourguignon with salt-baked celeriac, bone marrow, and pearl onions.
If selecting cheese instead of dessert (or for a little before, or after, treat), try the Anster variety from Ayrshire that is served with picked beetroot, caramel walnut, and honeycomb. Yum!
Photo Courtesy of Two Fat Ladies at The Buttery
Two Fat Ladies at The Buttery
Found in Finnieston, an area known for its new restaurants, Two Fat Ladies at The Buttery carries a pretty great reputation (there are actually five Two Fat Ladies locations in Glasgow, including The Shandon Belles bistro). This specific venue features soft lighting and cozy, cushioned wall booths that work to create the appropriate mood for a romantic evening.
Photo Courtesy of Two Fat Ladies at The Buttery
If you like chowder, try the Scottish version, called Cullen skink—it is amusingly described as "a hug in a bowl." Pasta lovers will enjoy the homemade ravioli with pumpkin (plus roasted pumpkin seeds), Amaretti biscuits, and pea and sage cream. A diverse three-course menu is offered featuring mains such as pan-fried halibut with a compote and three types of tomatoes. For carnivores, a carved rack of Ayrshire lamb on a bed of red cabbage and minted red wine jelly may be the winning ticket. Once it's time for dessert, do yourself a favor and try the warm dark chocolate with Chinese stem ginger and toasted almond ice cream.
Photo Courtesy of Tempus Bar & Restaurant
Tempus Bar & Restaurant
The Tempus Bar & Restaurant is located within the "grand dame" of Glasgow, the Grand Central Hotel, and provides an impressive ambiance with marble wood flooring, large columns, and vivid wall murals of city railway scenes.
Photo Courtesy of Tempus Bar & Restaurant
It resonated with a lively buzz of conversation when we entered in the early evening for a pre-theater dinner, but service remained efficient and friendly. The menu, while classic and uncomplicated, is varied—mainly catering to people lacking time to linger too long over dinner. We opted for starters of pan-fried scallops nestled in a light creamy sauce of lentils and bacon bits, and bruschetta of tomato, basil and red onion sprinkled with crisp rocket and balsamic reduction. As a main dish we chose a wholesome duck breast with wilted greens, potatoes, wild mushrooms, and a red wine jus. Dessert came in the form of sticky toffee pudding with vanilla pod ice cream and toffee sauce, as well as an aptly named chocolate indulgence with raspberry coulis.
Photo Courtesy of Hotel du Vin
Bistro du Vin
Bistro du Vin can be found in the Hotel du Vin in a leafy West End suburb. With its Victorian townhouse façade, high-ceilings, marble fireplaces and ornate moldings, this establishment will definitely make you think of a bygone age. There are three dinner options: a fixed menu, à la carte, or a more comprehensive tasting experience.
Their special three-course menu of the day reflects a classic, simple approach to cuisine with starters such as chicken liver pâté on toasted brioche, vegetable velouté and smoked kipper parfait with salsa verde. I was delighted with the velouté of pumpkin and sweet potato, offering bright autumn flavors followed by bites of fresh rosemary bread.
Photo Courtesy of Hotel du Vin
Three choices are offered for the main, including pan-fried coley with warm potato salad and tomato, and herb risotto. But we opted for the third option, pork belly confit served on a bed of parsnip purée and braised lettuce. A blueberry and yogurt panna cotta made for a fine send-off to the downtown area for a play at the Royal Theatre.
It's pretty clear from the above four restaurants that Glasgow has successfully embraced a more lively and elevated persona that is largely based on the expectations of visiting diners. After all, if the big city wants to start competing with others (like, London), it really needs to get a footing in the epicurean world and we're happy to see that it seems to be on its way.
Photo Courtesy of Hotel du Vin