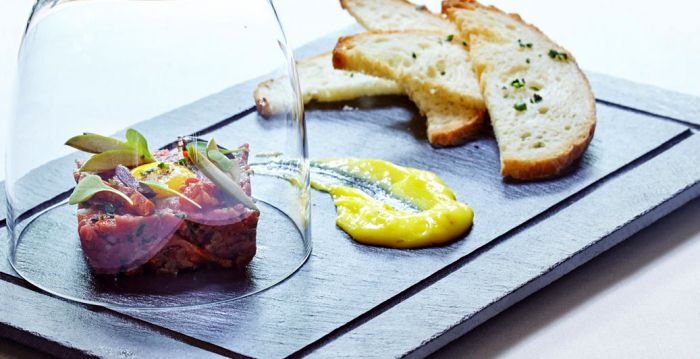 Photos Credit: The Arizona Biltmore
When the historic Arizona Biltmore Hotel in Phoenix was looking for an executive chef early in 2013, one can only assume that the establishment—which is nicknamed "The Jewel of the Desert"—received resumes from many of the world's finest culinary masters. In the end, they selected Chef Gordon Maybury to be the jewel of their culinary operations, which includes all of their six restaurants and lounges.
A native of Dublin, Ireland, Maybury (who is the oldest of eight kids) knew he wanted to be a chef as soon as he turned 16. So to start out, he got a job washing dishes at a local American piano bar. "Once they let me help out by washing the veggies and peeling potatoes, I was hooked," Maybury said ruefully. In fact, after receiving his first paycheck, he immediately went out and got his ear pierced, just like the head chef.
Although Maybury has spent over two decades cooking in Michelin-starred restaurants throughout Europe (like the L'Ecrivain Restaurant and the Shelbourne Hotel) and served as the executive chef at leading hotels and resorts in the U.S. and Caribbean, this hardworking chef still retains his boyish enthusiasm when discussing food. He even loves reading cookbooks in his spare time (he just finished Sean Brock's Heritage which he thought was pretty amazing). He recently took a break to chat with us about who his culinary idol is, his proudest foodie moment, and his favorite Phoenix restaurants.
JustLuxe: Do you remember the first thing you cooked?
Gordon Maybury: Since I was working at a French restaurant, it was a citrus mousse. It didn't work at first, but I just kept making changes until I perfected it.
JL: Did you go to culinary school?
GM: I followed the traditional apprenticeship path, but was also studying one day a week at the Dublin College of Catering. Later, I earned a Master Certificate in Essentials of Hospitality Management from Cornell.
JL: Who is your culinary idol?
GM: John Howard, who was probably Ireland's first celebrity chef. For 25 years he and his wife ran Le Coq Hardi restaurant in Dublin.
JL: If you weren't a chef, what would you be?
GM: I have no idea. I'm starting my 29th year cooking and I still love it. It's not just a job for me, but a way of life.
JL: Most exciting ingredient or cooking trend?
GM: I think it has to be healthier and more nutritious cooking. I recently lost 20 pounds, so I'm all about making dishes healthier while still retaining the flavor. For example, we make a fabulous mole sauce which probably has over 20 ingredients in it.
JL: Is there a food you haven't tried that you would like to?
GM: I would love to study [Southeast] Asian fusion cooking; perhaps in Hong Kong.
JL: If someone could only order one thing off your menu, what should it should be?
GM: It has to be our meatloaf! We make [it] from chopped short ribs, and serve it with chipotle ketchup and cheesy mashed potatoes
JL: What are you trying to do differently from other chefs?
GM: At the end of the day, food is food. What I try and do is instill passion in our staff, taking a page from restaurateur Danny Meyer [of the Union Square Hospitality Group]. At times, this can be difficult since we turn out over 800,000 covers a year.
JL: What is your proudest culinary moment?
GM: Cooking at the James Beard House in 2010.
*This is where he wowed guests with his creative "Floribbean" cuisine.
JL: Do you want to open your own restaurant one day?
GM: At times I think about opening a small, high-end restaurant serving Floribbean food, but since my father is an accountant with Ernst & Young, I probably never will [laughs]. You know the old joke: How [do you] lose money fast? Open a restaurant!
JL: Other than the Biltmore, what are your favorite local restaurants?
GM: My fav is the Sunday PUNCH! CRUNCH! BRUNCH! at The Duce, a hip spot in downtown Phoenix where you can box, eat, drink, and shop. I also like what Sam Fox is doing at his restaurants, particularly at Flower Child.
JL: What is something most people don't know about you?
GM: I took the "The Seven Habits of Highly Effective People" training, which I found invaluable. The most important habit for me is to "Begin With the End in Mind," where I envision something and then just make it happen.
*For an extra goodie, check out Chef Gordon Maybury's recipe for Crab Salad With Watermelon, Avocado, White Anchovy, & Blood Orange!